Sponsored By
San Pellegrino
Between all the hot new spots opening up seemingly every other weekend and the bevy of old standbys, Logan Square's bar scene is straight-up explosive right now. But we're still sure of our 13 favorites. From classic dives to red-lit, DJ-equipped rookies, there's something for everyone, but mostly for young people with non-mainstream fashion sensibilities who self-identify as post-postmodernists. Have at 'em: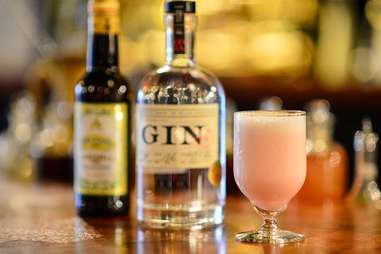 3143 W Logan Blvd
Sexy candlelight and shareable bar food (like crispy pig ears and jars of crab dip) make it a damn fine date spot, but homemade tonics and a huge Amaro section also had this joint jostling for "Best Cocktail Bar" in this very story. Impress your date with this fact: it's named for some American Evangelist/nerd who promoted Prohibition.

2403 W Homer St
Conveniently located under the Western Blue Line stop, this unassuming neighborhood joint has a retro fridge filled with old-school games like UNO plus a $5 shot-and-beer combo every day. If you're lucky, the tamale guy will show up.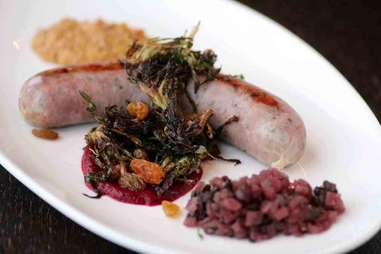 2375 N Milwaukee Ave
With 170 seats, some of which are enormous picnic tables, you can bring your whole gang, and everyone in your gang can bring their gang. Just be cautious of conflicting gangs as things can get messy when boots of beers are involved. Modern German snacks like house-made sausages, veal schnitzel mulled in Pinot noir, and pretzels with malt butter and blackberry jam are generally agreeable for all, though.

2357 N Milwaukee Ave
Newcomer Slippery Slope offers a killer dance floor, a photo booth, skee-ball, and bottled cocktails, all of which create favorable circumstances for chatting up hunnies. The dim lighting is notably red, which is the color of love, I'm pretty sure.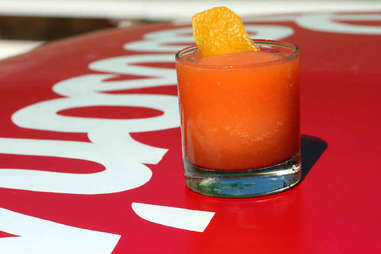 2952 W Armitage Ave
With a sprawling outdoor patio and the downright celebrated Negroni Slushy, day drinking in this 'hood must happen here.

3224 W Fullerton Ave
A staple since 1980, it's allegedly named for Whirlaway, an unfavored racehorse who the original owner bet and won big on. Hot tips aside, though, the cheap and plentiful selection of both domestic and imported brews makes it one of the best dives in Chicago.
2523 N Milwaukee Ave
New Orleans native Chef Alfredo Nogueira's ridiculously tasty Cajun food, like biscuits, pork shoulder po' boys, and jambalaya, is technically considered bar food because it's served at one of the best new bars in America, but the grub can easily stand by itself without the cocktail/fishbowl crutch. But that doesn't mean you shouldn't do a round of Old Fashioned shots -- Demerara sugar, rye whiskey, and an orange wedge.

2956 N Albany Ave
It truly is a small, narrow bar, but with 13 taps, 60 bottles, and 21 cans, it's pretty big on options -- even total beer geeks are likely to find something on tap they haven't tried. Check here to see what's stocked right this very minute!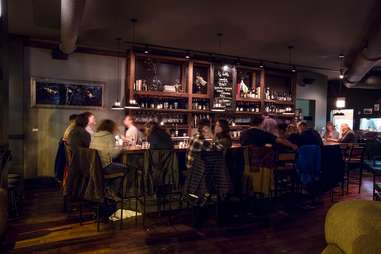 2601 N Milwaukee Ave
Here's the scoop: the original was in Lincoln Park, but then the owners decided to close it, re-concept their Logan Square spot Telegraph, and reopen it as the current iteration of Webster's Wine Bar (which, consequently, is no longer on Webster St). But with a wine list 500 deep, it's an institution wherever it's located.

3340 N Kedzie Ave
The free-flowing pints of Anti-Hero and EuGene Porter, plus Bacon Fat Popcorn and pastrami-topped burgers, are definitely a big reason why the stretch of Milwaukee it sits on has totally blown up recently. Save the offsite tap room tour for another night.
3201 W Armitage Ave
Novices will appreciate the vintage-vibed, gin-focused saloon's lack of pretension, but seasoned cocktail-drinkers will be equally impressed by excellent/cheap $8 signature bevs like the Saint Charles -- jasmine-infused Death's Door with apricot liqueur, Peychaud's, and absinthe rinse. The $4 small plates ain't bad either.

2521 N Milwaukee Ave
Open until 4am on Fridays and 5am on Saturdays, The Owl will definitely ruin your weekend day plans. But with a $6 PBR/Jameson shot special, 20 taps, and a decent dance floor, plus a quirky retro waterfall in the back leftover from previous tenants, it'll be worth it, probably.

2338 North Milwaukee Ave
There's no cover, ever, which means you can soak up all that local music and sweet, sweet open-mic comedy for only as much as you need to drink, depending on whose set it is. Don't leave without taking a poop!
Sign up here for our daily Chicago email and be the first to get all the food/drink/fun in town.
Carrie Dennis is an Associate Editor for Thrillist and will be here all night. Follow her on Twitter @CarrrieDennnis.