Anyone (under 4'3") can race horses. Turtles, though? Turtles take a special kind of person. The kind who's in Lincoln Square at dive bar Big Joe's where every Friday at 9p they do honest-to-God reptilian racing, a rite of passage for any Chicagoan. Here's the rundown of do's and don'ts that'll make you look like a professional turtle racing shark the next time you're getting your passage rited.
Recommended Video
Stay Classy This Winter With a Spiced Pear Tom Collins
DO show up early to start collecting tickets. Pitchers, pints, and shots will all net you raffle tickets that are later drawn for the races. Miller Lite bottles and Half Acre drafts're usually both super-discounted.
DON'T be afraid to pace yourself, though. Unless, of course, you wanna be making the same face as this guy.
DO listen closely for your ticket number to be drawn. There'll be six races with six competitors, drawn at random.
DON'T cut in front of the person with the winning ticket and yell, "I volunteer as tribute!" no matter how much you love Catching Fire.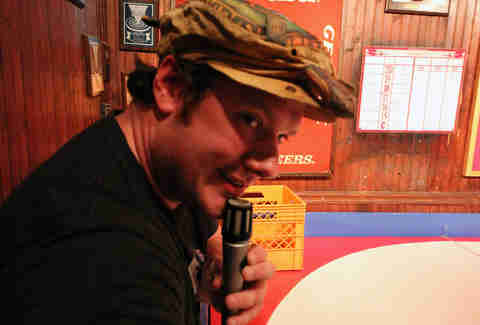 DO say 'hello' to your turtle caller Sean and his amazing hat.
DON'T be afraid to admit you're a "turtle virgin" -- the folks at Big Joe's are very gentle lovers.
DO create an instant Pokemon-level bond with your turtle. You'll be assigned to Chucks, Lola, Doozy, Swisher, Jolanda, or Lucky Dan. A win will net you a free Big Joe's t-shirt and entry into their Las Vegas tournament.
DON'T sweat it if you draw "the slowest f**king turtle in the world" Jolanda -- if your turtle comes in dead-last, you'll get a free drink.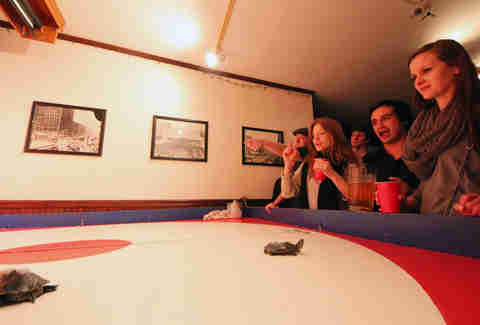 DO keep your Solo cup near two girls in your hand and refrain from pounding the table.
DO be prepared to wait for up to five minutes, which's the time limit your little guy'll have to be the first to crawl out of the 8ft-wide white ring.
DON'T be alarmed if your turtle... doesn't... move... at... all. Okay, be slightly alarmed.
DO come back for November's tournament of turtle champions (especially if you're in it). The grand prize racer gets a trip to Las Vegas.
DON'T worry about PETA crusading against the operation, the turtles are pets and handled with extremely... extreme care.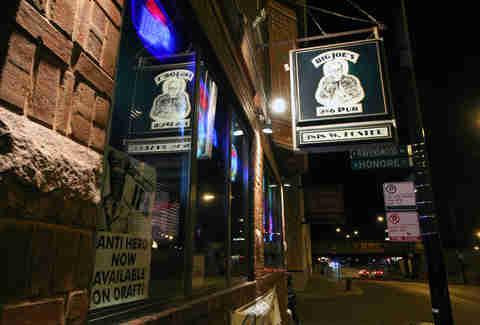 DO stick around for a late-night delivery of Papa Romeo's pizza -- if your history with the tamale guy is any indication, you'll appreciate the late-night grub
DON'T attempt to feed the turtles pizza, you do not have permission from Master Splinter .
Previous Venue
Next Venue
Venue Description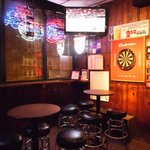 1. Big Joe's
1818 W Foster Ave, Chicago, IL 60640
So you don't put ketchup on your Chicago dogs and you've jumped into Lake Michigan in polar temperatures, and maybe you even actually enjoy drinking Old Style, but if you've never partaken in turtle racing at Big Joe's dive bar on Foster Ave., you're not really a true Chicagoan. Get to the Lincoln Square "tracks" early on Fridays, get in line for a chance to race the turtle of their choice, and let the reptilian race begin! If your turtle wins, you get a Big Joe's t-shirt. If your turtle loses, you still get a free drink. Turtle racing, cheap (if not free) drinks, and t-shirts? Win,win,win.