Everything you need to know about Chicago's new secret cocktail club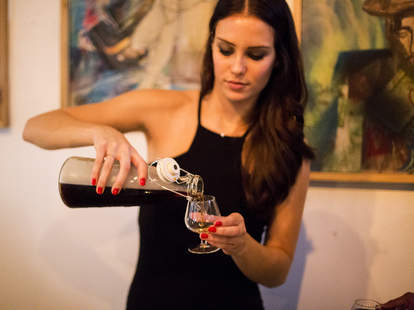 Whether you're into all things secret (bars, supper clubs, sandwiches) or just want a break from the typical bar scene, you're gonna want to become a member of Liquor Lab. That's because it's a roving underground cocktail club doing drinks that you've never seen before (hello, wood-chip-smoked Manhattan) inside places you've never been (galleries, man caves, penthouse suites), and it's all run by an A-team of bartenders, cocktail technicians, and nightlife bookers.
This thing is basically a secret supper club for booze, and (surprise, surprise!) we've got an exclusive first look inside...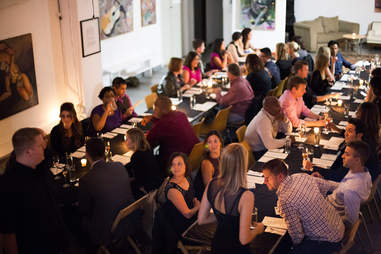 Jim Vondruska
Where you'll be drinking:
The location and theme of the Lab's cocktail party will change from week to week (and be kept under serious wraps until the week-of). You may find yourself at the penthouse of the Board of Trade, in a man cave for beer cocktails, a cigar lounge with rare Scotches, or a glass blowing studio where you'll make your own martini glass.
The space for the first Liquor Lab? Fulton Street Collective, an art space in the West Loop with mixed media adorning the walls and table seating for 50.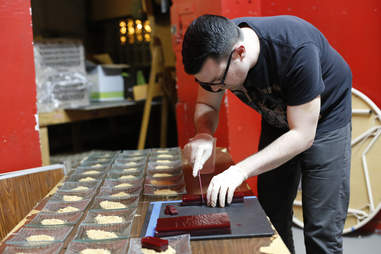 Jim Vondruska
Who's behind the bar:
The Lab is dedicated to hosting up-and-coming mixologists -- not just suspender-wearing bartenders bragging about their freshly slapped herbs -- giving them a chance to go outside their venue's boundaries. The first mixologist was Michael Huebner (Aviary, Drumbar, Celeste). So yeah, actual mixologists.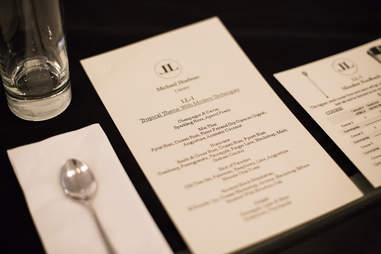 Jim Vondruska
What you'll be tipping back:
While the inaugural menu will have changed, it provides a few examples of the level of drink-science you'll be taking down:
Jim Vondruska
First off, there's a rose Champagne with…
Jim Vondruska
... caviar. Not the fish kind, but instead the booze kind, made in-house from Aperol. Little droplets of the aperitif form into balls in a calcium bath through a process called spherification, and are then dropped into your Champ.
Jim Vondruska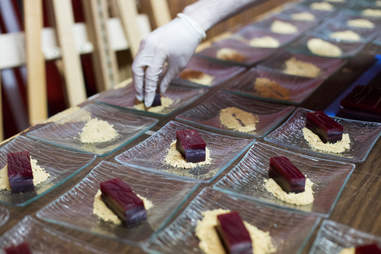 Jim Vondruska
... THAT YOU EAT, since it's made in a Jell-O mold, a trick Huebner picked up while at Aviary. The edible drink is layered with three mixes: pomegranate with Jamaican rum, pineapple with white rum, and cranberry with 5-year dark rum, all on a bed of graham cracker sand.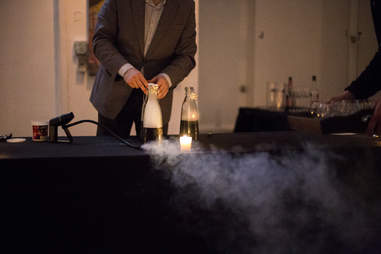 Jim Vondruska
And also a Manhattan with smoke from bourbon-soaked oak chips, infused into the carafes via a live demonstration of the smoking gun (it's not just a plot device).
Jim Vondruska
How to get in:
Liquor Lab memberships (available here, in limited quantity) cost $175 a year and kick in when you attend your first event. Buying in gets you access to the calendar of events where you can pick up tickets, usually in the $40-100 range, for yourself and a guest.
Sign up here for our daily Chicago email and be the first to get all the food/drink/fun in town.
Sean Cooley is Thrillist's Chicago Editor and he's been told he bears an uncanny resemblance to Weird Al. Follow him @SeanCooley.