Love it, despise it, or pretend to hate it but secretly crave it, Jeppson's Malört is a tough bottle for Chicagoans to avoid. It lurks behind every bar, tempting locals and visitors alike to take the plunge and risk the inevitable Malört face effect. But what do you really know about the astringent and notoriously bitter 70 proof liqueur that comedian John Hodgman once described as tasting like "pencil shavings and heartbreak?" Here are 19 hard-nosed facts about Jeppson's Malört, the shoot-if-you-dare cult favorite famously "savored by two-fisted drinkers."
1. Malört is Chicago born and bred… but it wasn't always that way
After the Mar-Salle Distillery, Malört's original production venue, shut down in the mid-1970s, manufacturing relocated briefly to Kentucky before settling in Florida. The Windy City signature remained, paradoxically, a product of the Sunshine State until the valiant CH Distillery swooped in and purchased the brand in 2018.
2. It's not actually made with gasoline
The only flavoring ingredient in Jeppson's Malört is wormwood, a bitter herb known for its ability to kill stomach worms and other parasites. It's also the main ingredient in Absinthe, a liqueur known for its mythical psychedelic effects. However, Malört's brand of wormwood has an extremely low thujone level—the chemical compound that supposedly causes mind-bending effects—so the only trip you'll be making is a one-way journey to Bitterville.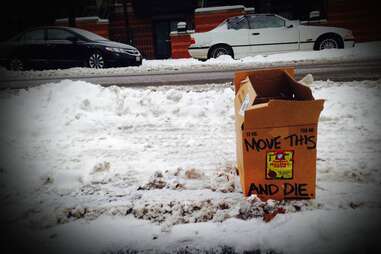 3. It shares a name with everyone's favorite nuclear meltdown destination
While Malört means "wormwood" in Swedish, the Russian translation of the word is "Chernobyl." The infamous nuclear power plant was named after the native wormwood fields that once grew there… you know, before that whole radiation thing.
4. Malört was one of the few beverages Carl Jeppson could taste
Swedish immigrant Carl Jeppson arrived in Chicago in the 1930s, toting along his homemade spirit. Rumor has it that the cigar shop owner and avid smoker loved both selling and drinking Malört, not only because it padded his pockets, but also because it was rumored to be one of the only things his tobacco-ravaged tongue could actually identify.
5. Malört outsmarted Prohibition
Cleverly labeled as "medicinal alcohol," good old Jeppson sold bottles of Malört sold door-to-door throughout Prohibition. Thanks to that loophole, it was the only legal wormwood product sold in America for a full 96 years, all the way from 1912 until 2008, when other wormwood products, namely Absinthe, made a stateside comeback.
6. The logo's three-starred flag isn't a misprint
You might have noticed that the Chicago flag adorning the label only has three stars—and that's not because the designer was ripping shots of the product at work. In fact, Malört predates 1933's Century of Progress Exposition, which inspired the flag's fourth (and, so far, last) star.
7. Sweden is ultimately responsible for the recipe
Malört's viking fuel is made in the style of bäsk brännvin—a Scandinavian term for liquor distilled from potatoes, grain, or wood—and translates to "bitter distilled spirit" in Swedish.
8. Malört came in quite handy during the pandemic
Pun intended. Moved to help their fellow Chicagoans during those first few chaotic weeks of the Coronavirus outbreak, the good folks over at CH Distillery began cranking out Malört-branded hand sanitizer and donating boatloads of the stuff to area hospitals, clinics, and blood donation centers in need. These days, you can pick up your very own "two-fisted clean" sanny by the gallon or spray bottle at the distillery's Bar & Table tasting room.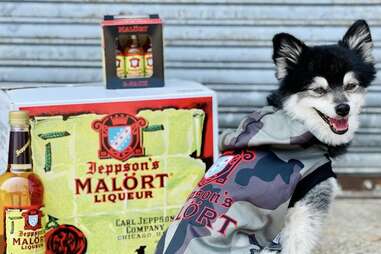 9. It was once used to ease menstrual cramps
Back in the 1960s, women that worked at Chicago's Mar-Salle Distillery would often pull bottles off the production line and drink them when they had period cramps. Guess you don't need a heating pad when you can just light your stomach on fire from the inside.
10. Malört is an integral part of the Chicago Handshake
Old Style tall boy + a shot of Malört = the immortal Chicago Handshake, a boilermaker capable of withstanding the lake effect.
11. The fan slogans are priceless
Though Jeppson's is no longer the tiny mom and pop shop it once was—not too long ago they only had two employees and zero marketing dollars—the long tradition of relying on devoted fans to generate ad slogans is still a celebrated art form on social media. Here are a few gems from the archives:
Malört, tonight's the night you fight your dad.
Malört, the Champagne of pain.
Malört, turning taste-buds into taste-foes for generations.
Drink Malört, it's easier than telling people you have nothing to live for.
Malört, what soap washes its mouth out with.
Malört, these pants aren't going to sh** themselves.
Malört, the authentic taste of social distancing.
Malort, pumpkin spice for sadists.
12. The company hired a guy they nearly sued
Malört had considered litigating against Sam Mechling for creating unauthorized Facebook and Twitter pages for the company without their consent. Instead, ownership decided it made more sense—and was probably cheaper—to hire him, first as the Director of Marketing and, more recently, as the brand's Cultural Ambassador.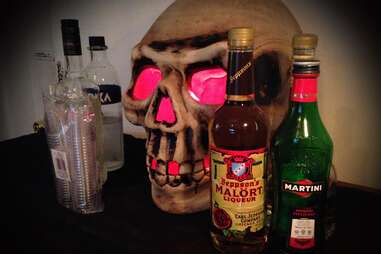 13. The original label ended with what sounds like a witchy curse
The original back label describing Jeppson's brand was capped off with: "The first shot is hard to swallow! PERSEVERE. Make it past two 'shock-glasses' and with the third you could be ours... forever."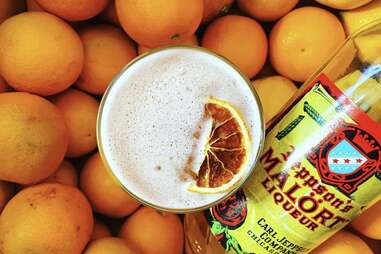 14. Malört's not just for shooting
Ambitious bartenders the city over have been experimenting with the prized bitter liquid for decades, a daring feat considering its incredibly potent flavor profile. It doesn't always work, of course, but when it does, it's a revelation. Case in point? Chicago Sling from Little Village speakeasy standout Osito's Tap, a festive mix of Malört, Koval Cranberry Gin, Luxardo, Grand Marnier, pineapple juice, lime, and Angostura bitters. Track down other Malört-infused creations at similarly esteemed establishments like the Violet Hour, Spilt Milk, and Machine Engineered Dining and Drink.
16. The Carl Jeppson Company doesn't mess around when it comes to trademarks
The company didn't get around to trademarking its name until November 3, 2015, but as soon as it did, there was no looking back. They were quick to clamp down on accused infringers like Chicago distillery upstart Leatherbee, who's 2013 debut of R. Franklin's Original Recipe Malört turned many a head, as well as Evanston heavy hitter FEW Spirits, who's Anguish and Regret Malört hit the shelves shortly thereafter. After a touch of legal skirmish, Leatherbee renamed their darling bottle Bësk while FEW dropped the controversial word from its label altogether, opting for the simple Anguish and Regret.
17. Malört, but make it bourbon
When CH Distillery snatched up Jeppson's in 2018, CEO and head distiller Tremaine Atkinson got it in his head that he wanted to put out a quality bourbon whiskey under the Malört brand. Two years later this project came to fruition, released—quite purposefully—on April Fool's Day, 2020. The 100 proof blend provides quite the bang for your buck, coming in at just $25 and garnering a bevy of solid reviews.
18. It inspired its own card game
As a part of their fully loaded retail line, Malört recently put out the aptly named Chicago Handshake, a drinking card game strewn with Chicago-centric scenarios, prompts, trivia questions, activities, and other booze-fueled hilarity. That's stocking stuffer gold right there.
19. You can now get your Malört in ice cream form
Popular Milwaukee scoop shop Purple Door, known for churning out provocatie flavors like Whiskey, Wisconsin Old Fashioned, and Beer and Pretzels, made waves when it dropped a Malört-inspired ice cream in June, 2020. Is it delicious? Only one way to find out.