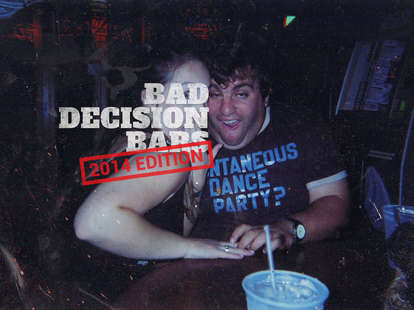 You know the old saying that nothing good happens after midnight? If that's true, then what the hell happens after 2am? These Bad Decision Bars, that's what happens. In 2013, we dropped a glorious debut list of Chicago's 13 Bad Decision Bars. Well, here is a glorious-er 2014 encore, with input from you via last year's comments -- last year's very, very shameless comments.

Wrigleyville
You're in Wrigleyville -- bad decision #1. And #2. And #3. And despite the fact that you're totally channeling Usher, girls are still generally ignoring you as you create a halo of spilled vodka tonic puddles on the dance floor. Now imagine an entire room of people with that same irrational confidence -- that's Smart Bar.

Beverly
Do you love overzealous bartenders? And over-served meatheads?? And terrible music, played way too loud???? Then, guys, you'll love The Bake! And by love, we mean regret.
River West
Bros. Baseball caps. Cover bands Too White Crew or Wedding Banned for the 5,000th time. You'd have been better off at VIPs. That's how bad (good??) it is.
Loop
You know that one bar you accidentally stumbled into after not being able to find a cab after Lollapalooza? The one with the old dudes in suits who spilled medium-crappy beer all over you while trying (and failing... oh man, so much failing) to pick up your friend? That was Miller's Pub.

Lakeview
We had no idea how much you were into Madonna. Like, man, you're really into Madonna. Or at least, you were last night at 4:30am when you were maniacally thrashing on the dance floor flanked by dudes in pink mohawks and muscle tees while disapproving goths watched on with hands folded.
Wicker Park
The thing about Nick's is that it's a totally normal bar until 2am. 1:59am? Neighborhood bar where you were totally doing well with those girls. 2:01am? Packed sea of humanity that you'll just barely survive.

Noble Square
A night at The Hideout inevitably leads to a night at Exit, where, instead of hipsters drinking PBRs, you have tattooed bikers in leather chokers drinking... well... PBRs. As you crouch down using your iPhone light to try and find your buddy's credit card, you'll inevitably stumble into a furious makeout session against the chain-link-fenced-in dancing cage. Ask them for assistance. What could possibly go wrong?
Humboldt Park
When you've seen enough late nights at Nick's and Estelle's, hitting up someplace different like Continental seems like a good decision. Then you get there and realize at some point that you're going to have to leave, presenting you with one very bad decision: waiting for a cab that will never, ever show.

Gold Coast
The first time you went here, you saw all the peanut shells on the floor and thought: "kinda cool". Then you observed actual humans lying on the floor trying eat said peanuts like baby elephants and thought, "less cool now". Tie with She-Nannigan's, Mother's, and every other bar in the area.
River North
Few things are boss about this bar. Unless dudes peeing in garbage cans and desperate housewives who just can't seem to remember what you do for a living after the fifth ask is... boss?

Roscoe Village
Partying under an overpass is never a good idea. And while you could do worse at 4am, this place makes bad decisions all too easy. Like deciding it would be a really good idea to drive out to Indiana with your bros to hit the casinos before dawn on a Sunday. Until you get there and find out they don't serve booze for another three hours.
Lincoln Park
While Lincoln Park certainly offers worse late-night options, at no other place can you revel in such an ill-conceived mixture of tourists, frat dudes, and old-timey blues boys long past the point of being over-served. You were totally gonna score with those girls from Cincinnati, if only the bar was open another hour! Yeah, keep telling yourself that.

Lincoln Park
Things get weird at late-night bars. This is not news. But Liar's Club takes the dark art to perfection, with a scene of DePaul kids trying desperately to pretend they're hardcore punk fans when really their parents are up all night in Schaumburg worried sick about them. The dance floor is a truly glorious sight to behold.
Sign up here for our daily Chicago email and be the first to get all the food/drink/fun in town.
Jay Gentile is the publisher of Chicago INNERVIEW Magazine and a Thrillist contributor who has made plenty of bad decisions at these bars. Follow him on Twitter.