Because Ice Bars Are the Best Unnecessary Thing, Vertigo Sky Lounge is Here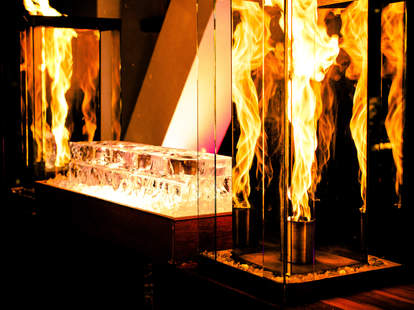 VERTIGO SKY LOUNGE/COURTESY
One good thing about winter in Chicago? Ski trips. Another good thing about winter in Chicago? Ice bars. As in the just-opened ice bar at Vertigo Sky Lounge on the 26th floor of the Dana Hotel & Spa.
Vertigo Sky Lounge/Courtesy
Now in its fifth season, this year's outdoor ice patio (the city's only ice bar and one of its few winter rooftop bars) features an ice statue garden of ice wolves, ice seals, an ice sofa, ice cocktail tables, and, of course, a shot luge carved atop a 15ft ice bar.
Vertigo Sky Lounge/Courtesy
There're massive winter Tiki torches covered in glass and a circular fire pit to warm you up, around which you'll find most of your crew congregating. Inside DJs spin, bartenders pour, and people chill on couches in a more traditional club setting.
Jay Gentile/Thrillist
But one step on the patio, and it's Fire & Ice all over again. The bar is open nightly until midnight throughout the winter months, so maybe winter in Chicago isn't so bad after all (okay, it's pretty bad, but still).
Sign up here for our daily Chicago email and be the first to get all the food/drink/fun in town.
Jay Gentile is Thrillist's Chicago Editor and he is considering adopting an ice seal as a pet this winter. Follow him @ThrillistCHI.