If you hate Nickelback, you'll applaud Cleetus Friedman's new brews
Like Pharrell or Rick Rubin in hip-hop, if you're a brewery looking to boost your street cred, you'll jump at the chance to collaborate with brewer and Fountainhead Executive Chef Cleetus Friedman, who's known for his work with Greenbush Brewing on Terminator X (an American strong ale with blackstrap molasses) and Two Brothers on Testudo (a farmhouse ale with green tea and lemongrass).Friedman is gearing up for another round of collabs with four get-'em-before-they're-gone releases at the restaurant this month, including "Flat Sammich", a malt liquor with roasted rye that'll be on tap for washing down the latest incarnation of The Cleetus Burger, a turkey burger with jalapeno/apple chutney, smoked Gouda, and arugula on a rosemary bun.
The first release of the month is the barrel-aged Rosemary's Red Devil (FYI: Rosemary's baby grew up to become Satan), a partnership with Pete Crowley of Haymarket Brewing on a Belgian red ale with rosemary, demerara sugar, and burnt orange peel that's been stashed in Heaven Hill bourbon barrels for eight months.
If Since you hate Nickelback, you'll love this apricot and chamomile pale ale from Dark Horse "Scary Jesus Rockstar". When the ear-bleeding nu-metal band wanted to use the brewery's beer in a fraternity party video shoot for their album Dark Horse, head brewer Aaron Morse told them to take their "shit rock and roll" elsewhere. A year later they brewed "Scary Jesus" in memory of the intolerable Chad Kroeger.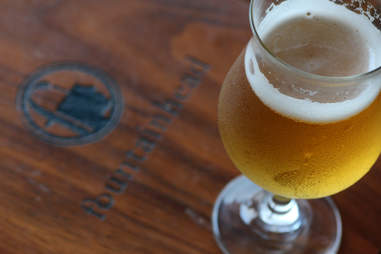 Walk 27 blocks West of Fountainhead and you'll land at Lake Effect Brewing, where brewer Clint Bautz worked on this fresh hopped pale ale "27 Blocks", which's brewed with grapefruit juice and charred grapefruit peel. In addition to the September releases, be on the lookout for a tap takeover party in October with 11 of Friedman's collaborations available, including another Dark Horse brew -- the 666 Sarsaparilla Stout.