Jim Vondruska/Thrillist
Jim Vondruska/Thrillist
I've celebrated the Cubs winning the World Series here. I've drunk moonshine out of a bag with a group of veterans here. I've played the scratch-off lottery tickets here -- and won tens of dollars! Hell, I've even brought my in-laws here. Most importantly, I've never had a bad time at Rite Liquors, a decades-old Wicker Park institution filled with the most wonderfully random assortment of humankind ever assembled: doctors, lawyers, hustlers, hipsters, yuppies, criminals on parole, criminals yet to be caught, awkward Tinder daters, construction workers, and everyone in between.
Rite's most famous attribute is its status as a leading Chicago "slashie," a combination bar and liquor store where you can down a pint and a shot of Jameson one minute, then walk out with a six-pack of Busch Light or a bottle of Bordeaux the next. They exist in other cities, sure, but for a lot of Chicagoans, they're as integral to the local fabric as deep dish, sloppy Italian beef sandwiches, and jailed politicians doing shots of Malort.
Once commonplace in the era after Prohibition, slashies are a dying breed thanks mostly to rent hikes. Fortunately for regulars like me, Rite Liquors is owned by a slightly gruff-looking but supremely friendly 71-year-old man named Mike Liacopoulos, who says he won't close his notorious slashie anytime soon.
"It's been this way for 34 years. Why change something that's been so successful?"

"I know 90% of my customers," Mike tells Thrillist from behind the bar, where I've been a regular for over a decade. He could sell Rite for millions -- it occupies a prime piece of coveted Division Street real estate -- but he refuses, due to a mix of family pride, loyalty to his regulars, and a stubborn drive to keep the old-school flavor of the neighborhood alive. It also doesn't hurt that, despite all the new hip bars and restaurants surrounding it, the place pulls in over $1 million in revenue a year.
Today's remaining slashies enjoy something of a mythical, Ditka-like status. Every neighborhood has their favorite, of course -- Bridgeporters love Maria's Packaged Goods, the Downtown crowd adores Rossi's Liquors, and Logan Square is partial to Crown Liquors -- but there's perhaps no finer example of resilience in the face of wholesale gentrification than Rite.
When you walk in you'll be greeted by Mike and his rapid-fire stories, told in a thick Greek accent and punctuated every 30 seconds or so by a spontaneous combustion of laughter and a vigorous slap of his hand on the bar. Mike bought the joint in 1983 when he was a young real estate agent looking to make a quick buck, sensing the business was a good investment after emigrating with just $100 to his name.
The interior consists of little more than a long wooden bar, separating the packaged goods side from the drinkin' side, plus a few TVs, a row of stools, a pool table, and the well-used scratch-off lotto machine sandwiched between the bar and checkout counter. As with most working-class dives of its ilk, walking into Rite for the first time can be a bit intimidating, as the grizzled old guys who've been drinking all day peer up at you from their half-finished pints of Old Style. But the more you come here, the more you become one of them, for better or worse. The protocol is easy to follow: show up, sit down, and order a drink. No matter who you are or who's after you, you'll be welcome.
While Mike's done little more than paint and add some flooring since he bought Rite, the rest of Wicker Park has gentrified immensely, becoming one of the most expensive places to live in all of Chicago. "Back then it was a bad neighborhood," he says of the '80s. "There were a lot of drugs, a lot of needles outside, a lot of gangs, a lot of prostitutes." He even recalls one instance when a man was hacked to death with a machete next door. Instead of cut-rate liquors, he says, "They used to call it 'cut-throat.'"
He isn't shy about disclosing the fact that he has three guns, but the scene these days is much safer -- as opposed to when the cops came by looking for a Rite regular who'd cut up his girlfriend and stashed her remains in a fridge. And while it's been decades since Wicker Park enjoyed its peak cool status in the early- to mid-'90s as home to bands like Smashing Pumpkins, Liz Phair, and Urge Overkill, the area around the Division Street strip still clings to some old-school dives like Rite. Rainbo, Phyllis', Gold Star, Innertown Pub, and Zakopane all help retain the neighborhood's history despite the gitzy new digs constantly springing up all around them.
"Now, there a lot of young people, a lot of yuppies," Mike says of the Rite clientele. "They like coming here." The appeal, he says, is the place offers them a different vibe than newer bars on the block like Anthem and Bangers & Lace. His prices don't hurt, either -- a $4 shot at Rite would cost "$7 or $8 across the street."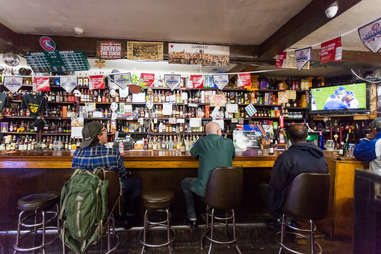 Condos, gyms, craft beer bars, fancy restaurants, an upscale hostel, a kefir shop, and the ubiquitous Starbucks have sprouted up around the neighborhood. Mike's regularly approached by real estate agents, lawyers, and business owners looking to make him an offer to buy the building. "Fifteen at least," per year.
Mike's last offer was for $3.5 million. And every time, he turns them down.
He doesn't sell, partially because of his two sons, Steve and Ted, who he wants to take over the family business. Working at a slashie might not like seem the most lucrative career, but Mike says his kids make "more than accountants," clearing around $100,000 a year. His son Steve is skeptical that his dad will ever retire, mentioning with a laugh that Mike always comes in early, works extra hours, and refuses to go on vacation, despite his sons' pleas. Mostly, Mike doesn't sell because the man loves owning it, making customers like me feel like we're at a second home. Clearly I'm not alone -- during the course of our interview on a Tuesday afternoon, we're interrupted countless times by regulars stopping over to say hi, shoot the breeze with their longtime barman, and pick up some booze for home.
When Rite opened, there were approximately 40 to 50 slashies operating in Chicago, but the numbers have dwindled in recent years down to somewhere around one or two dozen. While developers favor upscale gastropubs and craft beer bars, for longtime regulars -- Leroy the construction worker, Tom the civil engineer, and others who have been coming to Rite Liquors almost every day for the past 30 years -- they remain as essential as ever, thanks in large part to the convenience. "Especially late at night," Mike says. "People want to sit and drink, and get something to go."
The carry-out operation helps keep the place profitable, but the bar, which has become more popular in recent years, makes more money -- even though price of drafts has gone up from 25 cents in 1983 to $3 today.
"Three people had engagement proposals here, and three of my barmaids married customers."
"There were a lot of steady customers back then. This was a Polish neighborhood," Mike recalls of Rite's early days. "I had six barmaids, all Polish." Now he has seven employees, Ted and Steve included, and though the faces have changed, there are as many regulars as ever.
"It's like a family," Mike says. "I've seen grandfathers, fathers, and now sons. I went to a lot of funerals of people who have died over the years. Three people had engagement proposals here, and three of my barmaids married customers." When I ask if he thinks there's love in the air at Rite, he agrees, saying with a laugh, "Especially when you've had a few cocktails." Also of note, a customer even won $1 million playing the lotto here in 2014.
Will you meet your soulmate at a Chicago slashie or walk out a millionaire? Almost certainly not. But that's not why you should go to Rite -- or another of the city's iconic slashies. The point is to experience a unique part of the city's old-school, blue-collar culture, meet a melting pot of backgrounds and demographics, and help preserve a neighborhood's character over a few rounds of Old Style. You might make friends, you might make enemies, but it'll always be entertaining. If not, you can always get some beers or booze and head home.
Luckily for Wicker Park, Rite doesn't seem to be going anywhere anytime soon. Having managed the bar for the past 10 years (and coming here with his dad since he was 10), Mike's son Steve says he "wouldn't change anything" if and when the time comes for he and his brother to take over the family business. "It's been this way for 34 years," he says. "Why change something that's been so successful?"
Sign up here for our daily Chicago email and be the first to get all the food/drink/fun in town.
Jay Gentile is a Thrillist contributor and he definitely spends more time at Rite Liquors than the gym next door. Grab a drink with him before your next workout and follow him @innerviewmag.