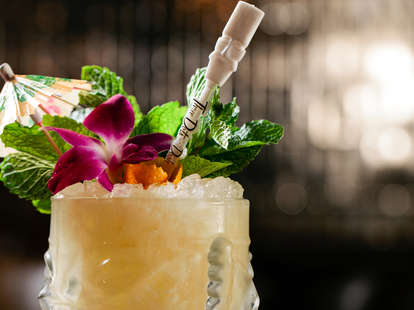 Anjali Pinto
Anjali Pinto
Much like a badass Polynesian surfer can instinctively carve a tiki totem from wood, the folks behind Three Dots and a Dash have carved a subterranean tiki speakeasy out of the back alley of Bub City. Their selection of rum floweth over with 165 labels, some of them drinkable from a glass skull or a damn treasure chest. Yes, you read that correctly.
Three Dots' centerpiece is this main bar with a thatched roof, bamboo paneling, and fishing net lights. In hopes of transferring the tiki torch, many of the wooden tikis and artifacts once belonged to Chicago's former tiki hub, Trader Vic's.
Paying homage to the classic tiki drinks of yore, the Three Dots and a Dash rum cocktail has honey, falernum, and a cherry, and's garnished with pineapple. It's a recipe taken from Don the Beachcomber, a Southern Cali bar owner and not, as we had assumed, what happens when Don Johnson runs low on scratch.
Don the Beachcomber's credo was, "What one rum can't do, three rums can," and cocktail heavyweight Paul McGee (Bub City, RPM, Paris Club) is putting that into practice with an elite selection that includes a 15yr-aged A.D. Rattray Caroni from Trinidad, Demerara dark rum from Guyana, and a rare Novo Fogo sugar cane spirit.
True tiki-philes (which only sounds scandalous) will slurp up the Halekaluni from Waikiki beach (dark rum, bourbon, curacao, grenadine, lemon, pineapple).
If you'd like to talk over the finer points of big wave surfing with a few hula girls in private, there's a 20-seat lounge with cheetah spot seating and titillating artwork.
Moving to the modern side of the drink menu, there's the Poipu Beach Boogie Board with guava, maraschino, grenadine, and enough rye whiskey and 151-proof rum to make boogie-boarding seem cool.
You may want to dust off that ugly sweater for Christmas in July; it's got three varieties of rum to share from an enormous clamshell. Other cocktail containers include an oversized conch shell, a glass skull, and…
... a treasure chest. This giant chest could put Christina Hendricks to shame, and has a full bottle of Guatemalan rum and a full bottle of Dom Perignon, with dry ice fog pouring out as your inhibitions evaporate into the mist.