Because we're terrible at keeping secrets (especially ones about how terrible we are at secret-keeping), here's a lid-blowing guide to nine secret bars in Chicago, and how to find (and get into) every single one.
Lakeview
With a discreet alleyway entrance just to the left of the Old Chicago Inn (here's a picture), this is perhaps the most traditionally "secret" bar in town. Protected with an ever-changing password for members only, you can either apply for membership for a yearly fee, or earn an invite by staying at the hotel. Your reward? Mixology-perfect drinks from the 1920s (did someone say Manhattan?), served with a healthy side of secrecy.
How to get in: Apply for a membership at the Old Chicago Inn, or book a room there.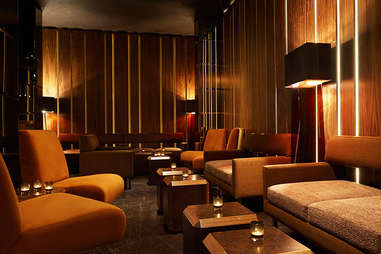 River North
There's a secret behind the former Burke's Bacon Bar at the James Hotel, and his name is Jimmy. Walk towards the unmarked door in the rear that's watched over by a man in a suit. Tell him the secret password, which may or may not be "Jimmy", and you're in. Travel through the sparkly metal curtains at this bacon-smelling cocktail bar, and finish your journey with a Dirty Little Secret (vodka, lemon, dry vermouth, olive brine, celery bitters, and steak sauce). We won't tell.
How to get in: Locate the unmarked door at the back of Burke's Bacon Bar and ask for Jimmy.

West Loop
No, this isn't the place Michael Scott goes for a stiff drink after a long day slinging Dunder Mifflin paper... or is it?!? (It's not). Located below The Aviary as one of the most exclusive rooms in town, the entrance to this Grant Achatz-backed den of $22 cocktail art is secured by invitation only. A workaround? Book a private party for up to 16; then they have to let you in. Even if you bring along Dwight.
How to get in: Ask around for an invitation, or book the room for a private party.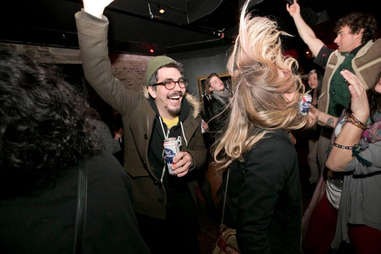 Logan Square
If you define 'secret' as 'not having a sign', this Logan Square hotspot fits the bill nicely, with nothing but a black alley door and red light enabling you access to a dimly lit lair of exposed brick, black curtains, and ubiquitous PBRs. But it's not all dark and brooding inside; grab a wooden picnic table on its bright new outdoor patio space surrounded by graffiti art from people who clearly already know about this place.
How to get in: Locate the nondescript side entrance off Medill, and look for the red light above the door, which is lit when the bar is open.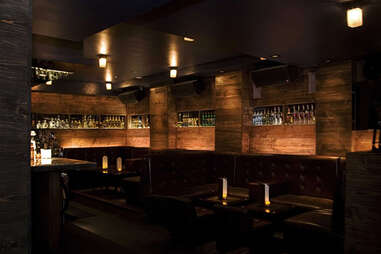 River North
Located below Mercadito, what this place lacks in secrecy it more than makes up for in cool little speakeasy touches -- like a "mixologist's table" similar to a chef's table where you can get up-and-close with your bartender in an environment they call "bar theater". Clearly, they take their boozing seriously. Need a little education? They even have their own Mixology Academy. Better hurry -- class starts July 8th.
How to get in: Head downstairs from Mercadito.

West Loop
One of the city's most legit speakeasies (and definitely the sexiest), this brothel-style private club offers memberships which allow you unfettered access to events like Naked Girls Reading (where naked girls, um, read), Bordello Drawing Club (where you can paint nude models), and the invite-only Thieves event where fine bottles of bourbon are voraciously consumed. While its more general-admission cocktail club is currently on hold, there's still plenty here to keep you entertained.
How to get in: Ask about a membership, or stop in during one of its "open to the public" events.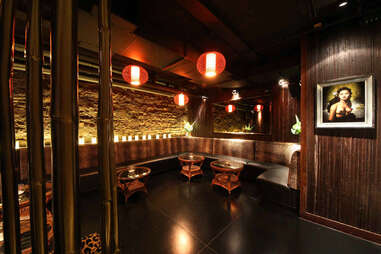 River North
Carved out of the back alley of Bub City with a blue light to guide your way, this Tiki-styled speakeasy is your go-to when you're tired of sipping Scotch in the darkness (Mad Men-style) and want something a little more… fruity. Like, say, Polynesian-style island drinks mixed with 165 varieties of rum, some of them consumable from a giant treasure chest packed with dry ice and a bottle of Dom Perignon. Like we said, some secrets are weirder than others.
How to get in: Locate the blue light behind Bub City in the alley between Hubbard and Illinois.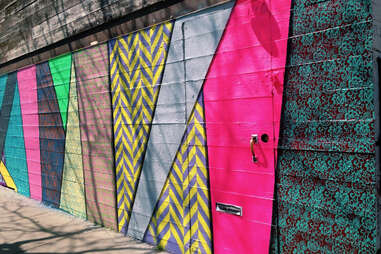 Bucktown
This Bucktown institution may be one of the city's longest-running and best-known speakeasies -- and also one of the best cocktail bars in the country -- but you'll still need to navigate your way through a massive mural to find the door camouflaged in colorful paint. Inside, you'll find a fancy-pants mixology temple hidden behind curtains with equally fancy-pants "dealer's choice" cocktails, like the porter/Malort/whole egg-based Five Times Fast.
How to get in: Navigate the colorful mural across the street from Big Star to find the small door handle.

Wicker Park
Double Door's new speakeasy-style basement lounge has its own separate entrance in the alley under the Blue Line tracks that gives it the feel of secrecy. And that's all you really want in a secret bar, isn't it? Home to DJ acts who often spin after the upstairs bands put down their guitars, this is a world diametrically opposed to the dive bar feel above, featuring leather seating, new blue-hued lighting, and a sexy steel staircase.
How to get in: Find the sign in the alley off Damen under the Blue Line tracks, or just head downstairs from the main venue room on nights when there's a show.
Sign up here for our daily Chicago email and be the first to get all the food/drink/fun in town.
Jay Gentile is the publisher of Chicago INNERVIEW Magazine and a Chicago-based freelance writer who is currently in the witness protection program for revealing state secrets. Follow him at @innerviewmag.