Soho House Chicago
Soho House Chicago
Part-London-based hotel, part-members-only club, part-six-floor-behemoth-in-Chicago's-West-Loop-with-two-restaurants-plus-a-rooftop-pool-plus-a-film-screening-room-plus-a-ton-of-other-sick-stuff, Soho House is, uh, basically all of that stuff. Here's the breakdown:
The Location
Located just off restaurant row on Randolph and Green, the house -- formerly a belt manufacturing warehouse dating back to 1907 -- might be the ideal waiting "room" if you're putting your name in at Girl & The Goat, Au Cheval, or The Publican.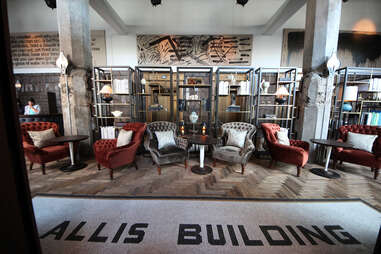 The Garden Level & First Floor
The first two floors (and the first floor mezzanine) are open to the general public, which is important since this thing has six total floors (the other four are open to hotel guests and members). Let's start at the bottom.
The Garden Level features the Cowshed Spa, which provides hot shaves, haircuts, and treatment rooms for full-body massages (no dude, not those kind).
Up on the first floor, you'll find a space that caters to young, entrepreneurial types looking to abandon cubicles and fluorescent lighting for a more creative workspace... which's why there are decor elements made of preserved fire safety glass & wood panels from the building's original water tower structure.
Once there, you can snag free Wi-Fi, croissant sandwiches & espresso during the day, or hit up the cafe bar later on for a nightcap (that may or may not also include you introducing yourself to everyone at the bar as, "a venture capitalist with an emerging maple syrup conglomerate").
The First Floor Mezzanine
The mezzanine above the lobby houses two sit-down restaurants, starting with Pizza East -- a rustic, wood-firing pizzeria with decorative meats dangling from the ceiling, as well as fish and bread splayed out on the counter.
The thin-yet-fluffy-crust pizzas range in meats from spicy fennel sausage (with non-meat broccolini) to veal meatball with prosciutto. Fried chicken liver on polenta is a highlight among the small plates, and the cinnamon-sugar bombolini donuts are a highlight among the desserts/everything you've ever eaten in your entire life.
Down the hall is Soho House's Chicken Shop -- a general store equipped with a rotisserie for chicken.
Chicken Shop's dessert offerings are mostly items you'd steal off a window sill if given the chance -- lemon meringue pie, apple pie, pecan pie, and chocolate brownies.
The Second Floor
Club member & hotel guest territory starts on the second floor, where there's a professional boxing ring (?!), as well as cardio equipment (pommel horse FTW!), two fitness studios, laundry, and steam rooms.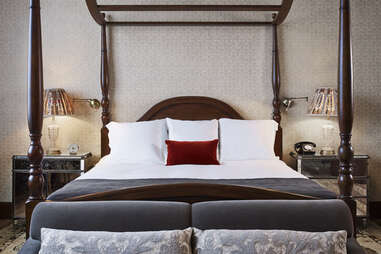 The Third Floor
This is where the magic happens... if by "the magic happens", you mean "the room's crystal decanters are filled with rum". The larger bedrooms feature a mini-bar, tub, sofa, armoire, and king-sized bed.
The Fourth Floor
There are more rooms, plus there's a 40-seat film screening room that will show new releases and classics. Both the cinema and the adjacent Belt Room -- with a cocktail lounge for 100 people -- are available to rent out.
The Fifth Floor
This is where you'll find the Club Bar -- a circular affair with leather sofa seating, desks that convert into beer p--err... ping pong tables, and a dedicated food and drink menu.
The Rooftop
The quote-unquote sixth floor will smack you in the face with skyline views, dual fireplaces, waitstaff bringing cocktails, and a 60ft steel-rimmed swimming pool, in case you feel like working off the rotisserie chicken you ate five floors earlier.
Sean Cooley is Thrillist's Chicago Editor and once moved a Baby Grand piano up a second floor deck without dying. Follow him @SeanCooley.