Chicago's St. Patrick's Day traditions include dyeing our beloved Chicago River green, inhaling about 30 corned beef & cabbage sandwiches, and arguing over whether Guinness or Harp is the superior draft stout. Our favorite St. Paddy's tradition here in Chicago, however, is the age-old practice of deciding whether to throw caution to the wind and dress up in nothing but clover suspenders and green jorts to take part in our fair city's St. Patrick's Day Parade, or instead to meticulously scan the parade route to ensure you stay at least 5 miles away from the festivities at all times. Fortunately, we at Thrillist have been on both sides of that coin, so we are happy to give you a perfect guide to help craft your St. Patrick's Day plans -- whether you're participating or actively avoiding the mayhem.
Recommended Video
The 'Game of Thrones' Pop-Up Bar Is Now Open in Washington, DC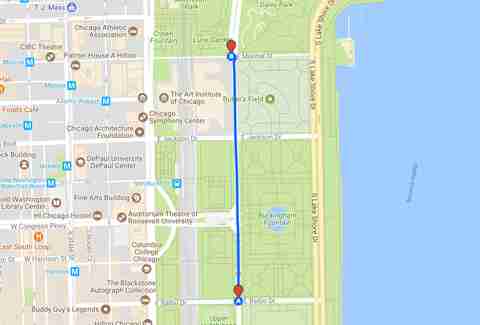 What time does the 2018 Chicago St. Patrick's Day parade start and what is the route?
Though the parade itself will begin at noon, if you want the full St. Patrick's Day Parade experience, you'll want to head downtown at 9am so that you can see the dyeing of the Chicago River. Our favorite viewing spot is along the Chicago Riverwalk, between Columbus and Michigan Avenue. This spot isn't too far from where the parade will begin.
This year, the route is fairly simple. The 2018 Chicago St. Patrick's Day Parade will begin at the corner of Columbus and Balbo, right at the northwest edge of Grant Park. From there, it will continue north along Columbus Drive for a few blocks, passing by Buckingham Fountain and the Art Institute of Chicago before concluding at the intersection of Monroe and Columbus at the southern edge of Millennium Park. As a bonus, the fact that the parade route is tucked into the eastern portion of downtown means that if you're looking to steer clear of the craziness, you've got a few blocks worth of buffer even if you still want to hang out downtown.
What will the weather be like, and what should you wear?
As of publication time, Weather Underground is reporting that it'll be a brisk 40 degrees at 9am when the dyeing of the river starts. By the time the parade starts at noon it'll be around 47 degrees. The weather will top out close to 50 degrees as the festivities extend into the late afternoon, so maybe save the clover-suspenders-and-green-jorts look for another year.
Of course, you'd be completely out of place at the parade if you don't show up rocking some green (personally, we think you'd look great in a mint green seersucker blazer over a chunky black turtleneck with some olive green leggings). But in case you get called out by some know-it-all wielding a shillelagh for your lack of knowledge, know that the color green isn't just meant to prevent you from being pinched by leprechauns or 35-year old former frat stars. It's also a symbol of revolution, used both by displaced Catholic populations in 1641 and by revolutionaries in the 1790s who looked to install a government inspired by the republic of the United States. (For more information on the relationship between the color green and Irish history, check out this informative Time magazine piece.)  
If you're looking to wear something a bit more classy than that "Kiss Me, I'm CHI-rish" shirt you bought from Spencer's Gifts back in 2004, you can always order from Long Grove's Irish Boutique, a one-stop shop for authentic and fashionable Irish clothing, jewelry, and accessories!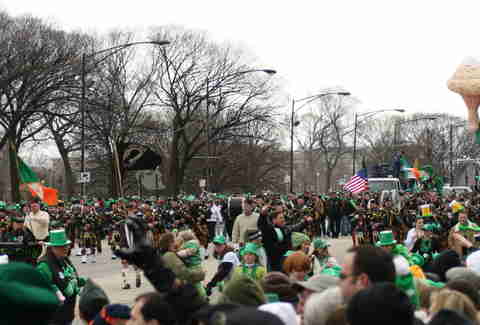 What else is there to do in Chicago that weekend besides the St. Paddy's Parade?
Since the St. Patrick's Day Parade route is pretty self-contained this year, there aren't really any bars along the way that you can duck into when you're done watching. That said, it's downtown, and there are plenty of Irish bars that will be happy to serve you a pint of green beer. Lizzie McNeill's and Fado, the two best Irish bars closest to the parade, will likely be packed, so if you're trying to post up there you'll want to get there early. Fado will require a $10 cover and opens at 7:30am, and Lizzie McNeill's has a first-come-first-served policy after it opens at 7am.
A bit further off the beaten path, you'll find Brando's Speakeasy, which will be hosting a brunch mixer complete with corned beef sandwiches, potatoes, green eggs & ham(!), and grilled cheese, perfectly timed so that when it ends, you'll have time to hop on over to the parade. If you're looking to take your day drinking to the high seas (the Chicago River totally counts as a sea, right?) there are plenty of tickets still available for booze cruises that promise to ferry you across the dyed river while you attack a full cash bar.
Now, for those of you who are in the spirit but also might not want to be packed like a sardine into an Irish pub or surrounded by people who have had probably three more Guinnesses than they really should have had, we'd highly recommend heading up north to the Irving Park neighborhood. Once there, you'll find the Irish American Heritage Center, which will be hosting a St. Patrick's Day festival directly following the parade activities downtown. The festival will feature traditional Irish dance and music, authentic Irish food and drink for sale, and a whole slew of local vendors selling Irish gifts. You can also browse the center -- there will be exhibitions, films, and even Irish language lessons. As an added bonus, you'll be able to brag to your friends about how much you've learned while you're having your therapeutic hangover brunch the next day! Tickets are $12 if you buy them before March 15 and $15 at the door.
If none of those pan out, check out other events on our regularly updated guide to the things to do in Chicago over the weekend or take in one of our best bars or restaurants -- all of which are sure to have their own deals or specials on offer. Have fun!
Sign up here for our daily Chicago email and be the first to get all the food/drink/fun in town.