Now that we've given the rundown of the oldest bars in Chicago (drink where all our mobsters/mob-owned politicians drank!), it's time to take that boozy history lesson on the road to discover the oldest bars in the rest of Illinois. Because some pretty interesting historic stuff exists outside the city limits. Not much, but some.
Glenview
Opened: 1921
Today Hackney's is known for its dark rye bread, burgers, and fried onions served at all five locations. In 1921 during Prohibition, though, Jack and Bebe Hackney were known for serving beer and burgers from the back porch of their Glenview home.
Galena
Opened: 1937
As the name suggests, beef is the specialty of this nearly 80-year-old steakhouse owned by the Rigopoulos family since 1975, which has infused its Greek lineage into the menu with its lamb chops and famous chicken recipe. The lively locals joint also has a weekend piano bar and sports its own 16-passenger party bus for when it's time to "opa!"
Glenview
Opened: 1933
In 1927, a farmhouse-turned-speakeasy opened on a quiet road surrounded by fields. Purchased by the Meier family in 1932 and fully licensed at Prohibition's end in 1933, Meier's Tavern served 10-cent beer, 15-cent burgers, and offered pony rides for the kids. These days it's a cool packaged goods-style slashie with DAB on tap served in its own mug and food served on Styrofoam plates, like God intended.
Champaign
Opened: 1933
College dudes and old timers peacefully coexist at this local dive, which is one of the oldest establishments in Downtown Champaign and a welcome respite from the typical college bar scene. Bar games and an old-school jukebox make this an ideal spot to get weird on the dance floor after too many cans of Hamm's and episodes of Jeopardy.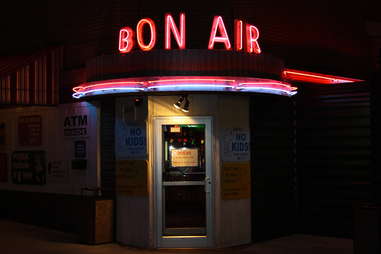 Alton
Opened: 1921
Fast Eddie's was originally built by Anheuser-Busch so folks could enjoy their cold brews just across the Mississippi River from their St. Louis operation. But when "Fast" Eddie Sholar took over the bar in 1981, he rapidly expanded it and turned it into one of the best in the state, stocked with more than 4,000 half barrels of beer. Ninety-nine-cent bratwurst, 29-cent shrimp, and the marinated tenderloin delight known as the Big Elwood on a Stick also await.
Winfield
Opened: 1921
Wait, where the hell is Winfield? It's where John's Restaurant and Tavern is, that's where. John's has long been a staple of this far western Chicago suburb, serving up comfort food including its Friday fish fry, Saturday night BBQ dinners, and Sunday fried chicken special. Grab a spot on John's beautiful outdoor patio and enjoy one of 22 tap beers including Pig Minds Always The Hard Way double IPA, as well as local offerings from the likes of Revolution, Temperance, and Two Brothers.
Libertyville
Opened: 1917
Mickey Finn's only began brewing its own beer in 1994, but it has been serving cold ones since 1917 and claims the designation of Lake County's first brewpub. It hosts live music and events every Friday and Saturday not to mention an expansive menu of pub favorites including beer nuggets, filet mignon burgers, and Cubanos.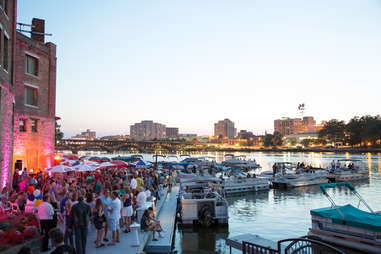 Rockford
Opened: 1857
Housed in the historic Prairie Street Brewhouse, the original Rockford Brewing Company had been one of the first breweries in the nation -- processing 75,000 barrels each year -- until it was turned into a storage warehouse and laundry business in 2000 before returning to its original purpose. Stop by in the warmer months for live music and outdoor dinner on the dock overlooking the Rock River, certainly one of the best things to do in Rockford.
Long Grove
Opened: 1849
Claiming the title of oldest restaurant and tavern in Illinois, The Village Tavern offers live entertainment six nights a week as well as fantastic weekly specials such as all-you-can-eat roasted chicken on Wednesdays, a Friday night fish fry, and a famous prime rib special on Saturday nights. Adding to the historic vibes is a vintage 1893 World's Fair grandfather clock and the elegant mahogany bar, which reportedly survived the McCormick Place fire of 1967.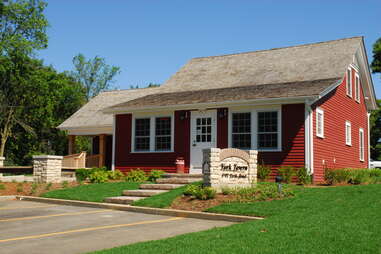 Oak Brook
Opened: 1843
Not only is York Tavern one of the best bars in the suburbs, it's also the oldest freaking bar in the state. The tavern was built in 1843 by Benjamin Fuller, known as The Farmer's Home, and was first licensed by the county in 1846. Originally serving as the community grocery store and tavern, it's now your go-to spot for home-cooked favorites like baked mostaccioli and homemade ravioli… paired with that old historic classic known as Patron on tap.
Sign up here for our daily Chicago email and be the first to get all the food/drink/fun in town.
Jay Gentile is a Thrillist contributor and fan of history when booze is involved. Follow @innerviewmag.