Since Chicago's inarguably the best city in the Midwest, it's not too surprising that alumni from all 12 Big Ten schools (soon to be 14!) frequently settle there. But when it comes time to watch the game, you still want to be surrounded by like-minded people who remind you of your days in the inarguably inferior town where you went to college (yes, Evanston, that goes for you, too). Here are the best places to do just that.
Recommended Video
Buffalo Chicken Beer Cheese Fondue Fries Are Like an Edible Sports Bar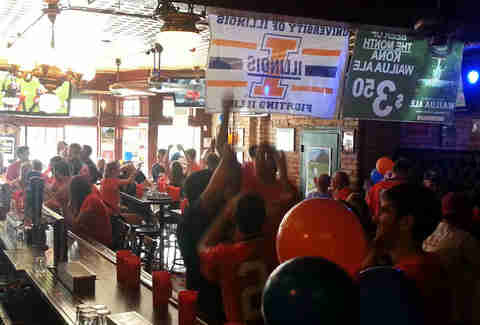 Illinois
Durkin's Tavern, Lakeview
Best known as a Steelers bar (and once upon a time a Purdue bar, before they went turncoat), Durkin's has become the next-best-thing to sitting in Kam's. Catch Fighting Illini hijinks like a live marching band, as well as Saturday football feast packages, O&O's, and walk of shame shots that, given the state of Illini football, should come in handy.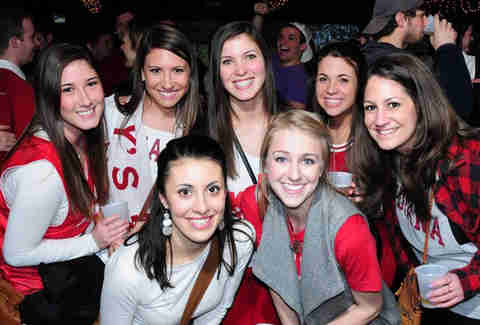 Indiana
Joe's Bar, Near North Side
When Jay Cutler's not taking the stage in '80s gear, Joe's is hosting Hoosier fans with 110 TVs, morning mimosas, and a country vibe that would put Jimmy Chitwood totally at ease -- just keep Shooter out of here.
Iowa
Merkle's, Lakeview
This sports bar is compact, but right on the money come game-time (not unlike Nate Kaeding). Owned by Hawkeye alumni, dig into their extensive craft beer list as you look to catch the next Drew Tate-caliber miracle.
Penn State
AJ Hudsons, Lakeview
Also a haven for fans of the OTHER kind of football, this saloon is all-American on game days with hand-packed half-pound burgers like the Hell's Kitchen (cayenne, jalapeno salsa, Sriracha, pepper jack), or the Hawaiian (smoked ham & char-grilled pineapple), and 25 47in flat-screens.
Ohio State
McGee's, Lincoln Park
Chicago's slice of Buckeyeland will brace you for a day of excess with build-your-own mac 'n cheese, as well as ticket giveaways, and bus trip tailgate packages to keep you distracted as you brace yourself for the next inevitable NCCA investigation.
Michigan
Duffy's, Lincoln Park
We don't know how Desmond Howard can sit on the College GameDay set without backhanding Lee Corso. No better place to admire Desmond's restraint than Ann Arbor safe haven at Duffy's with weekend brunch buffets, Michigan mugs, 42 flat-screens, and room for 500... so things can get just as loud & obnoxious as the Big House.
Michigan State
The Tin Lizzie, Lincoln Park
The MSU/Detroit sports hub has everything except Andre Rison's sunglasses from ESPN's "Broke" 30 for 30. There's beer pong, pole dancing, and turtle races. As in the animals. Though racing little Jerry Ferraras would be cool, too.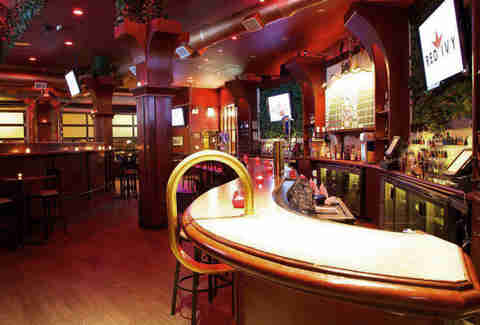 Minnesota
Red Ivy, Lakeview
Full disclosure, Redmond's also caters to Purdue and... Georgia Tech (?). You just don't see big packs of Minnesota fans the way you do for some other schools, which either speaks to the drawing power of the Twin Cities or the state of their athletic teams.
Nebraska
Kirkwood Bar, Lakeview
Husker Saturdays involve tot-chos, mini burgers, and Big Red fish bowls you'll be happy to share... as long as no Oklahoma fans walk in. But really, shouldn't they also involve corn husks?
Northwestern
Lion Head Pub, Lincoln Park
Just because you've strayed South of Nevin's doesn't mean there isn't Wildcat pride to be found with beer towers aplenty and $3.25 Coors Light 20oz drafts.
Purdue
Fireplace Inn, Old town
The Fireplace Inn is as permanent a Purdue fixture as that weird thing on Drew Brees's face. There's 40 flat-screens for your viewing pleasure, just as their signature ribs are there for your eating pleasure.
Wisconsin
Will's Northwoods Inn, Lakeview
This Sconnie sports bar gears up for the fifth quarter with Wisconsin brews from Capital and Lakefront, breakfast pint deals, cheese curds, free popcorn, and ornamental moose. You couldn't feel more like you're in Wisconsin if you crawled inside a wheel of cheddar.