There's stuff worth exploring in the Chicago 'burbs, not only for the haunts of famous serial killers, but for some food and drink experiences you won't get in the city proper. Since we've pointed out the best restaurants in greater Chicagoland, we've got the drink pairing in these 17 great bars in the Chicago suburbs.
 
River Grove
Life is full of guilty pleasures. And few are more guiltily pleasurable than this uber-Tiki lounge opened in 1964 and named after a Hawaiian pineapple plantation. The menu explodes with more than 100 tropical drinks, but anyone who's anyone knows you need to order the namesake 151-proof Hala Kahiki, which is actually a noxious blend of two of the bar's stiffest potions served in a real frozen pineapple. It's also located right up the block from the best in suburbs/best in state Gene & Jude's, so grab a double dog on your way in or out (or both).
Recommended Video
Thrillist's Best (and the Rest): What You Actually Need to Know About Natural Wine
Palatine
One of the best places for live music in the suburbs is also one of the best places for knife-and-fork fries covered in pulled chicken and tossed in salsa rojo. Or you can nosh on beer-steamed mussels as you take in cover bands like Hairbanger's Ball while knocking back a 3 Floyds Gumballhead on tap or a Belgian St. Bernardus quadrupel (because tripels are for quitters). And if you really get into the beer scene here, it's even got its own Beer Geek Club.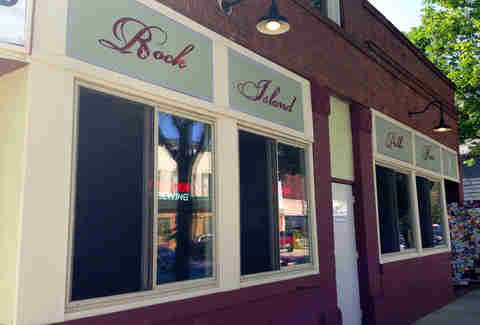 Blue Island
This place has a lot going for it: a 16-strong rotating tap list, an old-school jukebox and arcade games, a chilled-out picnic-tabled patio, and a welcoming vibe that immediately makes you feel at home. It also does something called Yoga & Beer which is exactly what it sounds like. But the best perk may be its close proximity to the Metra, otherwise known as your designated driver on rails.
Addison
With a nice selection of large-format 22oz bottles and a lively taproom lined with upside-down beer taps and growlers, this place is just a good time. Guitars and skateboards on the wall add to the laid-back ambience while the food keeps things interesting thanks to inventive offerings like s'mores flatbreads and prosciushi (prosciutto with cream cheese rolled like sushi). Bonus points for the chili and cool outdoor patio.
Tinley Park and Mokena
It's all about the tap beer around these parts and, with 93 beers on tap between the Tinley Park and Mokena locations, it clearly take its tappings seriously. The place also brews its own ales like the excellent Ol' Tango dark IPA while offering unusual bar items like sweet mead (yes, mead) and lobster deviled eggs. Come for the beers on tap, stay for the live bands and Italian beef (yes, Italian beef!). 
La Grange
One of the best bars in the state is known for things like 300-plus bottles, 39 beers on tap, and the famous Palmer's steak sandwich. But the real showstopper here is the sunny and friendly three-tiered back patio that is kind of like the Melrose Place of day drinking. You will run into someone from high school here. But you'll probably be in such a good mood by then that it'll actually be a good thing. Unlike in Melrose Place.
Evanston
Fancy cocktail lounges don't only exist within city limits. Proof of that is this just-beyond-the-border mixology bar, which serves up pinky-extending drinks like the rum- and Cognac-packed Charles Dickens Punch using recipes from an 1847 letter written by Dickens. Besides cocktails, it's got beer in cans like Ska Euphoria Pale Ale, Tiki drinks in skull glasses, and pork & pineapple flatbreads. Oh, and did we mention absinthe? Because it totally has that too.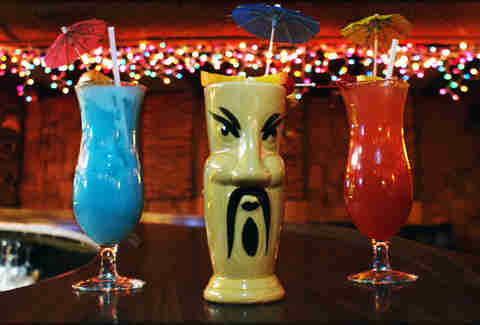 North Riverside
It's got Elvis impersonators. It's got Polynesian dancers. It's even got $200 group dispensers that hold 40 drinks at a time. But you're not leaving here without tangling with the legendary Dr. Fong, a highly guarded secret family recipe that has resulted in more than its fair share of suburban memory loss. The spot serves Asian food too, which is actually pretty good, but you'll never see anyone eating. What you will see is a parking lot where cars greatly outnumber people, leading to rumors of a secret casino in the basement that we can neither confirm nor deny.
Berwyn
The American Music Festival is one of the most underrated events of the Fourth of July weekend. And this bar (where the festival is held) is also one of the most unsung places for live music in Chicago. With a steady lineup of solid acts like local blues enthusiasts Steepwater Band and country punk outlaws Waco Brothers, it's kind of like a suburban version of The Hideout where the drinks are cheap and the vibes are good. No food here, it's all about the music.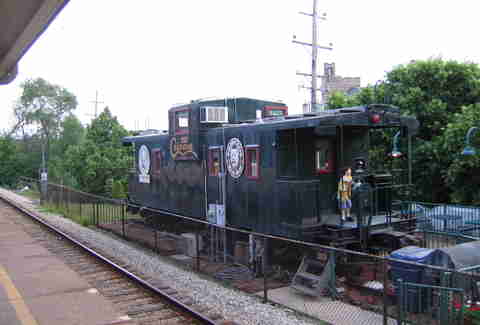 Flossmoor
Do you like award-winning breweries located in old train stations? Did you never think of such a thing before reading that sentence but suddenly love the idea? Then you best head to this South suburban landmark that's slinging saucy plates like beer shrimp and beer-b-que ribs made with its own Station Master Wheat Ale Beer-B-Que Sauce. It's also got pumpkin pie martinis and an onsite summer ice cream shop located in an actual train caboose out back. And if you don't love that, you hate life.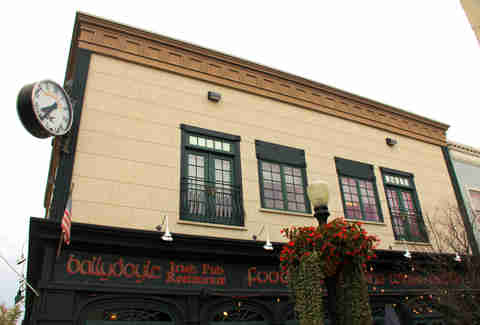 Downers Grove and Aurora
Looking for a true Irish pub experience? Go to Ireland. Looking for a pretty close American approximation? Then look no further than Ballydole in Downers Grove and Aurora. Each location offers a variety of brews, Irish whiskeys, Irish pub fare, and live entertainment including Irish dance, local bands, dart tournaments, and trivia nights. The Downers Grove location even offers a whiskey passport to help you keep track of which of the 80+ whiskeys you've sampled. And yes, you're gonna need it.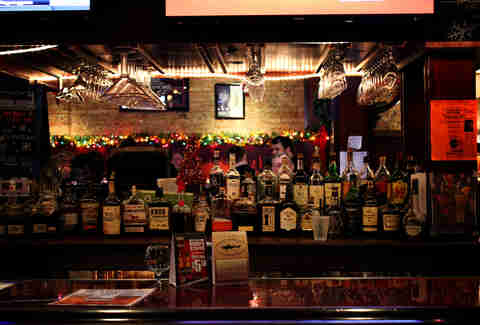 Oak Park
It's got 110+ rotating beers from Goose Island Matilda to Delirium Tremens. It's got spinach artichoke fondue and smoked Gouda mac and cheese. It's also reinvented day drinking in the suburbs with a killer outdoor rooftop patio tailor-made for repeated orders of Moscow Mules, mojitos, and caipirinhas. Or you can always head inside and watch a game on TV. Your call.
 
Palatine
It's all about The Brandt's Burger around these parts, specially ground with a mix of loin for the restaurant daily by Chicago Stockyards. Pair that with Anti-Hero, Dogfish Head, and Fat Tire in a 130-year-old building that was a former speakeasy (and reported site of a fierce mob gun battle) and you have yourself a pretty interesting trip to the suburbs in the making.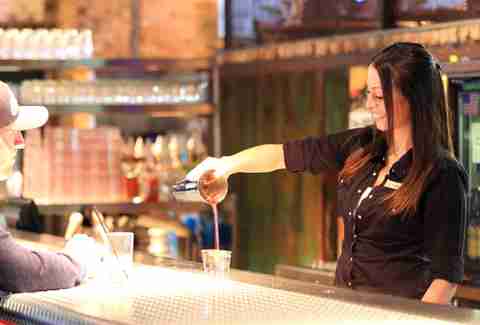 Aurora
As one of the best bars in the state, The Foundry is a sports lover's dream. With 140 flat-screen TVs and 22 movie-sized projection screens, you can guarantee that any game you're interested in will be on (unless you're into lingerie football, in which case get a life). The Foundry is also home to off-track betting, shuffleboard, pool, sand volleyball, team trivia, salsa dancing lessons, three bars, and an indoor tobacco shop for stogies and high-fives.
Oak Brook
Reported to be the oldest continuously operating privately owned bar in DuPage County, this structure built in 1843 looks like a quiet family ranch house from the exterior. And the down-home vibes continue inside with home-cooked favorites like baked mostaccioli and homemade ravioli offering a nice break from the traditional wings and burgers bar fare. Other highlights include the excellent tavern-style pizza and Patrón on tap (although combining the two is not necessarily recommended).
Libertyville
Firkin earns its billing as one of the best bars in the state thanks to its 30-strong tap list, casks of Crystal Lake Brewing Lakesider, and standout pub fare including grass-fed burgers, duck nachos, and lobster tacos. The décor changes depending on the season but the scene inside is always lively, especially for beer geeks and those who aspire towards eventual beer geekdom.
 
Long Grove
The oldest bar in Illinois (established in 1847) showcases live music six nights a week, a classic 35ft mahogany bar (which yes, smells of rich mahogany), and classic pub fare like the homemade tavern stew with top sirloin and fresh-cut potatoes. Stop in on Fridays for the all-you-can-eat fish fry and, while you're at it, see how much Breckenridge Vanilla Porter and Belfast Bay Oatmeal Stout you can drink as well.
 
Sign up here for our daily Chicago email and be the first to get all the food/drink/fun in town.
Jay Gentile is a Thrillist contributor who totally missed his nephew's birthday party in the suburbs because he was out doing "research." Follow him: @innerviewmag.