There are only so many crafty cocktails and artisanal house-made whatever that one person can handle. Sometimes you need to keep it simple, and few things in Chicago beat the innate pleasure of an expertly executed dive bar. These 12 dives around the city earn gold stars for never trying to be something they're not.
Recommended Video
'Friends' Is Celebrating Its 25th Anniversary With This Immersive Pop-Up Exhibit
Avondale
Looking to sing bleary-eyed karaoke until 4am? Congratulations: you've found your Shangri-La. Once you're buzzed in, grab a Zywiec and flip through karaoke DJ Fred's massive collection of songs until you've found a winner (and no, you don't sound as awesome as you think). If you feel like acting like a total asshat and falling down all over the stage, be warned: Alice and Fred are more than happy to cut you off. But if you're cool, they're cool.
Lincoln Park
Grandma knows how to throw one hell of a basement rager. If your grandma happens to be Rose, of course. Tear through pitchers of Old Style as you wait for the Tamale Guy, shoot some stick while playing cool jams, or just chill on the couches that have seen more than their fair share of tomfoolery over the years.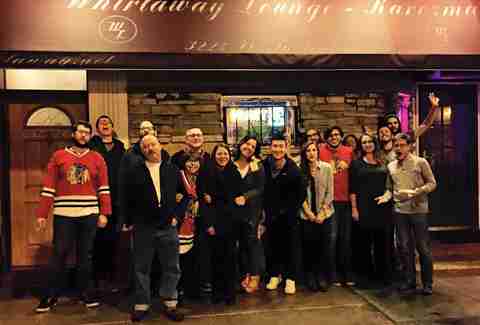 Logan Square
Plenty of places in Logan Square try to be cool. Whirlaway just is. Whether on an awkward Tinder date or bombing in with a group of sweater-wearing Hawks fans, you'll always find a spot here with a colorful cast of regulars. Chat with the always-friendly Maria, play Connect Four, or just sit back and watch the game. Any game. It doesn't matter.
Ukrainian Village
If you're the type that brings his own ping-pong paddle to the bar, 1) you've got serious problems; 2) you've found your new home at Happy Village, where epic games of pong go down in the back room while outside you can chill in one of the best patios in town (although not quite as cool since they paved it). Either way, you'll need to work extra hard to have a bad time here.
Ukrainian Village
Yes, something smells here. It's the musty smell of fun. While the classic neighborhood dive recently made a cameo in the TV show Sirens, it's still pretty much required partying for anyone within spitting distance of its iconic sign. It's got all your dive bar basics covered: cheap drinks, good jukebox, and pool, with the bonus elements of open mic night weirdoes and a giant Elvis.
Wicker Park
As Division Street continues to get fancier and fancier (even Smoke Daddy has recently seen upgrades), Goldstar continues its defiance by staying as divey as ever. While nearby Rainbo, Zakopane, Phyllis' and Rite Liquors are also more than worthy dive stopovers, Gold Star is like a step back in time where nothing changes except everything around it. Which, in this case, is definitely a good thing.
Lakeview
Frequented by everyone from serial killers Jeffrey Dahmer and John Wayne Gacy to punk bands Against Me! and The Lawrence Arms, L&L retains its classic no frills, shot-and-a-beer appeal despite the endless crop of idiot bars surrounding it in the dangerously closing-in confines of Wrigleyville. While you might encounter a wayward tourist every now then looking for a party, most are probably too scared to enter. Which is the way L&L likes it.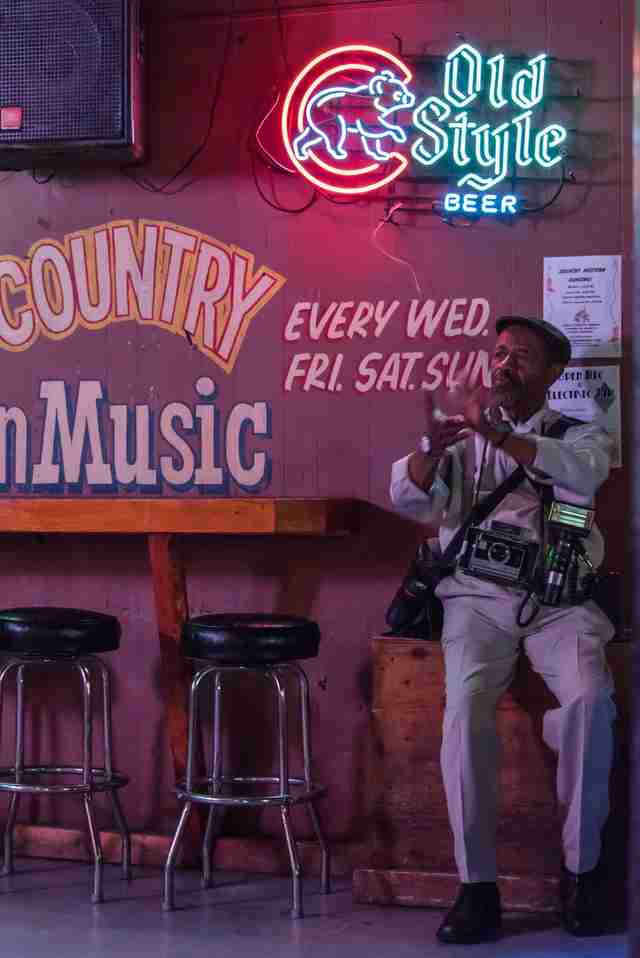 Uptown
A country bar? In Chicago? On paper, Carol's shouldn't work. But late nights don't happen on paper. They happen at this friendly off-the-beaten path honky tonk that's definitely seen weirder shit than you and your imbecile friends since it opened in 1973. If you think you hate country music -- which is a perfectly acceptable thing to hate -- come to Carol's and then come talk to us.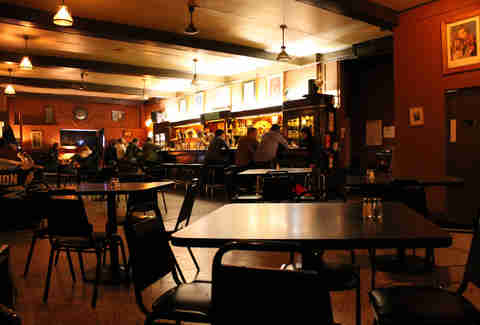 Pilsen
Made famous as Vince Vaughn's favorite hangout in The Break-Up, this cozy brick shack was cool before Pilsen was cool. With a vintage photobooth and old rifles on the wall, it also boasts a surprising quality range of food options, from potato and cheese pierogi to beer-battered cod sandwiches. Because sometimes, late nights require need more than a jar of peanuts.
Logan Square
There's mismatched furniture, the backstage area is a total cave, and the bathroom looks like someone shat graffiti all over it. But, but, but, they've got some nice beers! While its hipster meter is precariously high, free live music is nothing to sneeze at either.
River West
Blatantly disregarding Chicago's no-smoking laws, this, um, smoky(!) dive sports neon signs, kitschy posters, and a payphone focal point reminiscent of the 1960s. Guzzle dirt-cheap beer and nosh on chips or hard boiled eggs for less than a buck. If you're wondering why the hell you can smoke here but nowhere else in the city, don't ask.
Old Town
This 50+ year-old saloon is one of the few places in Chicago you can simultaneously drink and get a poli-sci lesson: the walls are covered with portraits of nude politicians (hello, gun-wielding Sarah Palin with nothin' but red heels on). Whether you're partying with grizzled old timers or unwinding Second City tourists, there's always something interesting going on.

Sign up here for our daily Chicago email and be the first to get all the food/drink/fun in town.
Jay Gentile is a Thrillist contributor and he'll take a dive bar over a house-blended whatever any day of the week. Follow @innerviewmag.