Nothing against your corner bar and its sweet-ass Buffalo wings, but sometimes you're in need of an entirely alternative experience. Chicago's hotel cocktail lounges are a different breed of bar -- clandestine, classy, historical, fewer shot skis -- and lapping up the lap of luxury isn't just for out-of-towners. Take in sweeping views of the skyline when it's patio weather and slink around in the sleek decor with Prohibition-era quirks when it's, well, the other six months of the year. Consider upgrading your typical drinking, and possibly sleeping, environs for an evening in one of the city's 11 most nightcap-worthy hotels.
 
Loop
One of the best new bars of 2015, the crown jewel of the recently renovated Chicago Athletic Association has the best view of Millennium Park AND the best drink named after an elephant that refused to leave a CAA party in the 1900s (The Hesitant Elephant). If you needed more, there's Maker's Mark pecan pie, Moody Tongue Caramelized Chocolate Churro Baltic Porter on draft, and late-night eats like poutine and cast-iron chilaquiles to make quick work of on communal picnic tables.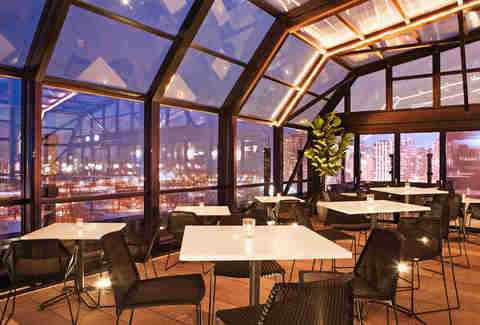 Lincoln Park
The Hotel Lincoln's 13th-floor oasis provides the perfect escape from the cookie-cutter Downtown hotel scene thanks to magnificent (yes, we said magnificent) Lake Michigan views and an always-happening scene of attractive, buttoned-up ladies and gents. Join the cool kids with small plates from chef Paul Virant, including shrimp ceviche and mini burgers paired with cocktails like the pisco-based "In" Crowd (get it?), or bust the corporate credit card on $950 magnum bottles of Dom Perignon brut. Either way, you win.
Streeterville
On the 18th floor of the Raffaello Hotel, you'll find one of the sexiest rooms in all of Chicago where dark woods and marble get you in the mood to dive into a comprehensive cocktail menu from one of Chicago's top female bartenders. Whether you're hitting up old classics like the Walk a Tightrope (made with rye whiskey and Goose Island sour blackberry rye beer) or new creations like the Candy Cigarette (including pisco, cream, coconut, and egg white), you're pretty much guaranteed to stumble upon your new favorite drink. Or get plenty buzzed trying.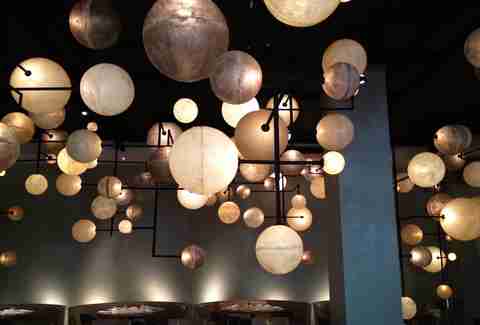 Gold Coast
The fabled Pump Room has been reinvented for the modern era at this swanky outpost of the PUBLIC Chicago where anyone who's anyone hangs out to see and be seen (what, you've never been?) Settle into the Frank Sinatra booth in the '30s/'40s supper club-style dining room to unpack heavy-hitting eats like Maine lobster, filet mignon, and suckling pit confit or chat up hotties at the bar over a Passion Chili (with rye, passion fruit chili, and ginger ale) cocktail or the Scotch- and crème de cacao-based Queens Boulevard. Which we're pretty sure Vinny Chase drinks.
River North
It's the largest indoor/outdoor "roofscape" in the city. What the hell is a roofscape, you ask? Well, it's pretty much everything this place excels at: retractable roof, video wall, and a well-dressed, good-looking crowd dancing to the DJ under trippy club lights. For eats, there's lamb lollichops and squash risotto. For drinks, there's pitchers of white sangria and Deschutes Fresh Squeezed.
River North
The name may be understated, but The Bar is anything but. Unless your ordinary bar produces a dimly lit environment of sexy red walls, tall leather bar stools, and a roaring fireplace (because what the hell good is a fireplace if it isn't roaring?) While best known for its martinis and rare whiskeys, drinks like the Hemingway daiquiri and White Whiskey Fizz (with grapefruit, maple syrup, and egg white) are no slouches either. The "smart casual" dress code applies to the bar bites as well, with mini Kobe burgers and sushi rolls getting you in the mood to mingle. Or not, it's cool either way.
River North
In winter, the 26th floor of the Dana Hotel is most well known as the location of the city's only (but totally necessary) indoor/outdoor rooftop ice bar. The rest of the year, it's known as one of the biggest party spots in the hotel bar scene thanks to DJs spinning house, top 40, and live remixes amidst party accessories that may or may not include an outdoor fire pit, buckets of beer, and bottles of Cristal. If you're one of those people who only does shots via ice luge (and why wouldn't you be?), this is the clearly the place for you.
Loop
If you're looking to pick up models in Chicago, you should probably hit up a bar named a "model's choice" by Elle magazine. In addition to live runway shows, this equally visually stunning space features a retractable roof, 3D video-mapping wall, and several sleek spaces for skyline-view make-out sessions. Before swapping spit, however, one would be wise to indulge in eats like jerk chicken flatbreads and seafood towers paired with cocktails like the whiskey-based Bridgeport and vodka-heavy Sex on the Roof.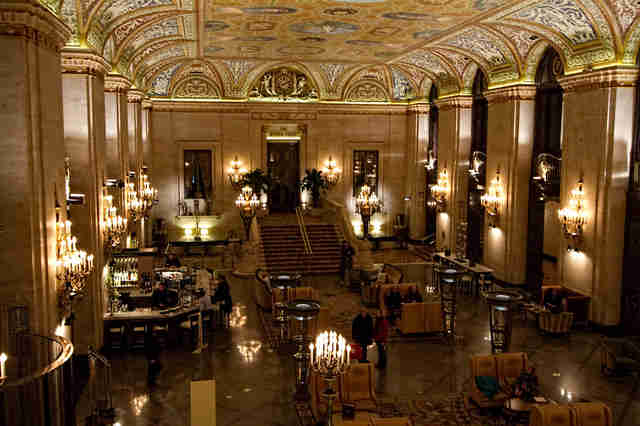 Loop
One of Chicago's most ridiculously ornate bars, where church-like frescoed ceilings and high-rising marble columns surround a sparkling little bar serving up chocolate chip mojitos and treetini martinis that plant a tree in the Brazilian rainforest every time you order one. (See, we knew you were environmentally conscious.) If you can't make it to church on Sunday, this is a perfectly acceptable alternative.
River North
For those of you who can't make up your goddam mind already, you're lucky there is such a thing as the dealer's choice cocktail. You pick your spirit, flavor profile, and glassware, and they do the rest at the ACME Hotel's pretension-free temple of booze. No judgments: just a welcome respite from the typical wallet-gouging hotel bar scene thanks to beers like $4 Hamm's and $3 Rhinelander paired with duck wings, bacon Reubens, and soft pretzel bites with beer cheese.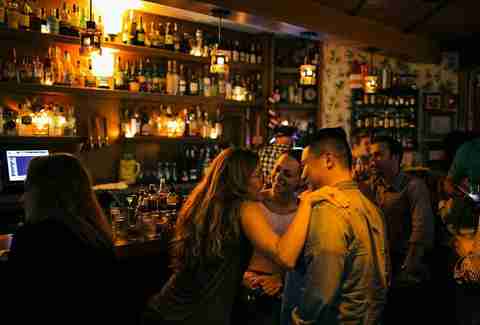 River North
Parked in the new upscale hostel (or "poshtel") The Freehand, The Broken Shaker does everything a little bit differently. First, there's the space decked out with octopus art and basement décor, with a laid-back house-party vibe thanks to DJs spinning old-school soul vinyl as travelers play Jenga on couches. Then there are drinks like the Trailer Park Smash (featuring bourbon topped with Miller High Life) and eats like pork al pastor skewers and seared Spanish octopus. Oh, and you don't get bottle service here, you get punch service.
Sign up here for our daily Chicago email and be the first to get all the food/drink/fun in town.
Jay Gentile is a Thrillist contributor and he always checks to see if there's punch service first before booking a hotel room. Follow him: @innerviewmag.