You don't need to be a level 10 master sommelier to enjoy a good wine bar. There won't be any blind taste tests or questions about the weather patterns of Bordeaux during the reign of Baron Haussmann. So whether you're a working-class wino or just dabbling in whites and reds, these Chicago wine bars will make for the perfect backdrop.
Recommended Video
Thrillist's Best (and the Rest): What You Actually Need to Know About Natural Wine
Logan Square
One of the city's most beloved wine bars may have recently relocated from Lincoln Park to the former Telegraph space in Logan Square, but that hasn't stopped its ridiculously knowledgeable and well-traveled staff from uncorking a massive 500+ bottle-deep selection of global wines in a European-style setting whose bookshelf bar serves as its main focus. Nosh on venison tartare and duck mac and cheese or stop in for tasting events like "The Heavy Hitters of Tuscany." We're not sure how hard the folks at the Wall Street Journal party, but they named Webster's one of the top five wine bars in the US, so surely that counts for something.
Humboldt Park
This cozy but oft-overlooked little space opened by three former Webster's Wine Bar employees specializes in small-batch wines and beers with an emphasis on organic farming. In addition to the standard French and Italian wines, they are pouring palate-pleasing varietals from South Africa to Slovenia in addition to an unusually heavy Greek and German contingent. They've also got Moody Tongue Caramelized Chocolate Churro Baltic porter, a deliciously under-the-radar dry-aged Slagel Family Farm burger and a Sunday brunch where you can order bratwurst. So what the hell are you waiting for?
Mag Mile
Located in the Mag Mile's towering InterContinental Chicago, this sexy spot offers a darker lounge vibe evoking an intimate wine cellar where you can go ape all over their award-winning wines and international menu of cheeses. Bonus 1) a wine flight named Games of Rhones. Bonus 2) Chocolate-dipped bacon they call Chicago Dinner. Still don't know shit about wine? Enroll in their ENOversity for monthly courses on things like Wines Down Under. With tastings, of course.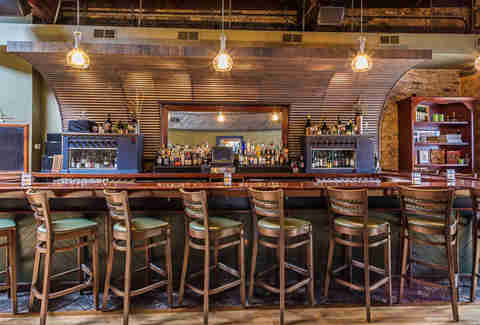 Lincoln Park
No, DOC does not stand for District of Columbia. It's the acronym for Italy's Denominazione di Origine Controllata, or the geographic area of production for each wine in the country. But it's not just Italian wines we're talking about at DOC -- it's everything from Napa Valley magnum bottles to "Pino Envy" global wine flights to sip by the fireplace beneath a cool wood-beamed ceiling. Stop by Monday nights for 50% off bottles under $100 and grab some avocado fries, lobster deviled eggs, and mini filet sliders while you're at it.
West Loop
Tucked underneath the el tracks is this laid-back, approachable little joint specializing in Spanish wines and Spanish-infused small plates like bocadilla sandwiches and chicken thigh chilindron. The friendly staff will have you feeling at home as they guide you through flights of sherry and tapas in the simple dining/tasting room. If nothing else, it's the perfect place to impress a date with all that worldly knowledge you supposedly amassed during that semester you spent "studying" in Barcelona.
Lakeview
A few years ago this cheery little Boystown space transitioned from a wine shop to a lounge-style bar where you can explore some of the finest wines and whiskeys in the area. Probably best known for regular jazz and piano live music acts, it remains a mellow, never-too-crowded space of candles and chandeliers where -- if you're not into music -- you can also pair your wine with popcorn during movie night screenings of films such as Moulin Rogue! and Cabaret. So in that sense, it's kind of like Brew & View. Only with wine. And not at all like Brew & View.
Roscoe Village
A wine bar is not necessarily the first thing that comes to mind when you want a night out "on the cheap," but Volo is working hard to change all that with a dozen food items priced between $4-$12 and 20 bottles $45 or less. They're all about accessible boutique wines here, not to mention house-made sangria and pork belly on a stick. Volo also houses one of the city's best under-the-radar patios, now heated with a retractable awning.
West Loop
In contrast to the typical little wine bar down the corner, BIN 36 feels like the big boy on the block with a larger space featuring everything from cork-topped tables and table-side mixology to cold-dripped sangria and mimosa flights. But despite its more "mainstream" environs, Bin 36 manages to keep things warm and intimate thanks in no small part to its friendly and engaged owner Enoch. They also have a full dinner menu including pork chops and strip loin plus wine classes in cheese/food pairings. Also, there's a wine shop where you can order their wines online. Handy, no?
Ravenswood
One of the best openings of last spring serves a notable brunch to boot in a bright, inviting space that's totally modern yet totally unpretentious. Sign up for their wine club for a monthly wine allowance of one to three bottles plus tickets to exclusive wine dinners, or stop by nearby Groundswell Café during monthly Ampersand comfort food pop-ups for your chili/mac and cheese fix.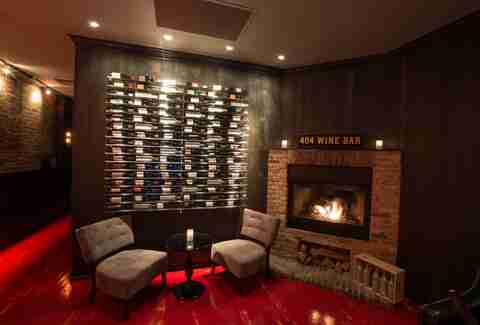 Lakeview
Brought to you by Big Onion Tavern Group (Fatpour, Derby, Irish Oak, etc), 404 eschews the bro culture you might expect with a sophisticated space of reclaimed wood, leather sofas, and salvaged lighting. Belly up to the fireplace to run through their solid selection of seasonal wines or mingle with neighbors during monthly "Neighborhood Night" events. There's blackened shrimp sliders and tenderloin tacos if you're hungry and, if you're still thirsty, you take your wine with you thanks to the bar's clutch "cork and carry" license. Bring some home for the bros.
River North
The sparkling River North environs of Enolo Wine Café is the last place you would expect happy hour specials of pork rinds and fried goat cheese. Yet there they are, beckoning you besides a progressive 25-bottle wine list designed to make your introduction to wine culture as painless as possible. There's also wine flights, a wine club, and wine bottles to go. So yeah, pretty much everything you need in a wine bar. And if you feel like getting all bougie and sniffing your wine for 20 minutes before daring to take a sip, no one's going to judge you (out loud).
Sign up here for our daily Chicago email and be the first to get all the food/drink/fun in town.
Jay Gentile is a Thrillist contributor and expert in the history of boxed wine culture from the Franzia region. Follow @innerviewmag