Courtesy of Amie Ward
Courtesy of Amie Ward
For Neon Wilderness bartender Amie Ward, this past week was supposed to look completely different. In an alternate reality that didn't involve everyone in Illinois sheltering in place due to the coronavirus pandemic, she would have hosted a health fair at Royal Palms Shuffleboard Club, providing the service industry with workouts for the "bar body," free massages, and nutritious snacks and tips they could use during a shift.
Instead, all of her health work is now online—and at no cost to her peers.
"Like so many of my fellow bartenders, I am currently out of a job and not eligible for unemployment in any way, shape, or form," Ward says. "I knew I needed to channel my energy into something positive."
As an ACE-certified health coach with a degree in kinesiology, Ward founded The Healthtender in 2017 as a way to promote basic health and wellness practices in the service industry. Most of her work revolves around teaching group fitness classes, speaking at conferences, and giving advice about nutritional snacking and meal prepping.
"I was the person that brought healthy snacks to work and was going to the gym at 2am and I was lovingly mocked for that," she says. "Most people that I worked with at the bar hadn't had a class in health and wellness since high school. So I saw a need."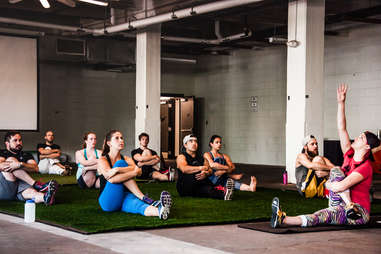 The service industry, of course, is the ultimate slippery slope for forming bad health habits due to non-traditional hours, time on your feet, and easy access to alcohol. But now, with so many bartenders and restaurant workers without a job, any semblance of a healthy routine they might have had has gone out the window.
"This is a time of crisis," Ward says. "My goal is to try to keep people on a schedule—which includes physical fitness—keeping them focused on the day-to-day rather than the big picture, and trying to help them control things when we're in an uncontrollable environment."
Using her Instagram platform, Ward is producing workout videos using "equipment" that can easily be found around the house: hip hinges with a broom, tricep dips on a coffee table, full backpacks as weights. Plus, she's taking advantage of cheap ingredients she had around the house for R&D purposes and making nutritional cooking videos.
"The biggest way people can make behavioral changes is by understanding their time and using what's around them," Ward says. "They don't need to have gourmet ingredients or a full gym set-up. Their house is their jungle gym. I'm trying to keep it dynamic and diverse so people don't get more bored than they already are."
As for future plans, Ward has been inspired by people hosting virtual happy hours as support groups for the industry, as well as free financial planning calls. She wants to be a resource for anyone in the community to reach out, not only when it comes to physical health, but also mental health—which, she points out, are intrinsically intertwined.
"If you want to meal prep, this is the time to do it. If you want to learn 20-minute workouts, this is the time to do it," Ward says. "This is a weirdly great opportunity for our industry to make schedules, develop healthy habits, and keep them going once we return to the new normal."
Sign up here for our daily Chicago email and be the first to get all the food/drink/fun in town.