You could say any establishment that can serve you whiskey in a glass is a thing of beauty. You wouldn't be wrong, but imagine if you were tipping back on a rare bourbon while sitting in a lounge decked out with pieces of a Kentucky distillery. Well, that place actually exists, and it's on our definitive list of the 14 most beautiful bars in Chicago.
In this hotel lobby, you won't find stale bagels and a computer from the '90s with a dial-up connection. You will find a ridiculously ornate, almost church-like frescoed ceiling, marble columns, and a sparkling little bar serving up $13.50 cocktails including chocolate mint mojitos and Manhattans made with Palmer House-batched bourbon. Order up some lobster rolls and Angus beef sliders and charge it to the Underhills.
One of the sexiest spots in the city for sipping $13 cocktails is this top-floor lounge at the Raffaello Hotel, where the laid-back sofa vibe of the indoor lounge is a mere prelude to the stunning outdoor lounge with primo views of the lake and Downtown. Opt for the whisky-packed Penicillin or bourbon-based House Cobbler served by one of Chicago's top female bartenders, but skip the $11 plate of olives. Unless you're really into olives.
While the exposed-brick and sofa aesthetic of the downstairs bar is beautiful in its own right (and often packed with beautiful people), the seductive charms of the upstairs bar is where Maude's really takes things to the next level. The dark atmosphere and soft amber lighting are practically begging you to make a friend of the opposite sex. And if you make a fool of yourself trying, it's too dark for anyone to really notice anyways.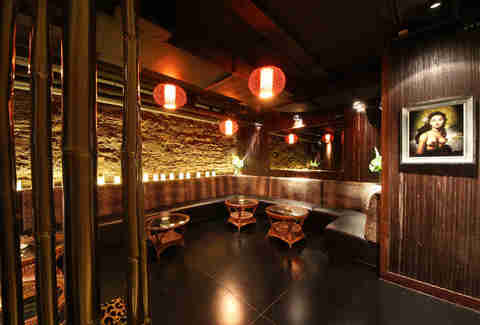 For some, there is nothing more beautiful than a Polynesian girl in a grass skirt. For such people, there is Three Dots and a Dash -- the bar equivalent of the popular tropical male fantasy. Yes, there is bamboo. Yes, there are strange Polynesian sculptures and art. But the most beautiful thing in the place could in fact be the drinks, served in coconuts, giant clamshells and, of course, treasure chests pouring out with dry ice fog.
Named after the opulent French Riviera villa where The Rolling Stones recorded Exile on Main Street (quite possibly the greatest rock album of all time), the West Loop's version of Nellcôte keeps the vibe alive with Stones-themed drinks like the Under My Thumb, Let It Bleed, and Wild Horses served beneath elegant chandeliers and marble columns. In other words, it's like partying in a palace for rock & roll royalty (or West Loop accountants).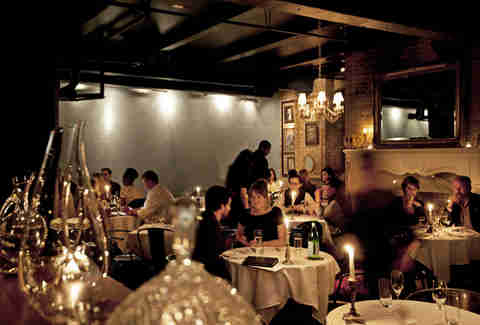 It doesn't get much more beautiful than this in Chicago. But while the white tablecloths and chandeliers of the indoor space can be a little stuffy, the equally beautiful outdoor space keeps the vibe light and airy with the aid of cocktails like the bourbon- and prosecco-based Bourbon Monarchy, the whisky- and absinthe-backed Remember the Maine, and, of course, Champagnes that put that gas station bottle of Korbel from NYE to shame.
Barrelhouse Flat is an anomaly to the typical beautiful bar in that a) you don't have to pay $13 for a cocktail and b) it's open 'till 4am, well past the point of looking beautiful for many of its patrons. Nevertheless, it remains a classy cocktail oasis in a sea of cookie-cutter college bars, with all the classics including mint juleps and whiskey sours plus more inventive offerings like the tequila- and ginger beer-based El Diablo and the Jimmie Roosevelt made with Cognac and sparkling wine.
There's no denying the top-floor lounge of the newly revamped Chicago Athletic Association, Cindy's, is a beautiful place. You've got a skylit restaurant. You've got a rooftop deck. You've got what just might be the best vodka tonic in the city. You've got a Shake Shack downstairs. But when it comes to sheer natural beauty, nothing tops the view overlooking Millennium Park and the lake.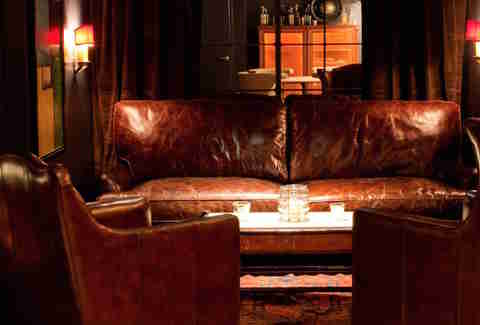 There's no doubt the modern cocktail emporium of the Aviary is a beautiful place. And it's doing things with cocktails that you've only imagined in your most hallucinatory of dreams. But what might be even more beautiful than grabbing a seat in Grant Achatz's sleek den of cocktail reinvention is scoring a seat to its exclusive downstairs speakeasy The Office and losing yourself in its library-chic vibe.
With walls decked out with steel shutters from a Kentucky bourbon distillery and terrazzo flooring from the original Berkshire Hotel back in the 1920s, there are worse places to chill and wait for your room to be ready than the ACME Hotel's Berkshire Room. Sip a Weston made with bourbon, pipe tobacco, and "coffee essence" or try your hand at a dealer's choice cocktail where you choose the spirit, flavor profile, and glassware and let the bartender do the rest.
If you're the type that finds distilling machinery easy on the eyes, you're the type who will find the industrial-chic surroundings of CH Distillery a thing of beauty. Watch the inner workings of the brewery-style distillery equipment as you pump booze into your own system courtesy of cocktails like the gin- and egg white-infused The Baron Takes the Sea or more seasonal offerings like punch bowls and boozy snow cones. Also, the Wi-Fi password is "DrinkMore," so you get the idea...
If you find yourself getting all hot and bothered in the Chase teller window, your arousal might prove uncontrollable at The Bedford, where you can sip drinks inside a renovated bank vault. But it's not just imaginary stacks of Benjamins that'll get your heart rate up. It's cocktails like the Scotch and vermouth Monty Burns, massive bowls of tequila punch, and drinks ranging from $300 bottles of Dom Perignon to $4 cans of PBR. Tallboys, of course.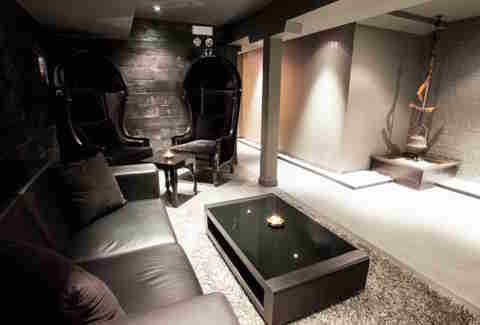 Hidden beneath Sumi Robata is the intimate 12-seat Charcoal Bar, dedicated to the fine art of Japanese cocktail making. Impress a date as you pull up a seat on black lounge sofas or, better yet, at the futuristic bar to watch the bartender hand-carve your ice sphere and drop it into drinks including the 12-year whiskey- and shochu-infused Mother of Dragons or the Red Wedding made with Jamaican rum and Swedish punch.
No list of beautiful bars is complete without the inclusion of a Downtown rooftop bar such as ROOF on theWit, which covers all the bases thanks to a stunning 27th-floor rooftop lounge open all year, DJs and, of course, runway models (the bar is converted into a runway during fashion shows). You can also get craft cocktails, punch bowls, Champagne, and pisco pitchers in addition to sushi rolls and duck confit bánh mì. So yeah, a little more classy than BW3.
Sign up here for our daily Chicago email and be the first to get all the food/drink/fun in town.
Jay Gentile is a Thrillist contributor who would love to sit in judgment of your neighborhood bar if you let him. Follow him: @innerviewmag.