There are cocktails, and there are strong-ass cocktails that should come with a disclaimer. These are those latter italics-ier ones, so just don't drink more than one, okay? Or do. But don't say we didn't warn you. Instead be all, "You guys totally warned me, but I did it anyway."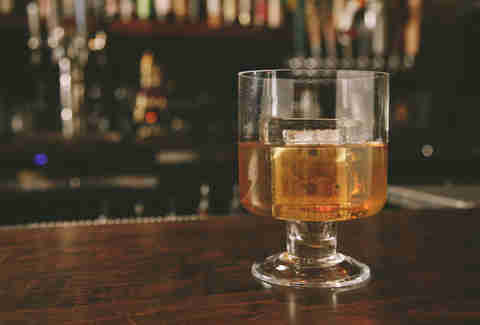 The Bill Brasky
Bottlefork (address and info)
​River North
Named after the mythical character from the classic Saturday Night Live skit, the Bill Brasky is a mustache-slinging cocktail that leaves bridges burned and grown men weeping. Patrons are actually restricted to ordering only one of these $30 face-slappers -- which makes sense, because it's filled with Journeyman rye, Hudson Moonshine, Buffalo Trace bourbon, Bank Note Scotch, Hammer and Tongs vermouth, orange bitters, and, apparently, "the aftershave Brasky used to woo your wife." Also, inside the huge ice cube sits a little nudie card.
The Crippler
Tippling Hall (address and info)
​Near North Side
Tippling Hall serves a solid brunch (among other meals), but order The Crippler to start your day and you may spend the rest of it, AHEM, crippled on the couch. This firecracker of a cocktail is prepared with rye whiskey, mezcal, overproof rum, Stroh jagertee, Yellow Chartreuse, and Memphis barbecue bitters. For health.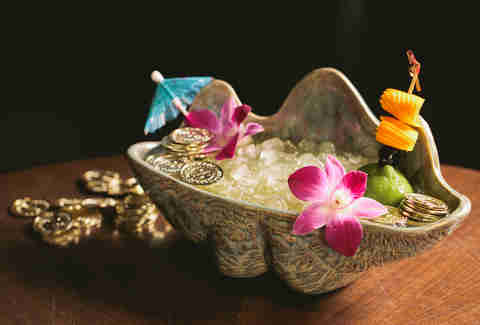 Pieces of Eight
Three Dots and a Dash (address and info)
​River North
Important life tip: if you enter a bar where a wall of human (-looking) skulls greets you with a hundred soul-piercing stares, you should assume that the drinks served there may be able to kill a full-grown ostrich. And Three Dots and a Dash has several of those drinks, according to this sentence. If you dare, try the Pieces of Eight cocktail, which is made with (lots of) Caribbean rum, passion fruit, lemon, and falernum. It's actually recommended for two to three people, or just one person who KNOWS WHAT'S UP.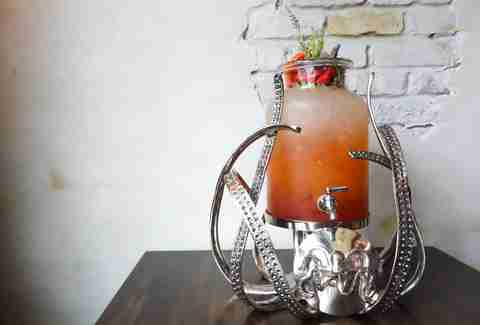 Octopus's Garden
The Dawson (address and info)
​River West
"It's just a bit of punch. Refreshing, fruity punch made with Bacardi rum, Sherry, oleo-saccharum, lavender, thyme, and various herbs and berries plucked from the rooftop garden. I can handle this." The last words of a curious, overconfident man.

Whiskey Cola
Ceres Café (address and info)

​Loop
When you've just lost a small fortune on agricultural futures at the Chicago Board of Trade, the next step is definitely to sidle up to the bar at Ceres Café and BUY-BUY-BUY! a face-melting cocktail. Whether it's a whiskey cola or a gin and tonic, these hefty booze bombs pretty much consist of a 7/8ths glass of liquor topped with a splash of soda. You'll notice that the regulars order a soda back so they can keep diluting the drink throughout the process. Cheer up though, next financial quarter will be better. Maybe. (Probably not.)
Allocated Old Fashioned
Blackbird (address and info)
​West Loop
Upon first glance, one may look at this regular-sized Old Fashioned and disregard it at as merely another drink. That would be a HUGE mistake (if you're looking for something that's not merely another drink). Created by booze wizard Kyle Davidson, the Allocated Old Fashioned features only the most select whiskeys served with a completely clear, circular ice cube that maintains the strength of the cocktail while taking eons to melt. Order one with 134.4-proof Stagg Jr. bourbon and hold on to your butt.
Evers to Chance
The Stretch Bar & Grill (address and info)
​Wrigleyville
The Evers to Chance is a dangerously tasty drink that can best be described as an adult root beer float. It's made with root beer vodka, amaretto, cream, and cola, and is relatively harmless in its 16oz rendition. However, the cocktail also comes in 32oz, 64oz, and, for some reason, 128oz (!?) sizes, which means you can pretty much turn each visit into a nuclear arms race of drinking.
Executive Manhattan
Coq d'Or (address and info)
​Gold Coast
As one of the oldest establishments in our fine city, the Drake Hotel's Coq d'Or offers the kind of throwback cocktails that railroad tycoons probably drank while they sat around comparing their dodo-hair suits and monocles. Case in point: its Executive Pour Manhattan packs so much booze (4oz, to be exact) that it actually has to be served in two glasses. And any shameless capitalist will tell you that two glasses are better than one.
Tipsy Pear Martini
Tavern on Rush (address and info)
​Gold Coast
One of the signature cocktails at Tavern on Rush, the Tipsy Pear Martini offers a cutesy name but in reality, it's about as cute as a crocodile that was just punched repeatedly in the crotch. This thing will put you in the spin cycle with 8oz of booze that include 5oz of Grey Goose La Poire vodka, 2oz of St. Germain elderflower liqueur, and 1oz of Prosecco topper.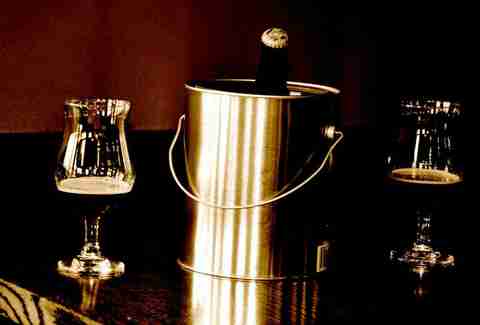 The Angry Lion
The Double (address and info)
​Logan Square
"Hey let's take Booker's -- one of the strongest bourbons in existence at 127 proof -- and make it stronger with something light, like an 8.8% stout beer from Sri Lanka," said no one ever, EXCEPT the thrill-seeking drink slingers at The Double.

Sign up here for our daily Chicago email and be the first to get all the food/drink/fun in town.

Raf ordered a strong drink in 2009 and has been babysitting it for the past six years. Tell him to speed it up at @RafFoSho.