The Weekend Playbook: Party with pitmasters, punk bands, and a lady we love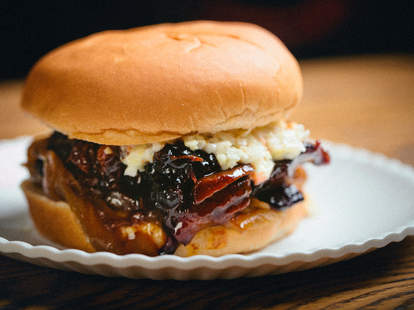 Event of the weekThe Windy City Smokeout may sound like an excuse to wear your "Legalize It" t-shirt, but only if you don't mind staining it with BBQ sauce as Bub City hosts some of the city's finest pitmasters from spots like Smoque and Lillie's Q, Friday through Sunday. Get your tickets through hereFriday, July 12thThe Garage in the West Loop houses Solemn Oath's SOVER apparel launch party with beer and food from The Salsa Truck, noon-6p. SOVER upThe Wicker Punk Ball will have the Double Door hosting local bands, punk karaoke, and circus acts, with proceeds benefiting children's reading programs at The Boring Store. God Save the QueenFriday-SundayJerry's Sandwiches is celebrating six years in Wicker Park by tapping their favorite Midwest beers (Founders, Bell's Atlas) and having three nights of live music. They'll probably make some sandwiches, tooSaturday, July 13thHotel Lincoln has complimentary ice cream sundaes from Oberweis, 1-3p. There's no need to screamNew Belgium Brewing's bike parade and party tour kicks off at Palmer Square at 11a with beer, music and performance from Reggie Watts. Costumes strongly encouragedOngoingThin crust pizzeria Flour & Stone is offering free delivery for the month of July. Chew it upAll Glazed & Infused locations are delivering via Grubhub with an assorted dozen donuts for $30. And their new River North location opens next week
A Lady We Love... and Where to Meet Her
Meet Maggie McCoy: restaurateur, Hash lady, Chairman of the Board for Chicago Enthusiasts(!). When she's not cooking some of the tastiest breakfast scrambles in Wicker Park, she's at the beach, drinking on a patio, or parked on the grass for free concerts at Millennium Park.

So aside from soaking up sun outdoors, where can you find her? Try Maggie's favorite haunts: Rainbo Club, Danny's Tavern, High Dive, Tacos Veloz, Smalls, Kasias Deli, and Fat Rice.

Have a nomination for Ladies We Love? Tweet us @ThrillistChi.