The Weekend Playbook: Cutler's mullet, pig roasts, and pole-dancing
Event of the weekOnly at The Jay Cutler Foundation '80s Dance Party at Joe's on Weed Street can you take in: Jay Cutler rocking a mullet and dangling a cigarette, Kristin Cavallari in leopard spandex, and Billy Ocean asking -- nay, demanding -- that you get into his car. It all goes down to benefit juvenile diabetes, with entry getting you an open bar from 7-8p Thursday. Get your retro tickets here
Thursday, July 18thKikusui Sake's president, Daisuke Takasawa, will be a special guest at Yusho, offering sake and small plate pairings from 9-11p, with sample a la carte cocktails at Billy Sunday afterward. Call Yusho to RSVP
Learn about moonshine, bathtub gin, and other homemade booze at five classic gin joints during the Chicago History Museum's Greatest Dives pub crawl, 630-930p. See where they're stopping
Friday, July 19thThe Barrelhouse Flat has discounted daiquiri specials in honor of National Daiquiri Day, 6p. Don't be a virgin
At 2 Sparrows' annual pig roast, $35 gets you Catalpa Grove roast pork, mac and cheese, corn fritters, baked beans, and peach cobbler, 7p. Call to reserve some roast
Saturday, July 20thThe Girl Next Door (who happens to be naked) swings into Stage 773 for a pole-dancing soiree at 1p and 7p. It beats watching the "Blurred Lines" video again
Sunday, July 21stAvecofficially opens for brunch with Dutch pancakes, Spanish-style French toast, and harissa Bloody Marys, 10a-2p. Bellinis are also in the mix
Monday, July 22ndGet an eight-course preview of The Radler's new tasting menu at Table, Donkey & Stick, including beef carpaccio with octopus and garlic, chicken four ways, and goat with beets, peppers & caraway, 730p. Chef Manley's making some manly meals
Bull & Bear kicks off its hot dog week, featuring five days of specialty selections like the al pastor sausage & pickle relish'd Pilsen Dog, or nab yourself a massive 22in Chi-style Homewrecker. Truly, these are the dog days of Summer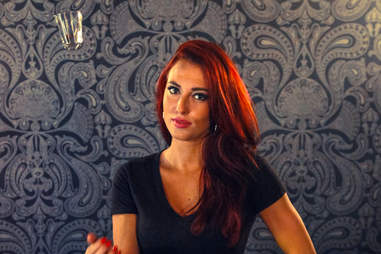 Rockit Ranch Productions
A Local Lady We Love, and Where to Meet Her
Meet Breanna Junea: Ay Chiwowa server, actress, model, Star Wars nerd. When she's not handing you Corona-infused margaritas, she's likely out gardening or dancing like there's no tomorrow.

So, aside from a fitting room trying on Princess Leia's metal bikini, where can you find her? Try Breanna's favorite spots: Untitled, Sunda, RPM, and The Underground.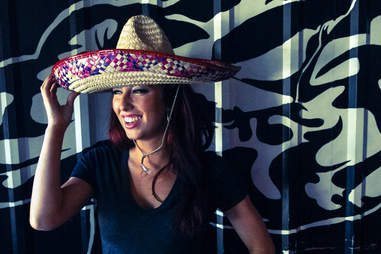 Rockit Ranch Productions
Have a nomination for Local Ladies We Love? Tweet us @ThrillistChi.