We know you: you've never been one to shrink away from a challenge. So, we created one for you. It involves drinking. A lot of drinking, tailor-made for each weekend in Chicago this winter. We're gonna call it our, uh, um, "Chicago Winter Drinking Challenge"? Yeah, that. Do 'em in order, or not in order -- just don't not do them.
December 25: Great Lakes Christmas Ale
Recently debuting at local taps like FatPour, this holiday ale is brewed with honey, and spiced with fresh ginger and cinnamon. It tastes like drinking Santa himself, which is way better than it sounds.
December 31: Champagne
If you're seeking Champagne in the city this NYE, you could do worse than RM Champagne Salon, named after a type of French wine signifying an artisanal farmer who bottles his own wine. Whatever. Just go there. They have Champagne.
January 9-11: Kegged cocktails
Take your keg drinking to the next, classier level with any of these 10 cocktails on tap in Chicago. Our favorite? A10's tequila and house-carbonated grapefruit soda-infused paloma.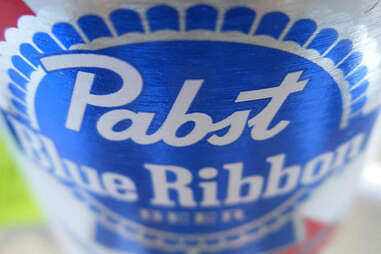 January 16-18: PBR
This weekend, the hipsters come out of their artisanally crafted caves for Tomorrow Never Knows, the annual celebration of 1) emerging indie music hosted by Schubas/Lincoln Hall and 2) drinking PBRs in between mustache waxings.
January 24: Whiskey
Go hard in the paint on the first of three marquee offerings (you'll never guess what they are) at Winter Whiskey Wine & Swine. The varieties are too many to mention, but it's a good bet that WhistlePig -- one of just a handful of 100% ryes in existence -- will make an appearance at one point or another.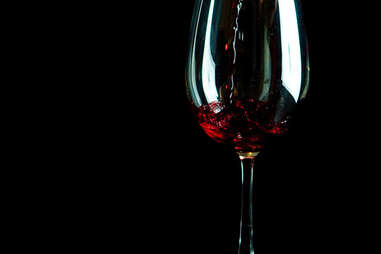 January 30-February 1: Wine by the inch
Chicago Restaurant Week gets into full swing this weekend, which makes now a good time to start ordering bottles of wine. Or screw the bottles and head down to Tippling Hall, where you can order the stuff by the inch. It's easier this way.
February 7: Mimosas
It may be nightfall at tonight's Pancakes & Booze Art Show, but you're looking at art while eating pancakes. So we'll excuse the mimosa order just this once. Maybe tell the bartender you thought it was still brunch?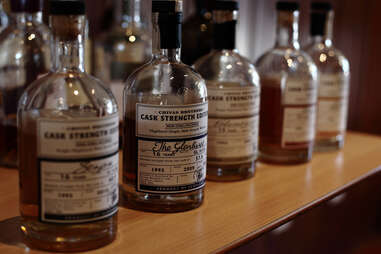 February 14: Scotch
If you're dateless on Valentine's Day, you're gonna want Scotch. And if you're on a date on Valentine's Day, you're gonna want... um... also Scotch? Give it a go at one of the 10 best whiskey bars in the city, or while crying alone in your living room with the lights off.
February 22: Tequila
Instead of pairing a super-lame beer with your hot wings at today's Chicago's Best WingFest, this year kick it up a notch and add a little fuel to the fire: tequila fuel. You'll thank us later. Or not.
February 27-March 1: Gin (& juice)
Have you gone this whole winter without hitting up a fireplace bar? Correct this egregious oversight at Scofflaw. Also: fancy gin cocktails like the gin, Cynar, and vermouth-packed Third Charm.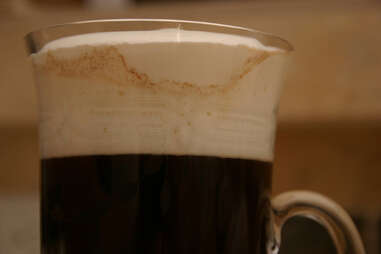 March 7: Irish coffee
After a long day spent racing shopping carts through the frigid streets of Chicago during this year's Chiditarod, nothing hits the spot better than a cup of coffee............ (with Irish whiskey in it).
March 14-17: Green beer
Congratulations! You made it through another Chicago winter. Reward yourself with some green beer. And then some more green beer. And then no more green beer for at least a year.
Sign up here for our daily Chicago email and be the first to get all the food/drink/fun in town.
Jay Gentile is Thrillist's Chicago Editor and he's never met a green beer he didn't like. Or has he???? (He hasn't.)