You better watch the World Cup in these 5 Chicago bars. Or else.
Chicago Because you're always up for an excuse to skip work and day drink ("Oh no, just saw something suspicious on the doggy cam. Sorry guys, I gotta go…"), go find a cure for your World Cup-itis at these five awesome spots to watch the Cup at this weekend. Also, heads up: the US plays Ghana on June 16th, 6pm; Portugal on June 22nd, 6pm; and Germany on June 26th, noon. Expect to get there well before kickoff if you want a seat.
SmallBar Division: SmallBar is the home of the "American Outlaws", a sort-of soccer rooting club that doesn't actually do anything illegal (hopefully?). Members are there for any/ every televised match, but expect the tiny bar to be extra rowdy for the Cup. Oh, and if your favorite part of soccer is the chanting, this is where you want to be.
Continue Reading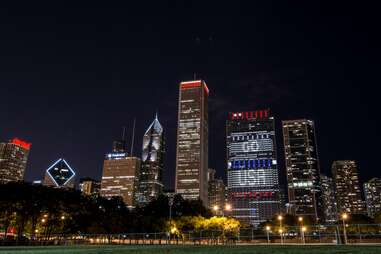 Grant Park: Why sit in a dark bar all day when you can watch the World Cup on a 9ft x 33ft, high-def screen alongside Lake Michigan? The US Soccer Federation is hosting viewing parties for the three already-scheduled USA games in Grant Park. The first two are on Arvey Field and the third victory can be witnessed at the Petrillo Music Shell. Fan fests start at noon and include games, activities, and live music.



The Globe: Unlike most of the bars that're claiming to be "soccer bars" just to capitalize on excuse-needing day drinkers (so... you), The Globe is a soccer bar year-round, and it's one of the best in the country. And don't worry if you're not a card-carrying member of the "Landon Donovan got screwed" club -- there'll 100% be rooters for almost every nation (sorry Honduras!), which means you're gonna want to arrive before the day's first game if you want a seat for the eventual Clint Dempsey show.

1st Ward at Chop Shop: Craving the experience of a live game? Chop Shop has tables and bleachers that seat 200 in their event space, 1st Ward. You'll feel like you're in Brazil, only safer and with less rubella, while watching on a 30ft projection screen. Also awesome: $4 Revolution beers and an in-house butcher creating international sausages, with proceeds from the Chicago Fire Sausage going to the Chicago Fire Foundation.


Howells & Hood: Your boss doesn't consider "America" a good enough reason to leave work early, but still want to go to a bar? Howells & Hood has you covered Downtown. They're slinging a "World of Cups" craft beer flight with brews from London, Germany, USA, and Biyagama. Sure, Sri Lanka is in the other World Cup (cricket), but who cares? It's beer! All the USA games will be shown inside with sound on, while the rest of the teams can suffer through the beautiful Summer nights watching outside on the patio.