7 Booze and Chocolate Pairings to Make Valentine's Day Better
Between the heart shaped boxes of candies and constant jewelry ads on TV, Valentine's Day is one of most pressure-packed holidays of the year. Whether you choose to celebrate with a fancy, romantic dinner or binge-watch Netflix by yourself instead, there are only two things you need to successfully make it through February 14: booze and chocolate. Luckily, if you find the right cocktail or spirit to pair with a bar of chocolate, the two are like soulmates. To make navigating the candy aisle and liquor store as simple as possible, here are seven Cupid-approved pairings that may be the closest you get to #relationshipgoals this Valentine's Day—and that's A-OK.
As with any romantic evening, it's always a good idea to start out slow. A Spritz is one of the best low-ABV aperitifs to start off the evening. Though herbal and bitter Averna may sound like an odd pairing with nougat-packed Toblerone, this duo is surprisingly on point. Mix two ounces of Averna Amaro and four ounces of soda water over ice, add an orange twist and alternate sips with nibbles of this delightful chocolate bar. Even if your date's a flop, this combo is meant to be.
Finding your soulmate is a tall order, but if you can at least find someone to enjoy this peaty, chocolaty combination with you, give Cupid a little credit. The sweet and slightly bitter citrus flavors in the chocolate bar contrast nicely with a peated scotch whisky like Bowmore 18 Islay Single Malt Scotch Whisky, but if you and your Valentine have a favorite whiskey—whether it be a bourbon or a Japanese blend—this pairing won't let you down. Let the candy melt in your mouth as you sip.
Whether you have a date this Valentine's Day or are planning to sit at home and enjoy plenty of chocolate while binging Broad City, listen up: Ghirardelli's caramel-filled chocolate squares are an ace pairing with a Bluecoat Barrel Finished American Dry Gin Old Fashioned. The caramel in the chocolate bar highlights the whiskey-like notes the gin gets from its time in a barrel, while also providing a surprisingly good contrast to the botanicals. Not a fan of gin? No sweat—this ubiquitous chocolate bar will go well with an Old Fashioned made with bourbon or añejo tequila too.
Made with raisins (or, according to Cadbury, "dried grapes") and almonds, this chocolate bar requires a pairing with just a hint of sugary goodness—enter the Manhattan. But instead of making it with a richly flavored whiskey, try it with a fruity, vanilla-flecked aged rum like Plantation 5-Year Barbados Rum. The flavors in the rum and chocolate bar complement each other beautifully and may just steal your heart—and sweet tooth.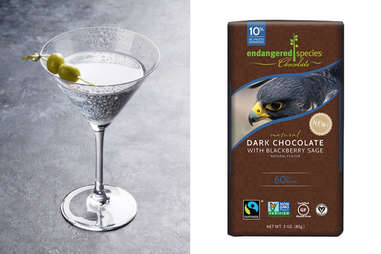 No cocktail is more sophisticated and sexy than a classic Martini—it's James Bond's drink of choice, after all. If you and your valentine feel like going all-out romantic for the holiday—or even if you're wooing yourself—work this sensual pairing into your evening plans. Though many swear by Gin Martinis, this berry and herb-flavored chocolate bar requires subtlety like you'll find in 6100 Vodka. This vodka's texture is almost creamy, pairing beautifully with a side of cocoa. Oh, and did we forget to mention that berries are an aphrodisiac?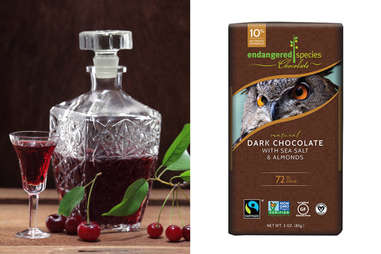 There's no way you can skip out on dessert for Valentine's Day. Luckily, this delightfully sweet and salty duo is the ideal way to cap off a romantic meal, and it's so much better than your average chocolate covered cherry. Pop a square of the nutty, salted chocolate bar into your mouth as you sip on a bit of Luxardo Cherry Sangue Morlacco Liqueur either on the rocks or topped with Champagne. If you need to skip out on the almonds, pick up Lindt's A Touch of Sea Salt Dark Chocolate instead.
Need a post-meal pick-me-up to keep the Valentine's festivities going? Pour a little walnut-and-hazelnut-flavored Nocello into your coffee and pair it with this deliciously creamy organic milk chocolate for a hit of caffeine and sugar in one. No matter what your plans for the rest of the evening are, you can rely on this dynamic duo to set the mood.