The New York Mets Have the Best Drinks in Baseball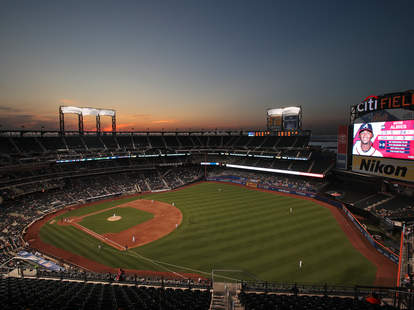 Eating and drinking at a baseball game used to mean a short, skinny hot dog, a dusty bag of peanuts and an oversized, fizzy yellow beer. Those days are thankfully behind us. Not only have stadiums from Seattle to Miami partnered with chefs to transform stadium food, but crappy beer has been eclipsed by local craft offerings and real, honest to goodness cocktails. And from its perch on the edge of Flushing Meadows out on the edge of Queens, Citi Field, home of the New York Mets, has the rest of baseball beat on the drinking front.
The cocktail menu at Citi Field, which includes more than a dozen drinks, is spread over two actual bars—not concession stands (although you can stop at one of those between innings if you want), but bars with real, actual bar stools and real, actual bartenders. The Highball Club is on the promenade behind home plate and there's another bar on the fifth level of the stadium (the Excelsior level!) down the third base line. Both are outfitted with a variety of bottles from the Beam Suntory Group, including five expressions of Jim Beam, three of Hornitos tequila, two of Maker's Mark and Basil Hayden's Straight Bourbon. The Mets also scored their very own Highball machine—essentially a Whiskey Highball tap that automates the precision that goes into creating a Japanese Highball. For Highball fanatics who have come across the Toki machine that Jim Meehan is using at his Chicago bar Prairie School, this is essentially the same piece of equipment, from the same company, but it puts out American Highballs made with Jim Beam instead of Suntory whisky.
And while baseball is America's pastime, the thing that puts Citi Field over the top comes from Denmark. This month, the third American outpost of the Mikkeller beer bar opened at Citi Field. The Danish home of beer nerdom has expanded into the United States in recent years with bars in Los Angeles and San Francisco as well as a brewery outside San Diego. The yawning, airy space could legitimately stake out a spot as one of the best beer bars in the country, period. They have over 50 beers on tap—primarily either Mikkeller originals or Mikkeller collaborations—that range from the now-traditional hop bomb IPAs to some of the more out there experiments the brewery has become famous for like a weisse made with raspberries and coffee or a stout made with yuzu. Fortunately, the bar is also accessible from outside the stadium, so even if you're a Dodgers fan who has no interest in watching Noah Syndergaard or Yoenis Céspedes, you can still swing by for a pint.
Major League Baseball has spent a lot of time and done a lot of hand wringing trying to figure out how to speed up the game and make it more exciting. The answer might have been right in front of them the whole time: Give the fans better drinks and the rest will take care of itself. Right Mr. Met?