For much of its modern history, Cleveland has been a shot-and-a-beer kind of town. But as the city's culinary star has risen, so has the quality of its mixed drinks. You don't need a suit or fancy dress to get into these cocktails bars (though we always commend suiting up) -- just an adventurous palate and an appetite for intoxication.
Gateway District
If you can imagine The Strokes playing a party at F. Scott Fitzgerald's house, you'll get a pretty good picture of the vibe at Society. Its mission is to deliver the class of Prohibition-style cocktails crossed with the innovations of 21st-century culinary badassery. You'll find daring experimentation behind the bar -- there was once a drink made with cigar-infused simple syrup -- as well as unusual theatrics: order one of the smoked drinks and you'll be treated to quite a show. In addition to intoxicants, there's a nice "Temperance" menu for the DD in your party: a charcuterie board with the most sophisticated late-night munchies in town; and a cigar selection.
Ohio City
1996: Cleveland turns 200, the Indians have the best record in the MLB, and a little bar called Velvet Tango Room opens in the no-man's-land between Ohio City and Tremont. There was no guarantee that an upscale, pricey cocktail bar would last more than a month in a gritty, working-class city like mid-'90s Cleveland. But VTR has survived, and thrived, as a bar committed to classically made drinks and a grown-up vibe, even grabbing national attention from Esquire, which named it one of the best bars in America in 2012. You can sway to live jazz every night, enjoy the verdant back patio garden when it's warm, and gain access to the secret back room -- as long as you tip your bartender well.
Ohio City
Porco is Cleveland's first Tiki bar since the Kon Tiki closed in 1976 (and -- disclosure here -- the bar where this writer works part-time as a barback). A night at Porco is like the most fun Hawaiian wedding you've never been to. The drinks, known to be some of the best, most inventive in the city, are potent, running the gamut of citrus and tart flavors. The house Mai Tai and its sweeter, more limy cousin, the Martinique, will wash away memories of the watered-down, overpriced disappointment you ordered on your last beach vacation. Listen to your bartenders when they tell you not to order the Concussion, a weekend-killing monstrosity of a drink; share a Scorpion Bowl with some friends instead. If you're wondering what it would be like if it had a theme song, you're in luck: it already does.
Gordon Square
Luxe brings the funk to its hodgepodge setting: exposed brick, cow-patterned booths, bric-a-brac decor. There is a vault -- a literal, old-timey bank vault -- that houses experimental liquor infusions like basil-and-pineapple-infused vodka for the beloved Simplicity cocktail. The results of this creative approach are seasonal cocktails that are so fresh, the staff picks the ingredients from the expansive, nearly tropical patio out back. A summer favorite is a cocktail simply called Heat that combines reposado tequila, simple syrup, and an in-house concoction called "essence of habanero" that gives the drink a reasonable kick of spice. When it gets colder, try stronger concoctions like the Kingston Negroni or the Barbados Manhattan, which bartender Joe Reid says will send "caramel angels singing down your throat."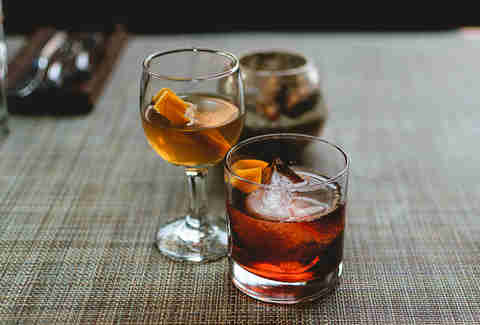 Ohio City
Two years ago, The Black Pig moved from Ohio City's main drag on West 25th to an understated red brick building about a block away. It was a move just as symbolic as it was physical: Black Pig has since elevated itself above many of its trend-chasing peers in terms of food and beverage quality. It's a grown-up place to get exquisite, European-influenced food and strong, spirit-forward cocktails. Drinks like Black Lightning take an assertive liquor like Johnnie Walker Black, tease sweetness and nuttiness from it with Luxardo (a cherry liqueur) and Benedictine (an herbal one), and ease the drink's finish with lemon juice (always hand-squeezed, always fresh). These guys love the taste of booze so much that even the house mojito contains a bracing trace of Fernet.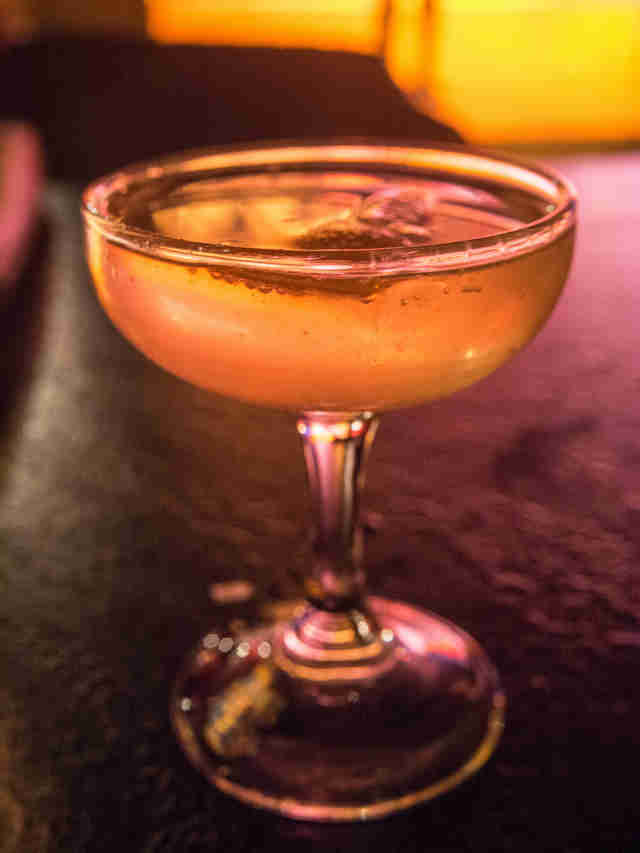 Lakewood
The more you learn about Mahall's, Lakewood's bowling alley/bar/indie concert venue, the weirder and better it gets. It's over 90 years old, making it the oldest bowling alley in Ohio. It serves the best damn fried chicken in Greater Cleveland. It might be haunted. And, perhaps most surprisingly, it can shake up some excellent cocktails. Mahall's goes local and seasonal whenever possible on both the food and cocktail menus. For summer, don't pass up drinks like the refreshing Cucumbersome, a Tom Collins-like concoction with a distinctly vegetable-y twist. Or get your Billy Pilgrim on with the So It Goes, a drink that adds festive grapefruit and Champagne to the bar's already delightful Jalisco Express recipe. Whatever you order, just make sure you bring your bowling shoes.
Tremont
We at Thrillist Cleveland still aren't convinced The Spotted Owl isn't Satan's own cocktail joint (just look at this fucking stained glass behind the bar). Or maybe the vibe's more Hogwarts than hellish. Either way, The Spotted Owl is worth checking out for the atmosphere alone (did we mention the gate out front? Yeah, it's definitely hell). The drinks at Spotted Owl are complex, well-garnished, and pretty. The Sherry Cobbler is a go-to, and the Pistache, a summer tequila cocktail made with lemon and chocolate, comes highly recommended by the bar staff. If the drinks tend to run a little sweet for your palate, there's a clever beer-and-shot pairing list that pays homage to Cleveland's working-class roots (but with pricier booze).
Gordon Square
In Ancient Greece, Arcadia was a secluded, pastoral region often associated with paradise. In Cleveland, the Arcadian is a Gordon Square bar and restaurant that has been "opening soon" for the past three years. The wait is over now, and the result is an open, contemporary art-like space with polygonal ceiling panels, an indoor-outdoor spice garden, and a cool steel facade that confused the shit out of this writer while trying to enter and exit. The cocktail program, headed by Jeff Rowe of Hodge's, will have you feeling just a little utopian. Try The Road Runner, a mezcal cocktail that drinks like a smoky take on a margarita -- don't brush off the smoked salt on the rim. The Shoreway Soda takes the herbal, damn-near-medicinal flavor of Fernet Branca and brings out its hidden sweetness with a blend of ginger, honey, and coffee flavors. Even in Arcadia, there is death. Or at least Fernet.
Old Brooklyn
Just north of Parma, Old Brooklyn is an underrated Cleveland neighborhood light on chain restaurants and heavy on shot-and-a-beer watering holes. Should you find yourself wanting a classically crafted cocktail -- to say nothing of some delicious Korean-influenced bar fare (the Bulgogi Burger with kimchee is a revelation) -- visit the bar with the most straightforward name of all: Drink. The sign on the door says "Bar and Grill," but the vibe is all lounge: low light, plush couches, Sinatra and his contemporaries on the playlist. You'll find many of the Prohibition-era classics here, but try the South American drinks: pisco sours are an up-and-coming cocktail, and the caipirinha is an explosion of lime with a sweetness that's muted by the earthiness of cachaça. And if you've ever wondered what it would be like if green Chartreuse and Fernet fought on a frothy and sweet egg-white battlefield, go off-menu and order the Industry Sour. The victor of that battle is you.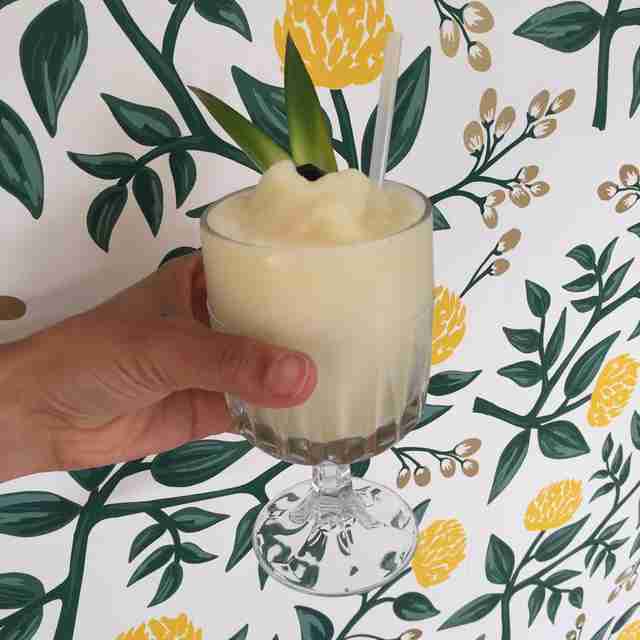 Ohio City
If your grandmother were a hipster, her house might look something like The Plum Cafe & Kitchen. With its polished white tile and floral-pattern wallpaper, it's a space that's cozy, unassuming, and approachable. Fortunately for the customers, the cocktails are too -- and at $9, eminently affordable. Try a produce-driven wonder like the Oakley, which combines mezcal with beet juice, or a more spirit-driven drink like the Drexler, which joins Columbus' own Watershed gin (Cleveland loves you, Watershed) with three different kinds of vermouth for a strong nose and a smooth, vanilla-and-orange finish. The Bird '86 (they're all named for basketball players, if you haven't picked up on that by now) is a dangerously drinkable cocktail that complicates the sweetness of pineapple and lime with green Chartreuse. In the spirit of casual farm-to-table dining, many drinks are seasonal, so catch them while you can.

Sign up here for our daily Cleveland email and be the first to get all the food/drink/fun in town.