It's the end of a long week and the last thing you feel like doing is getting dressed up, searching for decent parking, and cramming yourself into some hot spot to spend a chunk of cash on a few over-the-top drinks. We hear ya. Fortunately, Cleveland's bar scene has got you covered, with all the laid-back vibes and cheap-yet-reliable booze your weary heart desires. These are the dives best in Cleveland.
Est. 1895 I The Flats
The oldest bar in The 216
First opening its doors in the late 1800s (yes, really!), Harbor Inn can claim serious bragging rights for being the oldest continuously operating bar in Cleveland. In a world where many bars seem to close as quickly as they open, Harbor Inn has withstood the test of time by offering all of your bar basics - drinks, food, games, service - delivered consistently well. The Flats have gone from being uber popular to a ghost town and back again, but through it all, this dive has remained a truly reliable standby.
Est. ? I Tremont
Offering cold beer and indulgent late-night pizza
With open-mic Mondays, trivia Thursdays, and live music Saturdays, Edison's is a great spot for those looking to pair an activity with their evening brews. During the warmer months, the bar's lush courtyard patio, featuring a trickling fountain and twinkle lights, is the perfect place to imbibe. Bring your appetite or be sure to build one over the course of your visit, because Edison's Pizza Kitchen next door offers some of the best stick-to-your-ribs pies in town.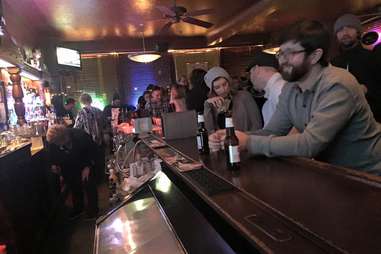 Est. 1919 I Tremont
A family-run favorite that's attracted a star-studded clientele
If it's good enough for celebs such as Robert De Niro, Meryl Streep, and The Great Bambino himself, it's most certainly good enough for us. Celebrity sightings aside, this neighborhood establishment has been family owned and operated for four generations, and that sense of familial comfort is evident throughout. With the original mahogany bar and bottle cap stools, Hotz Cafe hasn't changed much since its original opening in 1919, and trust us, that's a very good thing.
Est. 1934 I Detroit Shoreway
A friendly spot to grab some cold brews and hot fried chicken
Parkview is like an island unto itself in the Detroit Shoreway neighborhood, but we're not complaining. It's worth seeking out this long-standing dive, which is spacious and typically packed. In 2017, Parkview teamed up with Chow Chow Kitchen to roll out an updated menu of bumped up bar food. Don't miss the Nashville-style hot and crispy fried chicken with creamy slaw, white bread, and cider pickles. But, believe us when we say HOT.
Est. 1976 I Detroit Shoreway
Sing your heart out at this ultra-sparse, ultra-fun karaoke joint
There are few activities more enjoyable than booze-fueled karaoke, although it's a shame when people with actual talent join in and ruin it for the rest of us. Luckily, Tina's scant interior happily welcomes vocalists of any ability, for relaxed evenings filled with cheap beer, stiff drinks, and a whole lot of hugely entertaining "singing."
Est. 1956 I Downtown
A relaxed hideaway, featuring one of the best damn cheeseburgers in CLE
March straight past Johnny's Downtown and don't even think about trying to catch a glimpse of the restaurant's upscale Italian cuisine. We're headed somewhere much different tonight, and it's going to be GREAT. Tucked down the alley is Johnny's Little Bar, an unpretentious dive offering a solid selection of beer, liquor, the odd glass of wine, and one of the best burgers in town.
Est. 1986 I Downtown
A taste of the familiar amidst the hustle and bustle of Downtown CLE
Packed with a diverse crowd ranging from CSU students and staff to Playhouse Square actors and audience members, this "downtown neighborhood bar" is a welcoming watering hole that caters to most everyone. With a laid-back atmosphere, hearty late-night food, TV sports, darts, and a jukebox, Becky's has all the elements in place to be this area's essential dive bar.
Est. 1981 I Tremont
Enjoy an impressive view of Cleveland's skyline from an extensive patio
Sitting at the outskirts of Tremont's much fancier inner streets, Hoopples can be easy to miss. But with friendly, Cleveland-born-and-raised bartenders, a nice selection of shots and brews, and an expansive patio, it's a shame if you do. Plus, the building's view of Cleveland's glittering skyline is one of the best you'll find at any bar in town.
Est. 1917 I Tremont
One of the top dive bars in the nation, right here in Cleveland
Not only is this former speakeasy one of the best dive bars in Cleveland, it's one of the best dive bars in America. Duck Island may look like an unassuming house from the outside, but step inside and find a small, intimate bar with a nice selection of booze, from basic beer to craft brews and thoughtful cocktails. A warm, welcoming staff makes anyone who walks through the door -- newbie or regular -- feel right at home.
Est. 1933 I Downtown
A no-frills happy hour favorite for Downtown's after-work crowd
Come 5pm, Downtown workers flock to this local pub for nothing more than cheap drinks served by a grizzled, friendly bartender. In the absence of contemporary pub mainstays such as food, games, and flat-screen TVs, Moriarty's does one thing and does it well: quenching their customers' thirst for very little money.
Sign up here for our daily Cleveland email and be the first to get all the food/drink/fun in town.
Beth Phillips Synk is a Cleveland-area writer who is still recovering from her plate of Parkview's hot chicken. (It was worth it.)