Our city's temperatures are falling and residents are flocking indoors to prepare for wintertime hibernation, Cleveland style. What better place to get cozy than a local brewery, and a new one at that? Luckily, a handful of entrepreneurs have opened their brewery doors in the past several months, leaving us with plenty of suitable places to drink in the comfort of controlled climates. Here are six of the best new breweries in Cleveland, sure to leave you feeling all warm and fuzzy.
Duck Island
Between Velvet Tango Room cocktail bar, Duck-Rabbit coffee roastery, the soon-to-be opened Western Reserve Meadery, and this year's Forest City, Duck Island is quickly becoming the place in town for thirst quenching. Forest City serves a rotating list of brews, including tripels, IPAs, porters, and stouts, among others. Get there quick to enjoy a seasonal pumpkin ale, subtle enough to taste like fall in a glass, with absolutely none of that dreaded PSL aftertaste. Blech.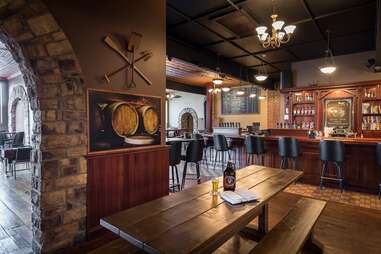 Lakewood
Westside-dwelling devotees of the original BottleHouse in Cleveland Heights no longer have to trek to the east side to get their fix. Earlier this year, the team opened a Lakewood location in the former home of Sullivan's Irish Pub. This spot is much larger than the original BottleHouse, leaving plenty of space for the production and aging of beers served at both locations. It offers an extensive, rotating list of craft beers as well as a selection of meads, a favorite among regulars since its introduction in Cleveland Heights several years ago.
Ohio City
Is there anywhere more fun than a German beer garden? Of course not; so beeline to the newly opened Hansa Brewery in Ohio City. European-style beers and hearty food favorites, including schnitzel and a sausage platter, make Hansa a perfect destination for those who are feeling less concerned with their summertime bikini bod and more interested in cold weather indulgences. Dig in.
Superior-St. Clair
Specializing in what's referred to as "neighborhood beer," Goldhorn seeks to take patrons back in time by serving up delicious brewskis that are crafted right in Cleveland's own backyard. This family-friendly brewery serves food and drink with an Eastern European flair, including sausages and pierogies, as well as pilsners and stouts. Better yet, Goldhorn is part of the Superior-St. Clair revitalization project, which seeks to breathe new life into a somewhat forgotten part of town. We'll toast to that.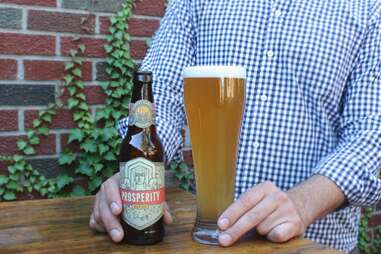 Ohio City
Since its opening in 2011, Market Garden has been a favorite amongst Ohio City's beer connoisseurs for its jovial atmosphere, quality bar food, and of course, outstanding brews. In 2016, Market Garden opened the doors to its brand new production brewery, a large-scale facility located behind the restaurant. Here, visitors can enjoy tours, tastings, and beer to-go. We'll take a growler of that excellent Prosperity Bavarian Hefeweizen, please.
Downtown
We weren't kidding when we said "new," as evidenced by the inclusion of Masthead, which opens this fall in the historical Bryant Building across from Reserve Square. In addition to a solid array of American and Belgian-style beers, this ultra-fresh spot also plans to serve wine, coffee, cider, mead, cocktails, and Neapolitan-style pizza as the opening weeks roll on. Basically, it'll be everything you could possibly need, in one expansive Downtown spot.
Sign up here for our daily Cleveland email and be the first to get all the food/drink/fun in town.
Beth Phillips is a Cleveland-area writer who is on an important quest to taste every pumpkin beer in Cleveland this fall (sorry, not sorry). You can follow her on Twitter @CraveableCLE.