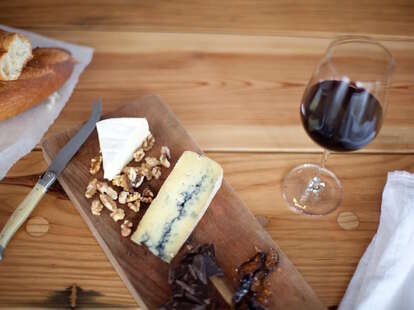 Courtesy of Wine Spot/Paul Sobota
There's a known, if unspoken, institutional spectrum of bars. On one end -- the low one -- is the dive, and on the other is wine bars (beat out by cocktail-only bars). Though as Midwesterners, we tend to eschew all things hifalutin and stuffy, these wine bars are anything but -- they're injecting new touches into the theater district, developing interesting food menus that would be unseemly at any other bar, and giving neighborhoods the perfect entry point to an intimidatingly storied booze. With you now fully on-board with wine bars being totally legit places to drink, here are 10 of Cleveland's best:
Ohio City
Tucked in the through-street home to other Cleveland staples The Flying Fig and Great Lakes Brewing Company, this ambient bar pairs an extensive wine list with plenty of small plates whipped together with seasonal, local ingredients from the nearby West Side Market. Market Avenue's proximity to many of Ohio City's restaurants makes it the perfect place to stop in for a pre-dinner drink and gooey baked brie or a post-dinner wine and artisanal chocolate pairing.
Coventry
La Cave, in a subterranean Coventry Road spot, is cavernous and intimately romantic -- exactly the kind of vibe we want while lounging and sipping a dry red. The wine selection is good and the craft beer selection perhaps even better, meaning you don't have to be an oenophile to love this place; most everyone does.
University Circle
Open from 10am to midnight most days of the week, Coquette keeps it cute around the clock. Pick up your morning French press coffee and fresh pastries; then oysters, artisan cheeses, and meats, wine, craft beer, champagne, and most importantly, the most gorgeously detailed desserts you can find most anywhere in Cleveland later in the day. But you can order from either side of the menu at any hour -- we certainly won't be the ones to judge.
Tremont
While many wine bars' main focus is vino with a few small plates as second thoughts, Press brings together the best of both worlds with its extensive wine list and full food menu to match. Don't miss the black truffle risotto with mushroom cream, grana padano cheese, and house-cultured butter. It's the purest form of decadence you can get on a plate.
Lakewood
There are few things better in life than a great glass of wine. Except for maybe great pizza. Indulge in both at Humble through its approachable wine list and excellent Neapolitan-style pizzas. Try the sausage with tomato sauce, peppers, onions, mozzarella, and oregano. or the Lardo (trust us) with roasted garlic, fontina, tallegio, and rosemary.
Downtown
In the heart of the glittering Playhouse Square theatre district, Bin 216 is a swanky, art deco enclave putting out inventive small plates and decadent desserts, and curating a list of sophisticated wine and cocktails. Don't miss the Tuesday-Friday 4-7pm happy hour; it's easily one of the best deals in this part of town.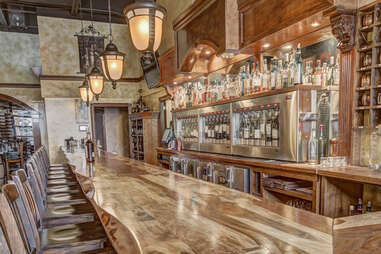 Rocky River
Perhaps it's a tease to grant you this information during our city's long winter months, but this wine bar's charming patio is well worth many-a summertime visit. Nevertheless, Wine Bar Rocky River's warm interior is just as welcoming all year round. Get in on its state-of-the-art Enomatic wine selection (pictured -- your wine's coming from a tap), with each available for tasting or by the full glass.
Coventry
Part wine/craft beer shop, part wine/craft beer bar, this joint's modern industrial vibe makes it stand apart from all of its brick-walled, flickering candlelit counterparts. Ultra-friendly staff are happy to walk you through what might seem like an unending number of options, so you don't have to sweat over whatever you're drinking, whether you're posted up at a wood-topped table at The Wine Bar or at home.
Cleveland Heights
We all know how much the French adore their wine, so it only makes sense that a Parisian-style wine bar would be one of the best wine finds in town. But don't stop there: with an ever-changing food menu -- check out the list on the bruschetta board -- Gigi's is as much a dinner destination as it is a beautiful wine bar.
Gordon Square
Toast serves excellent farm-to-table fare and pours from a diversely sourced wine list in a beautifully atmospheric setting. While sipping wine, nibble on small plates, like the trio of toasts with daily-rotated toppings, or go all the way with an entree: you can't fail with the savory smoked lamb chops with blue cheese, pear puree, roasted broccoli, and crispy onion.
Sign up here for our daily Cleveland email and be the first to get all the food/drink/fun in town.
Beth Phillips is a Cleveland-area writer who can't think of anything she loves more than wine... except for wine and cheese. And probably some chocolate, too. You can follow her on Twitter @CraveableCLE.