Clevelanders Explain Why Great Lakes Christmas Ale Is the Best Beer Ever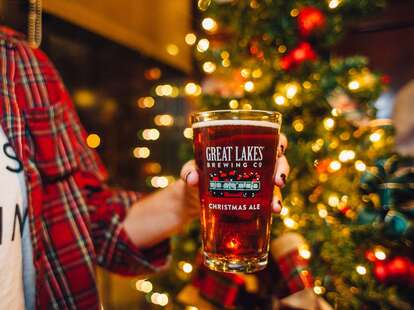 Courtesy of Great Lakes Brewing Co.
Courtesy of Great Lakes Brewing Co.
Cleveland is the proud home of the best damn holiday brew known to man: Great Lakes Brewing Company Christmas Ale. Since 1992, this festive and hearty 7.5% ABV beverage has been making the holidays a whole lot brighter with an intoxicating mix of honey, cinnamon, and ginger. Sold for a mere eight weeks and distributed mostly in Ohio, Michigan, and Pennsylvania, six packs are coveted and stockpiled for good and obvious reasons. We could wax poetic about the stuff for days but instead, we've invited a slew of Clevelanders to share their thoughts and sing their praises on why Christmas Ale truly is the Best. Beer. Ever. Crack one open and enjoy.
"I love Christmas Ale because every Clevelander seems to have a Christmas Ale story. Whether about the search for or consumption of this magical elixir, these stories typically end in comically spectacular fashion." -Hunter Harrison, Owner, Hunter Photographic
"It's not Christmas in Cleveland without Christmas Ale. Baked into my donuts, on draft in my neighborhood pub, sweetly wafting through the air in my neighborhood, served in frosty mugs at my holiday parties. It's like the tree, or the stockings or even Santa himself. It's the mark of my holiday now that I've been a proud Clevelander for 9 years!" - Stephanie Sheldon, Founder, The Cleveland Flea
"It wouldn't be a Cleveland Christmas without Great Lakes Christmas Ale, or someone getting their eye shot out with a BB gun." - Jason Hoffman, Editorial Illustrator at Thrillist and Cleveland native
"Christmas Ale is the best because of the way it makes you feel on the inside… and I'm not talking about the alcohol! I'm referring to all the Christmas feels along with the anticipation it brings. When Christmas Ale is out, you know the holidays are near and you know you can catch a buzz off one pint, which makes for a cheap night out. It tastes a little different each year, so it's fun to see which herbs and spices are highlighted with each new brew." - Jess Edmonds, Executive Event Planner, Spice Catering Co.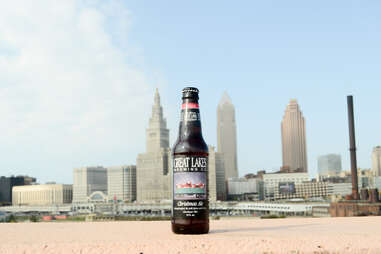 "Christmas Ale is a staple of being a Clevelander. It's like truth serum, allowing me to tell every crush I like them and blame it on the ale!" -Anna Harouvis, Founder and Chef, Anna in the Raw
"Great Lakes Christmas Ale is the one beer I share with others outside my homeland. I'm not one for fruit- or novelty-flavored beers, but the spicy, subtly fruity Christmas Ale is different. While it's certainly a heavier brew, it goes down easy. That's the double-edged sword, however -- drink anything beyond two of these 7.5% ABV Winter Warmers in a sitting and you'll likely find yourself snoring under a blanket soon thereafter. But that's the point -- although anyone who drinks these at a bar in July is just a glutton for punishment, even if it seems like an out-of-season treat." - Ryan Craggs, Senior News Editor at Thrillist and Cleveland native
"During Northeast Ohio's harsh winter, my favorite sweater brings me comfort, the faux logs on my gas-burning fireplace bring me warmth, and television brings me entertainment. And there is one drink that puts all of those feelings into my beer glass: Great Lakes Christmas Ale. The cinnamon and ginger flavors yield comfort, the bottom of the glass administers warmth, and the more I enjoy Christmas Ale, the more I'm entertained by whatever transpires." -Mike Schultz, lifelong Cleveland resident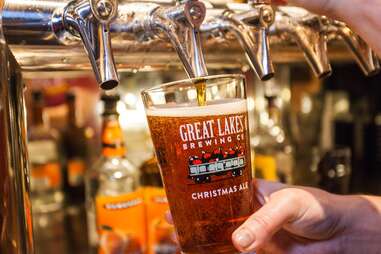 "Oh, Christmas Ale! Where do I start? You've made office holiday parties, tedious family gatherings and late nights of constructing my son's Christmas gifts both bearable and unmemorable. You tempt me each year with your spicy, sweet deliciousness that tastes like what Santa drinks after all the presents have been delivered. You have spawned many imitators, but we all still line up around the block for the first sip of you. Cheers to you, Christmas Ale. You make my Christmas the Clevelandiest." - Jen Rome, Blogger, Why CLE?
"An ode to a beer, of which I will drink no more than 1.5 bottles in one sitting:
You come once a year
Make your debut in my absence
Route 80 between us
Sugared rim of my sugarplum dreams" - Katy Filarski, Associate Video Producer at Thrillist and Cleveland native
"Christmas Ale is the best ever because it's the perfect ice breaker at holiday events and forced family gatherings. Nothing's better than sharing a Christmas Ale with a family member or friend you haven't seen in a while. It's basically the spirit of the holiday season in a bottle." - Jena Stout, Cleveland resident
"In the melting pot that is the American craft brew scene, the holidays are a very important reminder for Cleveland locals that Great Lakes Christmas Ale matters. For me, Christmas Ale was my first foray into craft beer 15 years ago. That first drink was garnished around the lip of the glass like a sweet cinnamon sugar wreath. The 'rim job' as it was intriguingly referred to made each sip more like opening a present than sampling a beer. Since then, Great Lakes Christmas Ale has become my go-to six pack when bringing the 'holiday spirit' to any gathering." - Matt Cantrell, lifelong Cleveland resident
"There's nothing like a six-pack of Christmas Ale to tuck a life's worth of regret safely into bed for yet another year." -Brandon Lewicki, lifelong Cleveland resident
"It's so good that even in a state hemorrhaged by poor election tastes, Bud heavy, and the almost Windians, people unite and splurge on this delicious ale. On a side note, I think this is first non-Natty/Keystone beer I tried and actually made me realize good beer exists." - Sonia Mehta, Data Engineer at Thrillist and Cleveland native
"Christmas Ale hits you right in the face with Christmas spirit. We love Christmas Ale. Rich honey notes with ginger and malt makes us feel like we are drinking a Christmas tree. It's one of those drinks that evokes happy memories upon consumption. One swill and we are transported to a fireplace surrounded by sweater clad family and friends. When Christmas Ale arrives, we know that the hard work of the year is almost over, and it's time to celebrate." - Drew Anderson and Luke Visnic, co-owners, Cleveland Kraut
"My mother christened Christmas Ale as 'the nectar of the gods,' and I can't say that I disagree. Even with the slight variations in the recipe from year to year, the 'bad batches' (as snobs say) are far and beyond any other holiday ale out there. Though I turn my nose up at every other beer that's just laden with baking spices because they're not Great Lakes Christmas Ale, so maybe I'm the snob after all." - Leanne Butkovic, Cities Editor at Thrillist and Cleveland native
"There's no better way to prepare for a long, Cleveland winter than with a Great Lakes Christmas Ale." - Jacinto Shy, Platform Engineer at Thrillist and Cleveland native
"I went to high school practically in the backyard of Great Lakes Brewing Co., and I go back every time I'm in Cleveland because you can't get beer like that anywhere else -- especially Christmas Ale. It tastes like the holidays and heaven wrapped up in one delicious brew, and even here on the East Coast I've managed to get the owner of the liquor store I frequent to carry it. I've already had it this year, and in New Jersey! But there's nothing quite like a pint of Christmas Ale from the tap at GLBC itself." - Andy Carter Dodds, former Cleveland resident living in New Jersey
Sign up here for our daily Cleveland email and be the first to get all the food/drink/fun in town.
Beth Phillips is a Cleveland area writer who highly recommends eating dinner before your second Christmas Ale. During the holidays, Christmas cookies totally count as dinner. You can follow her on Twitter @CraveableCLE.