The Best Craft Beer Bars in Cleveland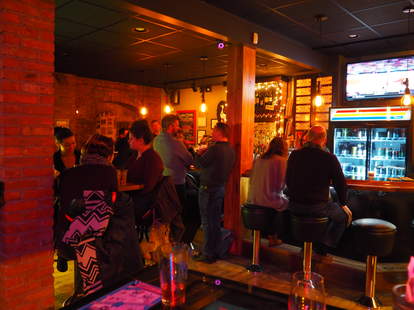 These days, it can be hard to keep up with the absolute explosion of locally brewed craft beer in CLE (trust us, that's a good problem to have). So many locals have popped up, in fact, that it can be easy to forget that outside of our city and state lines, there are tons and tons of talented brewers who are also turning out delicious craft brews. So where should you turn to give these local, national, and international beers a try? We've dug up eight of the best craft beer bars* in Cleveland.    
 
*Note: Before your beer-fueled anger flares up, please note that we've excluded brewpubs -- those are a different category altogether.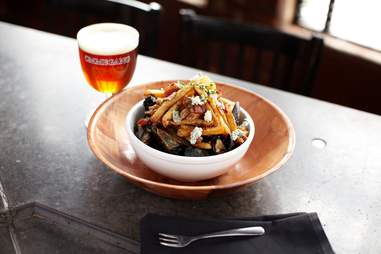 Courtesy of Tremont Tap House
Tremont
With a beer list of over 100 selections, 48 of which you can get from the draft, Tremont Tap House offers something for everyone. If you're feeling overwhelmed at this always-packed neighborhood favorite, Tremont's friendly staff will happily help guide your selection. While you're there, don't miss the duck poutine fries, which taste especially delicious after downing one or two of those brews.
Various locations
With more than 20 Ohio locations, this booming local empire strives to have the best and most varied beer selection in the nation. And with over 375 beers on offer in 2016, we'd say Winking Lizard is well on its way to achieving that mission. This year marks the 30th anniversary of the restaurant's popular Tour of Beers, challenging participants to drink 100 brews over the course of the year (don't worry, Winking Lizard has a tracking system that keeps tabs on your progress regardless whether you're in Solon one week or Peninsula the next). That's a challenge we can get behind.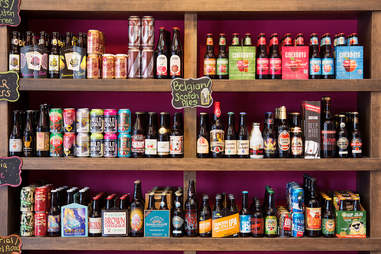 BurkleHagen Photography
Tremont
Although the most obvious reason to stop into Lilly is its downright elegant handmade chocolates, beer enthusiasts would be remiss not to peruse the shop's excellent craft beer (and fine wine) selection. Keep in mind that Lilly doesn't open bottles or serve full pours in-house. Instead, check out the daily beer or wine & chocolate pairing, as well as the monthly flight & chocolate tasting events, for a spin on your typical craft beer drinking experience.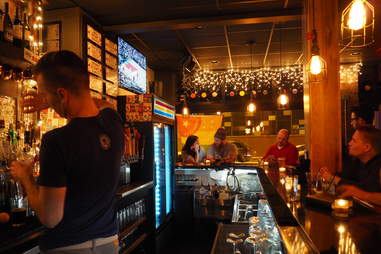 Michael George/Jukebox
Hingetown
With a rotating jukebox catalog (that's free to play!), baskets of locally made pierogi, and a truly impressive craft beer selection, Jukebox makes it hard to imagine packing more delight into one outing. Twelve rotating taps stick to Great Lakes regionalia, but you can choose from more than 60 craft bottles and cans from just about everywhere else. Tucked inside Ohio City's emerging Hingetown neighborhood, it's easy to see why Jukebox is helping champion the area's revival.
Lakewood
With an extensive beer menu, a large and inviting bar Jon Taffer would approve of, and some of the best pub grub in town, Deagan's has nailed the elevated neighborhood restaurant concept. Don't miss Thursday's $10 burger & beer night -- pick a burger and a craft brew, served in Deagan's typically generous portion sizes, all for a Hamilton.  
Coventry
Although -- as the name suggests -- La Cave is first and foremost a wine bar (and a great one, at that), this small basement establishment's notable craft beer selection has essentially outdone its wine list. In addition to a handful of drafts, four stocked beer fridges make up an entire wall of bottled selections. For those seeking a lesser-known brew, La Cave is your spot. 
 
Various locations
One of Cleveland's best dive bars is also one of the best places in town to enjoy a craft brew. But with a decent draft selection and an impressive number of bottles and cans, either of ABC's locations makes for a solid spot to enjoy good beer served by friendly staff. Plus, the ultra-laid-back environment means that said staff won't judge you if you switch to Pabst after a few too many high-ABV Dogfish Head or Rogue beers.    
Ohio City
Sure, it's just as easy to order a fresh green juice at this hip, healthy spot. But it's all about balance, right? For the days when you're on the less righteous end of the spectrum, TownHall's handsome craft beer selection is on point. All brews are $5 daily, meaning the price is negligible when you're evaluating beers. Check out Monday's craft beer night, when all brews are a mere $3 a pour. 
Sign up here for our daily Cleveland email and be the first to get all the food/drink/fun in town.
Beth Phillips is a Cleveland-area writer who will be taking her own Tour of Beers this year, all over Cleveland. You can follow her on Twitter @CraveableCLE.