I lock my bloodshot eyes with a woman in lederhosen before flashing her a Cheshire grin and polishing off my liter-sized stein of Hofbräu Original (my fifth of the night) to the rising and falling roar of the beer hall.
Ten hours earlier, before I'd kicked off my 12 hours of drinking, the resident accordion player called out the unapologetic theme for my day spent at the Hofbräuhaus:
"Everything you have heard here, that goes on at night, is probably true."
As my eyes fixate on four housewives slugging down shots of Jagermeister in tandem, I can't help but think that the polka-playing accordionist was right. Welcome to Cleveland, OH's version of the Hofbräuhaus.
***
In case you have been living under a very large and very clichéd rock, the Hofbräuhaus is the place to spend your evenings in Cleveland, Ohio. And yes, I'm talking to you.
One moment, you'll be having dinner with your grandmother; the next, you'll be standing on the benches railing shots with your grandfather.
Modeled after the world-famous, 500-year-old original beer hall in Munich, Germany, Hofbräuhaus Cleveland is known for serving house-brewed, Bavarian Purity Law-abiding beer; its friendly lederhosen- and dirndl-wearing staff (think traditional Oktoberfest garb); time-honored Bavarian cuisine; and, of course, its iconic, stein-hoisting, live-music-playing beer hall.
The ambiance of the Hofbräuhaus is one of controlled chaos; picture the carefree, optimistic, community-centric attitude of a Sunday morning spent shotgunning beers in the Muni Lot, combined with your favorite house party of all time. Bottle those two factors in the same vessel, throw on a fancy label, and call it a Saturday night here. It's Cleveland's weekly party fix, and quite frankly, we can't get enough.
If you've ever dined at the Hofbräuhaus, you'll note that the feel of the 400-person capacity hall changes as day dies and is reborn as night. One moment, you'll be having dinner with your grandmother; the next, you'll be standing on the benches railing shots with your grandfather. Fascinated by this shift in personality, I decided to document a day here to learn the true nature of the Hofbräuhaus and the Cleveland party spirit.
Saturday, March 26th, 2016
12:10pm
The Hofbräuhaus is calm; I expected a melee of hoisted steins. Somewhat disillusioned, I circle the block of Chester Ave and East 15th and flirt with the idea of drinking a beer an hour today. Twelve in a day. Romanticizing this outcome should probably be a point of concern.
12:15pm
I order my first beer: the Hofbräu Original, a neutral lager, soon delivered by my waiter, Dave. Catch the dude snaking around the long benches with steins looped around his arms without spilling a drop.
12:29pm
Backed by a polka beat from the man with an accordion, everyone around me claps on the ones and threes of "Happy Birthday." No one seems to have any idea whose birthday it is, but it's a fully participating crowd, proving all of Cleveland has a shit sense of rhythm, but they're all down to celebrate some rando's birthday.
12:31pm
The singing dies down; I cynically wonder how many birthday songs (and not even the 2 Chainz version... ) I'll hear today. My guess: 13.
No one seems to have any idea whose birthday it is.
12:33pm
A booming, disembodied voice warbles four bars into a number before I realize that I'll likely be listening to polka for the better part of the next 11 hours. I take on the dour mentality of an angry teenager at an obligatory family event for a moment before raising my glass and taking a sip. This is fine.
12:47pm
I abandon my table in the corner and follow the Oz-like voice and accordion tunes to where Fred Ziwich, the resident daytime one-man house band, is sitting perched on the foot-high stage.
12:51pm
All right, I'm hungry. Dave suggests the sauerkraut balls for their alcohol sopping abilities, though the other waitstaff passing by with splays of wursts, bratens, and slow-cooked meats in heavy cream sauces looks (and smells) damn appealing. But I'll put my trust in Dave -- this isn't the first time he's given a doe-eyed amateur advice.
1:07pm
Six perfectly deep-fried and golden balls arrive, which I eat fast enough to burn the roof of my mouth. It's time for Beer No. 2.
1:41pm
I catch a server carefully hoisting an old-fashioned broad ski in my periphery, careful not to spill any of the liquid inside the four shot glasses glued to the top of it. It's the first shot ski of the day!
1:42pm
"Shot-SKI! Shot-SKI! Shot-SKI!" The chanting has begun; it appears that everybody else (about 150 people, by now) has noticed the four college-aged men standing shoulder to shoulder on the bench downing a Jager shot from the ski (get it?) in unison, too.
1:47pm
Inspired by the first group, it seems, a second, older cadre of gentlemen have ordered their own shot ski. The chanting starts again. Bottoms up, you 40-somethings! I wonder what their shot of choice is. Probably something bourbon-y.
The accordion player ad libs "Cheeseburger in Paradise" to "Bratwurst in Paradise;" the crowd does not hesitate to join in.
2:37pm
It's starting to get crowded; much to my chagrin, my elbow room from an hour ago has completely dissipated.
3:01pm
I'm suddenly swarmed by 40- and 50-year-olds wearing German-inspired clothing, as if going to the Hofbräuhaus was the same as going to a costume party.
3:12pm
Our friend Fred Ziwich ad libs "Cheeseburger in Paradise" to "Bratwurst in Paradise," and the crowd does not hesitate to join in. Jesus Christ, I'm going to need another beer; Hofbräu Original (No. 3), we meet again.
3:30pm
I have just learned that the Hofbräuhaus is handling 560 reservations today, and as an ex-server, I am absolutely floored. Yeah, it's a big place, but assuming each of those parties averages at least four, that's 2,240 people walking through the doors. I chug beer to settle the anxiety-inducing memory of bulging eyes paralyzed by indecision while ordering from the menu (ugh).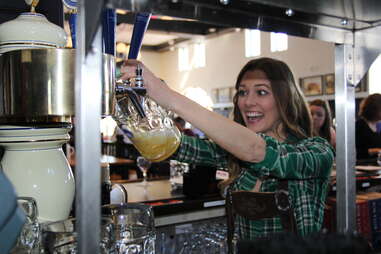 3:33pm
With this newly acquired knowledge, I'm super-impressed watching the servers waltz around in their traditional lederhosen (Everyone comments on it. Everyone.) carrying foaming steins, delivering them to tables sans any sign of exasperation. I suspect Dave is a robot.
3:52pm
My friends have shown their faces. Join me, friends. They sit and order their first round. One of them orders a cider; we all take turns ribbing his choice. Me, I'll have Hofbräu OG No. 4, thanks.
4:01pm
The beers (and that lame-ass cider) have arrived, so we decide with hardly any coaxing to order a shot ski for ourselves -- four shots of Jagermeister, please, hold the judgment.
4:13pm
My friends are oh-so-carefully passing down the front end of the ski to reach me, the anchor, as we're standing on our bench. It's our turn as, once again, the shouts of "SHOT! SKI! SHOT! SKI!" reaches our ears. We take our shots, the mass of people cheer, I look up to the 60ft ceiling and raise the fist of a champion.
4:42pm
"Do you know what it feels like / loving someone / sitting at the Hofbräuhaus all day?"
-- the new chorus to Enrique Iglesias' "Do You Know," as determined by my day-drinking friends and I
4:45pm
Almost five hours into my hazy journey, it's time to check the scorecard: there are eight shot skis on record -- meaning 32 people (four that are us!) have stood on benches and downed liquor from a ski. Nice job, my Cleveland neighbors. Even if you do have a tendency for subpar lawn care.
5:00pm
Entranced by a wave of smiling, contorted faces, I'm reminded of tailgating for a Browns game. There's just something about drawing out that blinding optimism that every Cleveland sports fan is cursed with, along with loud, more-drawn-out-than-usual a's. "I'm so myad ayt the Browns dryaft picks."
5:20pm
Loud, guttural woofs break out, as is expected with any large congregation of drinking Clevelanders. Why wouldn't we bark for our sad, sad Browns that we live and die for, even on cold March evenings without a game in sight?
6:00pm
Another day, another dollar. Another birthday, another shot ski. Happy birthday, John, you earned it!
6:30pm
Here is a sight not seen every day: a 50-year-old takes a shot with college kids. The elder then wanders off, vibing to surf rock as he disappears into the crowd. I really would like to know who initiated that interaction. The age range here is precarious. There are as many 20- and 30-year-olds as there are 40- to 60-year-olds, and based on behavior, you wouldn't be able to tell who's who.
6:36pm
Through the lens of my waning beer stein, I see groups standing on the benches, dancing. A particularly enthusiastic 60-year-old dancer wanders into the focus of an unfamiliar yet welcoming crowd. I am smirking dumbly. Beer No. 5, where are you? Oh. Oh, wait. I think Dave came by with my refill while I was ogling.
7:00pm
Apparently, a band is now playing. When did this happen and WHERE IS FRED??
7:54pm
The entire crowd is singing to "Sweet Caroline," mumbling the word parts and shouting the non-word parts, and once again, I'm really concerned by the fact that I missed the band changeover. But somebody has flicked an on switch because Hofbräuhaus has entered full party mode.
8:45pm
I'm in no state to make profound judgments on the night, but 400 people are standing on the benches, taking shots, making cheers, and singing with the band -- it's surreal. The world needs more establishments like this. I find an open space on a bench and join my place standing. "Anthony!" I say, sticking a hand out to introduce myself to the people next to me.
8:50pm
It hits me as I'm singing with my new neighbors: it seems that I have lost my friends.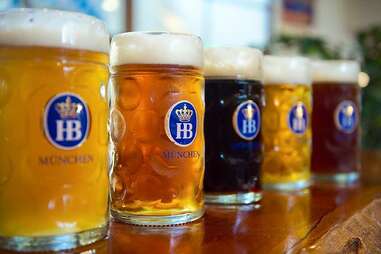 9:13pm
After fumbling through animated conversations with grand hand gestures, shouting over the music, trying to find my lost friends, I have given up on them. They're grown-ass men. It's time for Beer No. 6.
9:15pm
It is my blockbuster moment: I dance my way through the crowd to the back bar, dipping through a forest of people when I notice an older, approachable-looking woman. Without even thinking, I say hello.
9:41pm
Small talk quickly becomes large talk and I feel myself mentally connecting with this woman. Call it similar backgrounds or call it the alcohol (probably the alcohol), but this lady plain understands my universe -- we initially bond over the lighthearted spirit of the beer hall and our love for Cleveland… I'm wondering if we've met before.
In the depth of our conversation, we conclude that Cleveland is the misunderstood middle child to the big media parents. It's a world-class city that never seems to receive the attention it deserves. But she summed it up so simply: "We don't need the attention, we know we're good," she said. We hugged, then parted ways.
10:00pm
The crowd is alive right now, hugging each other, putting each other in friendly headlocks, and singing off-key, moments before the band (again, when did the band show up?) yells "LET'S DRINK MORE BEER!" The crowd erupts with joy (me too!!!). The floor is shaking.
Unsurprisingly, no one is opposed; this is Cleveland, dammit! We want substance, which usually always means more beer. Literally hundreds of people lift their steins for a communal cheers before sending the suds down the hatch.
10:16pm
Beer No. 7, the final one, has been ordered; it's been a long day, and I'm expecting a longer morning.
10:27pm
The band leaves the stage and files into the crowd with their instruments. The guitar player leaps onto a bench and rocks out with the entirety of the beer hall. Holy shit, we are loving this. We can't get enough of this!
11:15pm
More shot skis for the beer hall -- I lost count at 24, but can you blame me? I've had a day's worth of steins. The beginning of this trip was tepid, but now, it's a frat house on a Saturday night. The Hofbräuhaus has been sitting in the pocket of the best house party you've been to for a little over three hours now. I am surrounded by clinking strangers.
12:00am
After nearly 12 hours, I'm sentimental over leaving (though it might just be all the alcohol I've consumed). The party is still in full swing as I shimmy my way to the front entrance. My friends are finding their own damn rides home.
The stats break down like this: seven beers consumed, 24 confirmed shot skis, and 12 "Happy Birthdays" (just one shy, dammit!).
I wish I could say the ending of my night was as cinematic as the rest of it, but I just ordered an Uber, waiting in the chill of late March. I peer into the tall windows emanating yellow-orange light; I can still hear the dull murmur of the crowd as my car pulls up and I get in. I ask the driver if it's early enough on Sunday morning that we can find the polka station on the low end of the radio dial.
Sign up here for our daily Cleveland email and be the first to get all the food/drink/fun in town.