The 11 Best Bars for Winter Drinking in Cleveland
With the holidays behind us, it can be hard to see beyond the long stretch of harsh winter months that lie ahead. There's hardly anything to keep us going besides the Cavs' mid-season jaunts, and even then, there's a long way to go before they kick into playoff mode, meaning get really good. Luckily, there are plenty of Cleveland bars to help you drink away the misery of our drab, grey winters. While these spots are worth a visit most anytime, their cozy characteristics truly shine this time of year. Here are 11 of the best places to grab a drink this winter.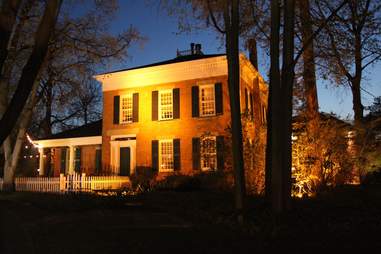 Peter Sampson
Strongsville
Tucked in the basement below the ever-so-fancy Pomeroy House is Pomeroy Pub, a bar and eatery that's perfect for casual winter evenings. Snuggle into one of the pub's inviting booths to enjoy a wide selection of beer, wine, cocktails, and pub fare, including one seriously delicious burger.
Tremont
With warm lighting, intimate rooms, and rich wood furniture, something about this inviting establishment just screams winter. Cozy up to the bar, and choose from a long list of exceptionally well-crafted cocktails, like the Tango Manhattan, made with house-made red wine reduction, VTR bitters, and Maker's Mark.
Courtesy of La Cave
Coventry
Hidden below the hustle and bustle along the main drag of Coventry is La Cave du Vin, an ambient basement wine bar that features an equally impressive beer list. A nice selection of cheese, olives, and bread allows patrons to settle in for a long night of wintertime relaxation.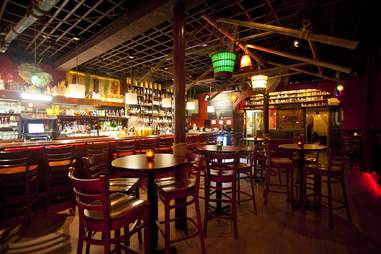 Courtesy of Porco/Sam Twarek
Ohio City
OK, so we've been incredibly lucky with the weather so far this season (knock on wood), but we all need the occasional break from Cleveland's harsh winter conditions. Luckily, Porco offers the perfect escape. Step into the bar's sunny lounge to enjoy tropical cocktails that will transport you to a Polynesian getaway with each refreshing sip.
University Circle
You don't have to be an overnight guest at this charmingly historic hotel to enjoy the crackling fireplace on one of the big, comfy couches with a drink in hand in its Palette Lounge. Glidden House is only steps away from many of University Circle's cultural attractions, including Severance Hall and the Museum of Art, making it the perfect place to set the stage for one classy-ass evening.
Courtesy of Prosperity/Jesse Kramer
Tremont
Over-the-top Christmas decorations make Prosperity a go-to destination during the holidays, but it's the restaurant and bar's wood-burning fireplace, snug interior, and hearty wintertime fare, such as loaded potato pierogies and Hungarian stuffed cabbage, which keeps patrons coming back all season long.
Lakewood
Of course Griffin's ciders are delicious, but it's the bar's stellar hot winter warmers, including Wassail and Smoking Bishop, that landed them a coveted spot on this wintertime list. Pair your beverage with a nice selection of hearty English snacks, including Scotch eggs and sausage rolls, for a warm you from the inside-out kind of evening.
Courtesy of Bourbon Street/John Kuntz
Tremont
The lively atmosphere in this dazzling New Orleans-style bar and restaurant is enough to thaw the frostbite from your joints during the cold winter months. Thirsty customers can choose from a long menu of wine and craft beers from around the world, as well as classic New Orleans cocktails, such as a sazerac or hurricane.
Ohio City
There's nothing quite like sipping a cool beer on Great Lakes' expansive patio during the summer months, but the brewery and restaurant's warm, jovial interior lends itself perfectly to winter as well. Choose from a wide variety of signature brews, including Burning River pale ale, Commodore Perry IPA, and everyone's wintertime favorite: GLBC's ultra-potent, 7.5% ABV Christmas ale.
Downtown
Giant liter mugs of classic Bavarian beers (brewed on-site!) and stick-to-your-ribs German food such as breaded pork schnitzel and cheesy spaetzle make this sprawling bier hall an ideal spot to add that extra layer of wintertime padding. As the night goes on, don't be surprised to see patrons jumping on the benches to partake in a shot ski (a ski lined with shots) and dance entertainingly to Hofbrauhaus' live music.
Ohio City
With dim lighting, brick walls, and flickering candlelight, wintertime is the best time to enjoy the atmosphere in this Ohio City stalwart. Customers can enjoy a selection from Market Avenue's impressive wine list while nibbling on a variety of hors d'oeuvres and desserts featuring ingredients from the nearby Westside Market, including crunchy bruschetta and gooey baked brie.
Sign up here for our daily Cleveland email and be the first to get all the food/drink/fun in town.
Beth Phillips is a Cleveland-area writer who has done her best to wreck your New Year's Resolution to drink less with this article. You can follow her on Twitter @CraveableCLE.