Crazy Places in the US You Can Find Great Drinks
Courtesy of The Laundromat Cafe
You want to go out for a relaxing drink after a long workday, but instead need to run excruciatingly dull errands. Over the weekend, you can't decide between trying a new cocktail bar or spending an afternoon at the movie theater, museum, or arcade. Do these dilemmas sound familiar? You're not alone.
Indecisiveness is exactly what inspired a number of business owners around the country to open up hybrid shops, combining great drinks with venues that don't typically mesh with drinking. Whether it be a traditional Jewish-American deli, an arcade jam-packed with vintage games, or a laundromat that makes wash day a little less unpleasant, these inspired mash-up businesses will forever change (read: spoil) the way you view their non-boozy counterparts. Here, seven of the most unexpected places you never you knew you could find craft cocktails, beer and wine.
Delis
Behind an exterior of cured meats, bagels and smoked fish, the last thing you might expect to find is a full-blown cocktail bar, complete with everything from bitters and syrups to craft spirits and liqueurs from around the globe. Well, prepare to be pleasantly surprised: Delis across the country boast a boozy underbelly that's as delightful as any classic deli dish.
Mamaleh's Delicatessen
Cambridge, Massachusetts
One impressive deli bar serving up cocktails aplenty is Mamaleh's Delicatessen, which opened in 2016. The location focuses on traditional flavors and ingredients of Ashkenazi, Sephardic and Jewish-American cuisine. Don't hesitate to pair your pickle plate and latkes with a Boyle Heights, a smoky Margarita served on the rocks with a pink pepper pastrami-spiced rim, or one of the other equally delightful cocktail menu items.
Deli Tavern
Phoenix, Arizona
Deli Tavern also serves playful classic cocktail-deli mashups, including the Deli Old Fashioned (whiskey, AZ Sunshine & Figgy Pudding Bitters, demerara syrup, cold brew coffee).
2nd Floor
New York, New York
Perhaps the most recent and most talked about deli bar to open is 2nd Floor, the cocktail lounge above famed 2nd Ave Deli in NYC. Whatever you're hankering for—pierogis, herring, veal or lox—you'll now have the option to pair your bites with drinks featuring ingredients you don't often find in cocktails, like Manischewitz in the Man-o-Manischewitz (London Dry gin, mulled Manischewitz, lemon, cinnamon) or celery soda in the Upper Eastsider (vodka or gin, celery soda, ginger, lime, mint).
Movie Theaters
Drinking in theaters is certainly not a new concept; during intermissions at live performances, theater-goers were accustomed to refreshing themselves at the mezzanine bar long before the talkies existed. Movie theaters have continued the time-honored tradition, with large chains like Alamo Drafthouse, AMC and Cinemark now serving everything from boozy milkshakes to local craft beer alongside silver screen productions. At certain iPic locations, you can get ultra nerdy with traditional or liquid nitrogen cocktails, including the Pineapple-Hibiscus Deep Freeze (pineapple-jalapeño vodka, rum, Japanese Orange-Tangerine Sour). These large chains are also indicative of a trend that's been growing at the local level for many years.
Nitehawk
Brooklyn, New York
Nitehawk has been serving up dinner, drinks and a movie to its patrons since 2011. Sip on a classic Martini or an Old Tom Selleck (gin, rhubarb, lemon, seltzer, moustache) during big-budget thrillers or 1930s silent films. You can also visit its ground floor lounge, Lo-Res, after the show to take it all in.
The Downtown Independent
Los Angeles, California
Los Angeles also boasts plenty of thirsty cinephiles, judging by the success of The Downtown Independent, which serves a rotating selection of beer and wine.
Logan Theater
Chicago, Illinois
In Chicago, Logan Theater features cocktail menu options like Electric Sheep (1776 Rye Whiskey, green Chartreuse, Laird's Applejack). Even if you regret your movie choice, at least you'll have a cocktail to help make it all better.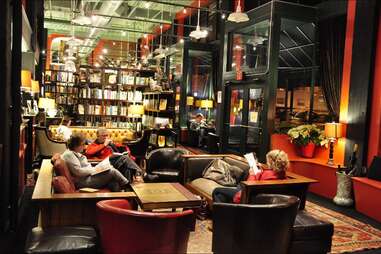 Book Stores
Relaxing at a bookshop or café with a book in one hand and a fine espresso drink in the other is a special kind of relaxing, but imagine if you could swap out that espresso for a craft cocktail—wouldn't that be so much better? If you're inclined to say yes, be sure to add a couple of these bookstore and library bars to your bucket list.
Battery Park Book Exchange
Asheville, North Carolina
At Battery Park Book Exchange you can settle in with a good book at either the wine bar—where you can choose from a menu of more than 200 bottles—or the espresso bar.
The Café at Books & Books
Miami, Florida
Here, you can enjoy literary-themed cocktails like The Longfellow (Sloane's gin, Campari, cucumber) before browsing through thousands of titles in the shop.
Trident Booksellers and Café
Boston, Massachusetts
Go for a pint of beer and a plate of eggs Benedict (or any one of the many egg-based dishes) at Trident Booksellers and Café in Boston. The beers and ciders are mostly local, straying only as far as Connecticut.
Molasses Books
New York, New York
If you've managed to make some room on your bookshelves, stop in Molasses Books for a glass of wine or a brewski while browsing a selection of well-loved titles.
The Nomad Hotel Library Bar
New York, New York
If you're not looking to take a book home with you but would still like to enjoy a drink among plenty of leatherbound books and rich mahogany decor, visit The Nomad Hotel Library Bar to enjoy a beautifully curated selection of books and cocktails.
Museums
Every now and then the pang to visit a museum hits and we're faced with a tough decision—which one? That decision just got a whole lot easier, because the obvious answer is: the one with a rad bar. Luckily, there are quite a few to consider throughout the U.S.
Harry Caray's 7th Inning Stretch
Chicago, Illinois
Located in the Chicago Sports Museum, Harry Caray's serves wine, beer and cocktails like the Cubs Cosmo.
The Cantor Roof Garden Bar at The Met
New York, New York
The refreshing cocktail selection at this al fresco spot is perfect for cultural outings in the summertime. And the rooftop exhibit changes year to year.
The American Sector
New Orleans, Louisiana
One of the ultimate bucket-list museum bars is The American Sector in National WWII Museum in New Orleans. Aside from its bright and airy decor, the restaurant and bar serves up classic NOLA fare like fried shrimp po'boys alongside aptly named cocktails—you won't want to miss out on The Rosemary Riveter (vodka, cucumber, rosemary syrup, lemon, lime).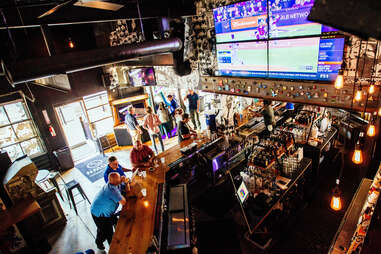 Arcades
Once you're past a certain age, there's no reason to sit at home and sip cheap beer while you play video games. Instead, take your love of video games out on the town to one of these boozed up arcades.
Up-Down
Kansas City, Missouri
At the Up-Down in Kansas City (home to a thriving arcade bar scene), you can play your way through more than 50 pinball and arcade games, or even take a turn on the Nintendo 64 console or one of the skee-ball alleys, all whilst sipping local brews. Stop by the snack bar tucked in the back of the arcade for a slice of pizza or a walking taco.
Shorty's
Seattle, Washington
If you're into certain types of arcade games, though, a more specialized barcade might be up your alley. Shorty's focuses on pinball, and serves up gourmet hot dogs and cheap cocktails like Strawberry Daiquiris and Whiskey Sours.
16-Bit Bar + Arcade
Columbus, Ohio
15-Bit Bar is all about the big-name classics like Frogger, Pac-Man and Donkey Kong, as well as cocktails like the Kevin Bacon (Jim Beam Maple, ginger ale, bacon jerky).
Salons & Barber Shops
Getting your hair chopped, shaved or styled should be an experience, not a chore, and no one knows that better than the people who have turned their salons and barber shops into legitimate lounges.
Blind Barber
Multiple Locations
Blind Barber has a few locations throughout NYC, Chicago and the Los Angeles area, each featuring an old-timey barber shop up front and a moody area with a full cocktail list in the back (yes, kind of like a mullet).
The Junction Salon and Bar
Raleigh, North Carolina
The Junction Salon and Bar offers a full bar and cuts, but you can also sip a cocktail during a mani-pedi session.
The Beauty Bar at Geist
Indianapolis, Indiana
If you ever find yourself in Indianapolis, be sure to stop by The Beauty Bar at Geist. The salon was the first in Indiana to boast a full bar, and they don't slouch on the offerings. Go for a classic Manhattan or shake things up with a glass of Champagne garnished with green apple and lime. No matter what you choose, you'll be looking and feeling good after your next hair appointment.
Laundromats
Of all the strange places around the world you can find a drink, the laundromat might be one of the most unexpected—and one of the most delightful. If you have to take your clothes out for a wash, you might as well enjoy it, right? That's the idea behind some of these wacky and all-around practical establishments.
Spin Laundromat
Portland, Oregon
Spin provides a cozy lounge where you can sip beer and wine on a comfy couch as you wait for your laundry to finish up.
Sunshine Laundromat
Brooklyn, New York
Sunshine has laundry, a beer bar and pinball machines, in case you've got a day's worth of washing to do.
Louie's
Topeka, Kansas
If billiards are more your jam, Louie's is worth a visit. Drinks rarely cost more than $5 and if you only have time to stick around for one beer, the drop-off service comes in handy.