Big Red
Big Red
If you're from Texas, then you definitely know Big Red. And you know that we didn't mean the chewing gum just now. No, we mean that captivatingly bright red beverage that tastes gloriously of... bubble gum? Strawberry? No, cotton candy. You can't quite put your finger on it, but you know you want one right now. But here are some things you probably didn't know...
1. Big Red was invented in 1937 in Waco, Texas
... by a fellow named Grover C. Thomsen and R.H. Roark, who mixed orange and lemon oils with the traditional vanilla used in other cream sodas. Must be something in the water there: Waco was also the birthplace of Dr. Pepper some 52 years prior.
2. It was originally called "Sun Tang Red Cream Soda"
In 1959 the name was changed to "Sun Tang Big Red Cream Soda." One summer day when Harold Jansing, then president of the San Antonio bottling plant, was playing golf, he overheard a few caddies call it "Big Red," and he liked the name so much that in 1969 he officially changed the name.
3. Big Red and Barbacoa is a Texas staple
... that fits together like pearl snaps and cowboy boots. The tender, spicy meat is put into a taco and then cooled down by the red, creamy, and sweet soda. The combo was immortalized in a song by the late Randy Garibay from San Antonio, called, "Barbacoa Blues," in which he hungrily sings "I went down Nogalitos, (in San Antonio) looking for some barbacoa and Big Red." There was even a full-blown festival devoted to the pair in San Antonio last year.
4. It cures hangovers
... which is ironic because it also makes some killer adult beverages, like the Melted Snowcone (Big Red and rum) or the Texas Sunrise (Big Red and tequila). So, here's the solution: use it as your mixer and save some for the morning after. Problem solved!
5. It has its share of famous fans
... like Sammy Davis Jr., who dug it so much he once had his manager order several cases. And when John Cougar Mellencamp wasn't singing about "Jack & Diane," he was known to be enjoying his dual vices of cigarettes and Big Red. Tex-Mex musician Sir Douglas Sahm (!) was such a fan he even posed with hands wrapped around a bottle on his 1971 album cover for The Return of Doug Saldaña. Pictured here is radio personality Bryan "Bald Bryan" Bishop, as Mr. Mellencamp was unavailable for photos.
6. You can turn it into a peanut pattie
Well, a liquid one anyway. Here's what you have to do: take a few salty peanuts, drop them into a can of Big Red, wait a few seconds, and then take a drink. The taste is almost identical to a peanut patty. Just keep in mind if you try this and you're not in Texas you might look crazy.
7. There are several other "Big" flavors
Why stop at red, right? The company has also created Big Blue, Big Peach, Big Pineapple, and the most recently introduced, Big Manzana. Of course, none of these look poised to overtake the king anytime soon.
8. The company has some bizarre but clever marketing
Like this commercial, for example, where the Big Reds turn out to be partially made of brisket at a summer BBQ and party goers feverishly munch on the bottles. It will make you weirdly hungry.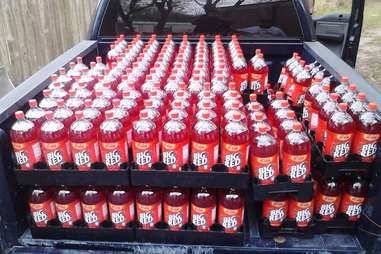 9. There's a cult following
... which thankfully doesn't involve any Branch Davidians, Waco ties notwithstanding. It actually outsells Coca-Cola in some parts of Texas, and there's a whole Pinterest page dedicated to recipes with the drink from pancakes and cupcakes to Big Red floats.
10. It makes babies stop crying
Former Big Red executive Emery Bodnar told a story about the time he was checking stores and saw a baby crying in a shopping basket. He said that the mother took a liter of Big Red and filled the baby's bottle with it. Did the baby stop crying? Of COURSE it did. Disclaimer: Big Red and Thrillist do not endorse feeding your children Big Red in place of milk. Unless they're crying, like, A LOT.
Sign up here for our daily Dallas email and be the first to get all the food/drink/fun DFW has to offer.