A Night in Billy Bob's, the World's Largest Honky Tonk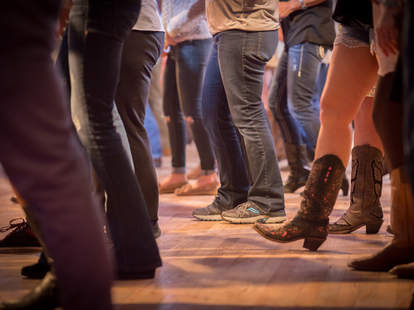 OK, so it's not like I've never stepped foot (or boot) in a country bar before. My first experience was at a place called Electric Cowboy in Lewisville, Texas, in a shopping mall, where the drinks are strong yet horrible, and there's dancing, too. It's not genuine country, certainly not like a place like Billy Bob's anyhow.
There was one time I almost went to Billy Bob's while I was in Fort Worth with my Haitian friend Ralph who quickly exclaimed with his French-ish accent, "I don't even own a boot!" Even he knew not to show up boot-lessly unprepared to the world's largest honky tonk. Although I've lived in Texas for over 18 years, that same fear of the unknown has kept me away. Until now.
So let's talk about Billy Bob's for a little bit. It's probably the most famous country venue in north Texas, if not all of Texas. It was even featured in the iconic '80's film, Over The Top with Sylvester Stallone, likely seen as the ideal venue for arm-wrestling to win back custody of your son. It has over 100,000sqft of interior space and 20 acres of parking, not to mention 30 individual bar stations (yes, 30). There's pool tables, dance floors, bull riding -- not mechanical ones, real life bulls -- a restaurant, an arcade and a gift shop. Ultimately, the venue, located in the Fort Worth Stockyards has been the place to watch live country music since its opening in 1981.
With a history like that I couldn't just schlep in wearing city attire, I had to look authentic. I cobbled together an old pair of brown faded cowboy boots, fitted Levis and, of course, an obligatory snap button shirt. I opted to forego the cowboy hat for fear of coming off as trying too hard and not looking like a regular.
I kept imagining a group of large mustachioed good ol' boys sitting at a table peering at me through their beers and ten gallon hats, saying, "Well look what the cat drug in (while slapping each other on the back)?" The music and dancing stops, everyone turns around and then they say, "Looks like we got us a city boy fellas! Let's get 'em!" OK, maybe that's a little exaggerated but I wanted to fit in, so the right attire was important. I purposely chose a slower night to get the full experience, so I went on a Monday, which is Couple's Dancing night. Seemed friendly enough.
 
"Here was this dance floor full of people actually dancing, not grinding mechanically with an overpriced drink in their hands."

At Billy Bob's you pay admission, $2 on a non-show night and, once inside, you're greeted with a variety of arcades as kids are allowed at Billy Bob's, which is pretty strange and endearing at the same time. Walking past the arcades and neon signage, the multitude of bars can seem overwhelming at first. Surprisingly to me, no one glanced twice when I walked in so I was already feeling pretty good.
The sound of an announcer could be heard in the distance giving dancing instructions with country music playing in the background. There were older people, younger people, and even a dad dancing with his young daughter on the dance floor. It was all much different than what I expected. I mean, the clubs and bars in Dallas are all packed like sardines with people you wouldn't even want to have coffee with. Here was this dance floor full of people actually dancing, not grinding mechanically with an overpriced drink in their hands.
David Maez/Thrillist
Since it was couples night I opted not to partake in said dancing but I did sit back and take in the scene for a few moments. I chatted up a nearby middle-aged couple that happened to be eating a plastic boat full of popcorn the bar was giving out. I asked them how often they came to Billy Bob's and they both shrugged their shoulders with mouths full of popcorn and said, "Oh, every other Monday or so because it's not that busy." The man looked back and asked, "And you?" I responded nervously, "Oh, you know... when I can." Hey, I wanted to fit in. He didn't buy it. I grabbed a boat of popcorn after an awkward silence and watched the dancers spin and shuffle across the floor.
I glanced over to one of the many bar stations and walked over for a drink. As I pulled up to the bar the bartender, Skyy greeted me quickly, with a, "What can I get for yah, hun?" We had small talk for a few minutes, and she agreed to answer some of my burning questions:
Me: What's the craziest thing you've ever seen here?
Skyy: What do you mean? Like bad?
I mean, good, bad, anything crazy?
An older bartender overheard the question and chimed in with, "Tell him about the time that guy went... well... went... to the restroom on a man's shoe."
Skyy blushed a bit and said, "Oh yeah, I almost forgot about that one. We had one guy who came in here and got so upset about being asked to leave, he just pulled his pants down and, you know, squatted on the poor man's shoe and went to the restroom. We have a lot of people who do a lot of crazy things but that was the craziest."
Do you have any regulars who come in here every day?
Not every day but every weekend for sure. Thursdays are pretty popular days for our regulars as well.
What's the best day to come with that being said?
Saturday night for sure, for the shows, and as I said, our Thursdays are good here, too. It gets pretty crowded, and it's a good time.
What's the most popular drink here?
Well, we make something called a Three Legged Monkey; it's super chilled Crown Royal with Coke and Sprite. It's a favorite here.
So, like a shot?
Yeah, exactly.
How about beer, what's your most popular beer here?
To be honest, it's Shiner. I mean we still serve a lot of Miller Lite and things like that, but Shiner is the favorite.
How often do you see famous artists?
Oh, all the time. Friday and Saturday night for sure. Pat Green was just in here most recently but we see a lot of football players, too. I don't watch much football but you know, all the famous ones.
How about Willie Nelson, does he still come up here?
Oh sure, Willie Nelson was just here a bit ago as well.
Really? Willie? I'm surprised he's still moving around?
Ha ha, yeah.
Before I asked my next question Skyy took care of a few actual cowboys who were waiting for me to finish. When she wrapped up with them I ordered an ice cold Shiner, and she slid it across the bar. I passed on doing the Three Legged Monkey; I figured I'd play it safe. I sat at the bar a bit afterwards and watched a group of guys play pool, took a few more swigs from my Shiner and for that moment I felt like an actual Texan. While I'm sure city folk were sipping their wine and wearing fancy clothes, it felt genuine and comfortable to just sit there in a honky tonk and be undisturbed with my Shiner.
Across the room I noticed one of those punching games like the one in Urban Cowboy. I quickly finished my beer and sauntered over. After I popped my dollar in the machine a huge punching bag come flying out in front of my face almost hitting it. Two fellas sitting at the bar were snickering softly at my clumsy movements, but I've boxed before, so I would show them a thing or two. As I pulled my hand back and turned into my punch, the punching bag swung back with a huge thud, and I hit the 800 mark. I rolled my sleeves up in approval and walked off, unnoticed by the two fellas who had their eyes on a curvaceous blonde that had now taken the spotlight at the bar.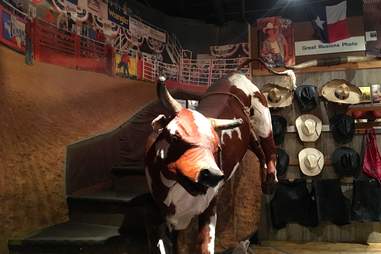 David Maez/Thrillist
When I headed to the restroom I was met face-to-face with the huge stuffed bull I read about. The older gentleman behind the photo booth paid me no mind, and so I snapped a few photos with my phone, even with the "No Photos" sign right in front of me. What I really wanted to see were the real bulls. As I turned the corner I noticed double doors slightly open to an arena. Sadly, there were no bulls but I crept in to have a look and sure enough it was a legit bull arena for actual bull riding. Billy Bob's doesn't do mechanical bull rides. Not just anyone is allowed to ride the bulls, and no amount of liquid bravery is going to change that.
I decided to end my night at the in-house restaurant, Honkey Tonk Kitchen. As I walked to the restaurant I gave Skyy a nod as I passed by. I ordered the BBQ sandwich with a side of beans and another Shiner. I took a seat overlooking the dance floor. People were still moving, spinning, and shuffling. Quite a few more had gathered and an older couple on the floor caught my attention. His dress pants were neatly creased in the middle, and his cowboy hat tightly gripped to his grey hair, her curly walnut brown hair twirled just as fast as she did and they smiled at one another. A couple behind me took to a booth in the corner and cuddled and kissed like new lovers, perhaps making plans for the future or for the night. I took another drink of my Shiner. I would be back. Perhaps this time I will take a spin on that dance floor or perhaps ride that real bull. Life's too short to not visit a country bar.
Sign up here for our daily Dallas email and be the first to get all the food/drink/fun DFW has to offer.
  
David Maez is a Freelance Writer at Thrillist that loves snap button shirts and ice-cold beer. Stalk him here: @davidfmaez.