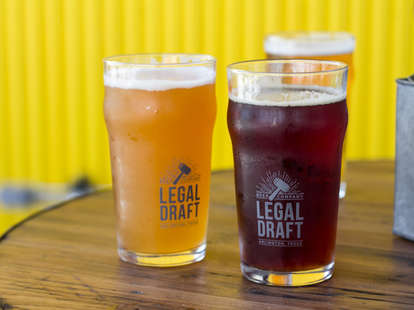 There's no question that DFW's craft beer scene is one of the most exciting, diverse, and fast-growing in the nation. The Untapped Festival featuring more than 100 local brews is coming to Dallas on November 12th, and Community Beer Company's Funnel Cake Ale was named the official beer of the State Fair of Texas. Even though most of the area's breweries have only been crafting beer for the past few years, local favorite Revolver Brewing in Granbury was just bought out by MillerCoors. Despite its young craft beer community, DFW is getting national attention. Despite this attention, Arlington, which is the metroplex's third largest city, must have missed the memo about the craft beer trend that the rest of the area got a few years back, until now.
Although Arlington is right in the middle of Dallas and Fort Worth and has become an epicenter for sporting events, the city has remained almost entirely isolated from the craft brewing trend that has enveloped the area. Division Brewing, which specializes in small batches of rich flavors, was the city's only brewery when it opened in early 2016, that is, until this summer when Legal Draft Beer Company opened its doors just a few blocks away. With a massive taproom, expertly crafted brews, and a theme based on legal humor (yes, it's a thing), it's evident that Legal Draft is helping shape Arlington into a destination for some of the best craft beer in the metroplex.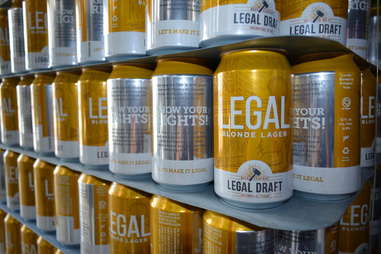 "Downtown Arlington has been out of the conversation of the craft beer craze since it started," Tony Rutigliano, president of the Downtown Arlington management corporation, says. "What these breweries have done is help develop a craft beer story for the city and create a more authentic experience."
The idea for Legal Draft Beer Company was born 15 years ago when co-owners Greg McCarthy and Curt Taylor were sharing beers on a patio with friends. Out of the blue, the pair said they wanted to open a brewpub in their hometown to not only bring great beer to the neighborhood but also to the tourists who frequent the town.
"But, we had to go back to our jobs and raising our families, so the idea was put on hold after that night," McCarthy said.
In early 2015, the buddies found themselves drinking beer together again, and the idea came back to life. With investment help from family and friends and the hiring of German brewmaster Henryk Heiner Orlik, the idea that began over beers with friends took shape in late June as Legal Draft Beer Company opened its doors in downtown Arlington, an area of the city that is on the verge of becoming a new destination for restaurants and bars.
"Arlington has experienced this pent-up demand for a brewery and for really anything that is cool," McCarthy said. "We have the stadiums, but nothing that makes people want to stay. We want to change that."
Even though the craft beer scene is young in Arlington, Legal Draft could be the missing puzzle piece that rounds out the burgeoning development in the downtown area.
"Ten years ago, our downtown was nothing like a traditional downtown experience," Rutigliano said. "Now, we have Legal Draft, which is a high production brewery, and Division, which is more of a home brewer on steroids, and a growler bar called Kool Keg, which helps pull these two together."
You'd never think the building that Legal Draft occupies used to be a cars dealership as they have transformed it into a bright, lively and welcoming taproom. On any given weekend, you'll find the taproom packed with families, visitors and football fans (this is a town based on sports, after all). With live music, massive Jenga, board games and cornhole, it's easy to spend hours here before a Cowboys game or catching up with friends. As for food, Legal Draft invites food trucks to park outside the brewery, and they allow you to bring in your own food, a pit stop at Whataburger is in order.
So, where does the whole legal theme fit into the brewery? McCarthy, a former lawyer, wanted a unique theme for the brewery that would make it stand out among the hundreds of breweries popping up in the DFW area. With the help of the company's marketer Lauren Carter, McCarthy started brainstorming as many legal references as he could, which provided enough material to bring the brewery's cheeky theme to life.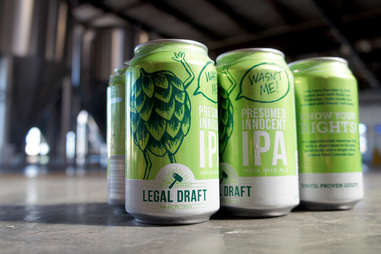 The legal inspiration is most evident in the brewery's five flagship brews. The cans feature an illustration featuring each beer's namesake; for example, Presumed Innocent IPA is adorned with a personified hop with its hands up in the air stating, "Wasn't Me!" Legal Blonde Lager is the brewery's most universally appealing beer and is now available at the Rangers stadium, and the rich Accused Amber, the Hung Jury Hefeweizen, which is complemented with hints of banana, and the chocolatey Chief Justice Stout round out the brewery's signature collection.
"We wanted to create beers that are good for Texas, meaning you can drink them on the porch and pair them with Mexican food," McCarthy said. "We also wanted someone who usually doesn't like IPAs to actually like our IPA. Drinkability was our number one priority."
Moving forward, Legal Draft is working on seasonal drafts for Thanksgiving and Christmas, and they want to host more events at the taproom that help give back to the community. McCarthy anticipates that the rapid success of Legal Draft will bring more local businesses to the downtown Arlington area that don't revolve around the Rangers or the Cowboys.
Sign up here for our daily Dallas email and be the first to get all the food/drink/fun DFW has to offer.
Ciera Velarde is an editorial production assistant for Thrillist, a native Texan and lover of good beers with clever names. Follow her on Instagram.