When it comes to the DFW brew scene, one of the first words that comes to mind is "young." Most of the top breweries in the area have only been making beer for a few years, which is equal parts crazy and exciting. It also means figuring out a hierarchy is difficult, but with a fair amount of research (read: beer consumption), here's a stab at it: the top 18 Dallas-area breweries, ranked. Of course, it's likely this could look quite different just a few years from now.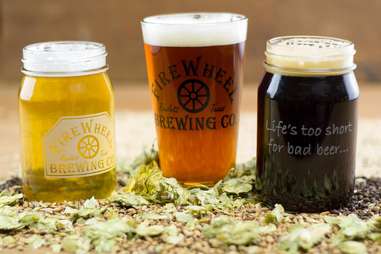 Rowlett
Brad Perkinson created FireWheel Brewing after getting laid off from his desk job, which is an obvious natural progression, right? While FireWheel has been available for a while now, it just had its grand opening in December of 2014. FireWheel has a diverse lineup of beers, including a hoppy golden ale, a red ale, a pale ale, a brown ale, a strawberry IPA, and an imperial American black ale. While the results have been mostly solid thus far, it will be interesting to see if they come out with one of those "I must have this" beers as time moves forward.

McKinney
Hailing from way, way up North in the 'burbs of McKinney is Franconia Brewing, which has had its tanks cranking for seven years. Brew master and owner Dennis Wehrman is from Germany and has roots dating back to the 1800s, when his great grandfather was a brewer. He even started in the beer business at the age of 12, working for a local brewery, and then went on to earn his masters from a brewmaster school in Munich. There is no denying the German roots in his beer either. There's a kolsch, a hefeweizen, an Oktoberfest, and a sauerkraut doppelbock. Fine, the last one's a lie, but it's true that Franconia's solid, easy-drinking brews are worth your time, though maybe not worth going out of your way for.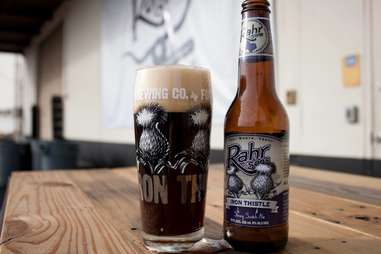 Fort Worth
To many of you it's borderline blasphemous that Rahr is this low on this list, but hear us out; if this list was made two or three years ago, Rahr would probably be top five, however, the majority of the breweries on here didn't exist at that time. Frankly, Rahr has just been passed up by many talented brewers over the years who are taking craft beer to a level that was foreign to Dallas until the last couple of years. It's not that what it does is bad -- not by a long-shot. Rahr still turns out some damn fine beer, like its annually released Bourbon Barrel Aged Winter Warmer and its Wee Heavy, Iron Thistle. But the competition in DFW grows ever more heated, and in the view of this beer drinker, Rahr hasn't raised its game quite enough in recent years to keep up.
Farmers Branch
Technically located in Farmers Branch for the time being, Grapevine is still in its infancy, but has already turned some heads in its first year, offering limited-release beers and canning its year-round offerings. It also won that gold medal thing at the Great American Beer Festival for its Sir William Brown Ale. Consider it a brewery with upside.
Kemp
In the sleepy town of Kemp, Texas rests this up-and-coming brewery and tasting room focused on brewing of sessionable beers, believing that having a few while hanging out with friends is how it's meant to be, and really, who can argue with that? That said, it'll also do "bigger" beers when releasing specialty or seasonal brews, but its focus is on the ability to have a few and still feel your face. Dankasauras is an American IPA with a good citrus-y hop character, easygoing enough to have several but with a flavor profile that keeps it interesting. Their Gone-A-Rye double IPA makes up for its lack of sessionability (8.5% ABV) with an impressive hops payload and a solid malt backbone.

Justin
The founder of Rabbit Hole Brewing, Matt Morriss, is like a Triple-A top prospect who finally got called up to the show. He's an award-winning home-brewer who turned his attention to it full-time, and his brewery is turning out goodness like the Kolsch-style Mike Modano's 561. There needs to be more beer named for Dallas athletes.
Trinity Groves
Consistent, drinkable, and simple in the best possible way are a few words that come to mind when it comes to Four Corners, showing that there are paths to recognition beyond big-barrel aging programs and outside-the-box flavor experimentation. Four Corners' offerings, like Local Buzz honey rye golden ale, El Chingôn IPA, and Block Party robust porter aren't going to necessarily surprise anyone, but they're reliably excellent. The cans with the fully removable top are a nice perk, too.
Sherman
In the relatively small town of Sherman, Texas, sitting almost uncomfortably close to the Oklahoma border, you'll find 903 Brewers. 903 was the brainchild of Jeremy and Natalie Roberts. Jeremy's also the head brewer, and spent a several years brewing hundreds of different recipes before settling on a select few to keep. When starting a brewery, there's an obvious desire to brew good beer, but Jeremy and Natalie started theirs with the community in mind as well -- they wanted their taproom to be a place where people could come hang out and enjoy a pint together. While they've only officially been open since June of 2013, 903 had already begun bottling in 22oz bombers before that, and in a most welcome move, they recently started canning as well. Chosen One Coconut Ale and Roo's Red Ale were some of their early standbys, but lately people are particularly taking note of the Crackin' Up Pecan Porter.

Fort Worth
The first of it's kind in Fort Worth, The Collective Brewing Project is 1/2 brewery and 1/2 tap room, adding up to 100% happiness for you, the consumer. While it's a fine place to convene with friends and play a heated game of Jenga over a meal, it's also (more importantly) an excellent place to drink interesting beer (because they're really delicious!).Tropic Thunder is a Farmhouse Saison that is dry hopped with tropical green tea. The Petite Golden Sour is a low-ABV beer brewed with Brettanomyces to give it a little sour and funk. Consider this another brewery with an arrow that is definitely pointed up.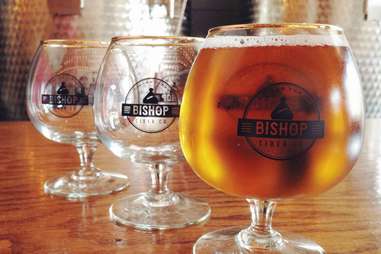 Bishop Arts
Look, we can argue all day about whether or not cider should be admitted into the "beer" category, but that would take up too much valuable time that isn't spent drinking this fantastic cider. If you aren't on the bandwagon yet, rest assured this is not the cloyingly sweet stuff you felt slightly embarrassed purchasing for your girlfriend in college. Bishop produces interesting, balanced ciders, like their Cideways that're brewed with Cascade hops and lemon grass; or their OC Funk that finishes with a high amount of acidity like a sour; or their very popular Cinnamango, which (you guessed it!) is spiced with cinnamon and tastes like mangos. So if you've been avoiding cider because of some misguided notion of what constitutes masculinity, that's cool, more for everyone else!
Lewisville
Another relative baby on the brewing-circuit, Cobra has already drawn attention with serious beers like The Kitchen Sink, a 13% imperial stout that's aged on bourbon-soaked cacao nibs and vanilla beans, or the Donut Dunker porter that is brewed with coffee and hazelnut. Cobra Brewing is also a true family affair -- the brewery is run by a husband-and-wife team (Bill and Sharon Shaw), along with their daughter and son-in-law (Neil and Danielle MacCuish).

Fort Worth
Martin House got its name from the Purple Martin bird, because the bird is known for nesting in shared houses. The desire of the fine folks at Martin House is to make good beer for the good people in their neighborhood. When Martin House first started, they kept things fairly simple, brewing ambers and red ales. Then recently, they've started amping things up with a Sugar and Spice American Barleywine, There Will Be Stout, and the very refreshing Salty Lady -- a gose that hits the spot on a warm day, despite what this character may tell you. Expect them to really take off as they expand their bottling and canning operations.
Granbury
Revolver's flagship beer, Blood and Honey, is a beautifully done wheat beer that is borderline sessionable on a warm day, depending on whether 7% ABV is a bit rich for your sessioning blood. Beyond that, standouts include the stout, Mother's Little Fracker, which was also released as a wine barrel-aged beer called Fracker Barrel One (which was amazing). Revolver has also recently jumped into the world of sours, brewing a sour version of Blood and Honey, called Sangre Y Miel. So yeah, good things are happening.
Denton
When Armadillo isn't brewing Great American Beer Festival-gold medal winning beers (see Quakertown Stout), it's probably busy brewing other less-recognized but equally tasty beers. What's more impressive about Armadillo taking home gold and doing the city of Dallas proud is that it did it brewing at Deep Ellum Brewing without its own equipment. It has also brewed Brunch Money, which is strangely enough an imperial golden stout -- that's right, all those fine stout qualities with golden color. Armadillo without a doubt has a bright future, and when it gets its own space in Denton, expect the greatness to go to a whole new level.
Design District
Michael Peticolas just had his three-year anniversary of bestowing incredible beers on Dallas, with the only drawback being that for now, you'll only find them on tap. So when you are craving a Wintervention, Velvet Hammer, or a Sit Down Or I'll Sit You Down, you will have to find it pouring somewhere. Once Peticolas is able to start bottling or canning and they can spread their sudsy goodness further than just North Texas, the sky's the limit for this spectacular brewery.

Deep Ellum
Head brewer Jeremy Hunt came over from a little, no-name brewery called Dogfish Head in order to take the helm at Deep Ellum, and he's wasted no time cranking out some amazing brews. A few of Deep Ellum's standout beers include Numb Comfort Barleywine, Deep Ellum IPA, Dreamcrusher IPA, Oak Cliff Coffee Ale, and Four Swords Quad -- which they have recently released a Cabernet barrel-aged version of. Look for Deep Ellum to continue to raise the bar for itself and other brewers across the state.
Design District
Much like the soon-to-be-mentioned number one brewery, Community distinguishes itself with frequent special releases -- inventive beers that keep beer drinkers on their toes in the best possible way. Community recently released a stout, Legion, and shortly after released two different bourbon-barrel versions of the beer. The first blend was 60% in Breckenridge barrels, 33% in Heaven Hill barrels, and 7% in Stanahan's. The second blend was aged 50% in Stranahan's and 50% in Jack Daniels barrels. Other than those fantastic stouts, Community is probably most known for its single-hopped Indian Pale Ale, named Mosaic IPA, after the hops used to make it. Community has only been at it for about two years now, and it's hard to imagine the North Texas beer scene without it.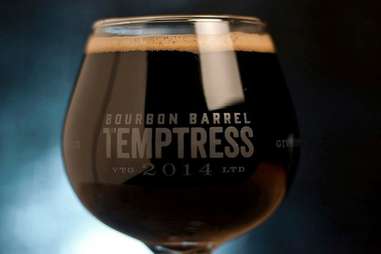 Garland
One could presume Lakewood has cemented itself as one of Dallas' premiere breweries, based on its success with one beer... and while that's not entirely correct, when you are the creator of Temptress, it doesn't really matter what else you do. Since the release of Temptress, Lakewood has also done several versions of the beer, most notably the bourbon barrel-aged version. Besides bourbon barrel-aging, there are several other varieties as well, including French Quarter Temptress, Sin Mint Temptress, Mole Temptress, and Raspberry Temptress (which has also been aged in bourbon barrels). Lakewood is not afraid to push the envelope a bit by experimenting a good amount with its beers; it has aged beers in tequila barrels, on mango and habanero, in red wine barrels, with lemon & ginger, and many other combinations. Its ability to brew several fantastic beers and then execute some great limited releases makes Lakewood the number one brewery in DFW.
Sign up here for our daily Dallas email and be the first to get all the food/drink/fun DFW has to offer.