They say if you want something done right, you have to do it yourself. That certainly applies to drinking, because damned if you're going to let some snooty sommelier tell you Two-Buck Chuck isn't going to pair well with your filet au poivre. So yeah, BYOB is the way to go. Here are the best spots to do so in 11 Dallas 'hoods.
It's sort of ridiculous how good Monkey King Noodle Company is -- every dish is chock-full of flavor and their fresh ingredients make a huge difference that becomes apparent on the first bite, whether it's a spicy helping of garlic peanut noodles or some bursting-with-goodness soup dumplings. Those eats and the bevies you brought to accompany them will taste even better on the airy roof deck, or you can take in the show downstairs as they spin their handmade noodles.
A gem of a spot in an up-and-coming 'hood, Urbano Café serves up an Italian-leaning menu with some Texas twists, like risotto balls with Fresno peppers and queso fresco, or a raspberry chipotle-glazed pork chop. The corkage runs $3 per person, but it still beats dropping $40 on wine you know for a fact you've seen at Walmart.
This place is phenomenal regardless of its boozing situation, so the corkage-free BYOB policy is just the boozy cherry on top of the delicious cake. Get down on a lobster roll or a crispy cod po' boy and side it up with some of their garlic rosemary fries. Oh, and you'll also want to hit some Key lime pie, so be sure to bring enough hooch to last you through dessert.
An eclectic combination of a restaurant, club, and poetry house, Ten Eleven Grill is THE place to go in Dallas when you feel like housing a textbook burger, some jalapeño-loaded fries, and some hushpuppies (why not) while you get slammed... by poetry, that is. Somehow, the whole thing works. Sometimes there's a small cover charge but the BYOB more than makes up for it.
At Kozy 2 Day they have the whole gluten-free, grass-fed thing down as they turn out "I didn't even know I was doing something healthy-ish" plates like bacon-topped buffalo tacos and Cajun pasta with venison sausage. Still, just to make sure you keep things in balance, better bring plenty of empty carbs to wash everything down.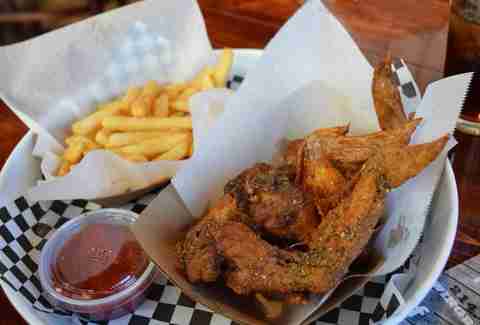 Peanut butter and jelly, steak and mashed potatoes, stars and stripes -- there are certain things that belong together in this world. Wings and beer are two of those things. When you put PB&J wings TOGETHER with beer? Magic. There are no steak & mashed potato-flavored wings yet, but there are wordplay-heavy options like Sriracha Madness, Muay Thai, and Holy Mole. They also have one of those flavor-combining Coke machines if you want to practice your mixology, but really, stick to the beer.
You know what goes with beer as well as, if not better than wings? Tacos! Especially in Texas. And especially, especially at El Come. You'll have some decisions to make -- should you note the glistening, porky cone of al pastor spinning in the corner and go that route? Probably. Dabble in their house-made chorizo? Sure. Be adventurous and go for some tripas? Why not! Luckily, you already will have made your booze decision, so you have that going for you.
This Dallas staple has been at it for more than 30 years, so they must be doing more than a few things right (spoiler alert: they are!). Load up on super-fresh oysters, shrimp, and other sea critters while you also load up on your own supply. Not only do they provide mixers for your cocktails, they also let you mix up your own cocktail sauce, which is a double threat that's hard to pass up.
  
Wings... tacos... and BBQ. It's probably time to accept the fact that beer pairs beautifully with just about everything. Of course, it helps when the 'cue in question represents some of the best BBQ in a city that's deep with it, so bring a sixer and get ready to get down on some ribs, brisket, and a cold one… or two… or three.
A hole in the wall in the best possible way, Elaine's serves up authentic, spicy, and most importantly delicious Caribbean food like jerk chicken, oxtail, and pepper steak piled high on fresh rice to soak up the flavorful sauce. Bring some ice-cold Caribbean lagers to wash it down and briefly feel like you're at some beachside hole in the wall instead of one in DFW.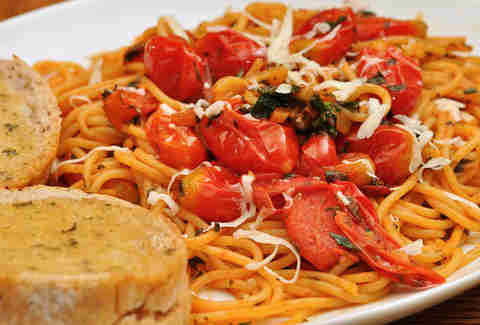 Fresh homemade pastas are front and center at Nonna Tata. This quaint little FW gem is like having an Italian Grandmother without actually having to be Italian (or if you happen to be Italian, you can never have too many Nonnas). There are only a few tables, but that's what keeps the quality so spectacularly high and the atmosphere so familiar. Order literally anything. Pro tip: the BYOB here really also means BYOG (bring your own glass) and BYOO (bring your own opener) as well.
This list -- and all the rest -- look even sexier in our iPhone app. Get it now!