Everyone talks about what patio to drink on, but an equally important consideration is what exactly you should be drinking on said patio. Some beverages just taste better outdoors; case in point, these eight Dallas drinkables ideal for outdoor imbibing, paired with the patios on which you should consume them:
Mojito
La Duni Latin Cafe (address and info)
Multiple locations
Saunter over to the patio, do your best Tony Montana impression (or, you know, just talk regular) and order one of the flawless mojitos -- they're the perfect balance of sweet and tart with just the right kick of muddled fresh mint. Plus, since they're mojito experts here, you don't need to worry about being "that guy" (or girl) who's holding all the proceeding up with your order. Round out the experience with a Torta Cubana, because all sandwiches should involve multiple pork products.
Manny's Taxi
Manny's Uptown (address and info)
Uptown
If you're one of those people who thinks it's only acceptable to drink a swirly frozen drink on vacation, you're living a sad, sad life. Go to Manny's lively patio and get yourself this colorful icy combo of margarita and sangria. Then drink it down and order another one. Bonus: they're a mere $5 on Wednesdays.
Bugs' Reward
Knife (address and info)
Mockingbird
If Bugs Bunny drank (and it seems like he probably did?) this is what he would've ordered, assuming he was hanging out on Knife's classy back patio (and why wouldn't he be?). Bugs' Reward is a zesty and creamy concoction that's perfect for the morning after, with a mix of rum, carrot, lemon, maple, egg whites, and ginger ale. Who said drinking can't help your eyesight? Insider tip: don't forget to order brunch here. It's amazing. If you brunch it up too much you can always walk to The Highland Dallas Hotel connected to the restaurant. Just tell the concierge you took a wrong turn in Albuquerque and need a place to crash.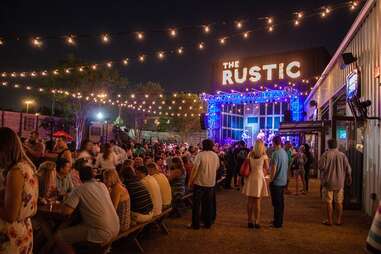 Community Mosaic IPA
The Rustic (address and info)
Uptown
Sure, The Rustic is an obvious patio choice because of its enormous accommodating size. But the real reason is that sitting on this patio makes you feel like a true Texan. It could be the wooden picnic tables or the country music, but we're pretty sure it has something to do with the amazing local beer list. Order the delightfully hoppy Community Mosaic IPA, and then another one, but know your limit lest you fall victim to a Texas-sized hangover thanks to the 8.6% ABV.
Michelada
El Tizoncito (address and info)
Multiple locations
Mexican food is generally good. Mexican food consumed on on a patio with an icy-cold michelada in hand is better. The spiced beer cocktail flavored with just the right balance of lime juice, salt, and chili powder tastes like Texas and happiness (and also a bit like a Bloody Mary, when you factor in the tomato juice). This one's particularly conducive to day-drinking and a little hair of the dog if need be.
Sangria
Si Tapas (address and info)
Uptown
The Spaniards took a bunch of fruit, mixed it with their wine, threw in some ice and called it sangria, which happens to taste a lot like fruit juice and a lot less like wine. Ernest Hemingway figured this out and enjoyed it quite frequently, as should you. Note: happy hour (Mon-Thu, 4-7pm) is especially conducive to enjoying it frequently on Si Tapas' open, grassy patio, with loads of $3 tapas ready to offset the $12 pitchers.
Mint julep
Lone Star Park (address and info)
Grand Prairie
Outdoor drinking at horse races beats... just about any other outdoor drinking, and while taking in a little horse racing you're pretty much obligated to down some mint juleps (though skip the seersucker suit... this is still Texas, not Kentucky). The juleps here are made far better than they have to be, given the atmosphere. Down as many as you feel appropriate until you decide to transition to your usual choice of beer in a plastic cup.
Frozen Bellini
The Grapevine Bar (address and info)
Oak Lawn
The Grapevine is a quintessential dive bar filled with mismatched furniture and good times. Take a seat on the rooftop patio and order a frozen Bellini (be warned: they're made with Everclear here). Also be warned... all-day happy hour on Sundays will lead to way much fun playing basketball on a Bellini buzz, and then probably some regrets.
Sign up here for our daily Dallas email and be the first to get all the food/drink/fun DFW has to offer.