If there's one thing that absolutely defines Fall in Dallas, it's Tony Romo throwing an interception in the fourth quarter to lose to the KANSAS CITY FREAKING CHIEFS AND DON'T EVEN GET ME STARTED ON THAT DEZ BRYANT DROP OR ALEX SMITH RUNNING FOR MORE YARDS THAN JAMAAL CHARLES. But if there are two things that define Fall, it's that... and Fall beers! Because we've already got you covered for what to wear, where to drink, and how to tailgate properly, we went one more step and gathered up some of the Metroplex's most consummate beerologists in search of the ultimate football season beers.
Recommended Video
Make This Apple Brandy Elderflower Sparkler for Your Next Fancy Party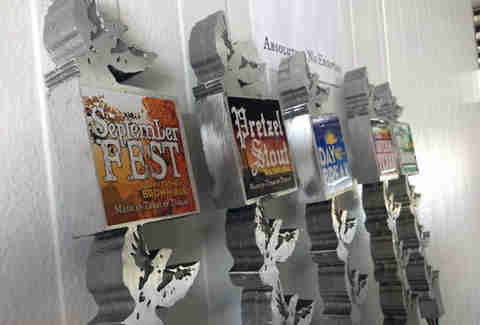 Kevin Afghani, Owner of Craft and Growler
Martin House Septemberfest (Brown Ale, 6%)
Kevin says: "A great beer to usher in the cooler months. This brown ale gets its creaminess from the oats and caramel malts, with a smokiness provided by the cherrywood-smoked malts."
Live Oak Oaktoberfest (Märzen/Oktoberfest, 5.8%)
Kevin says: "Full-bodied and richly malted from the German... malts, this brew has a smooth, clean finish due to aging in conditioning tanks after fermenting with Bavarian lager yeast."
Corey Pond, Owner of The Common Table
Founders Porter (American Porter, 6.5%)
Corey says: "Founders Porter is the best version of the style I've ever had. The body on this beer is as close to perfect as it gets. Flavors of chocolate, vanilla, coffee, and a subtle bitterness as a result of the roasted malts and four different hop varieties. This should be hitting the shelves and taps around the 1st of October."
Southern Tier Pumking (Pumpkin Ale, 8.6%)
Corey says: "Southern Tier's Pumking will be available in DFW for the first time ever in October. It's a cult beer, but it's my understanding there will be a decent amount available at the better beer spots around town. This beer reminds me of a boozy pumpkin pie -- cinnamon and pumpkin flavors are prevalent, but there's a lot more going on than just that. Seek this beer out and make sure to have a bottle or growler on hand for Halloween."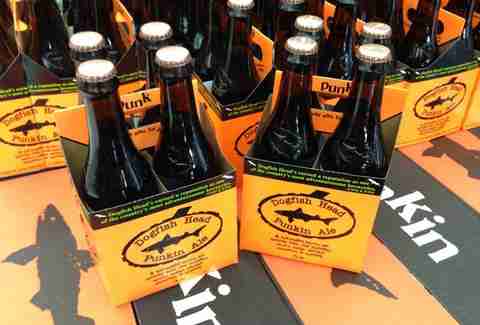 Emily McDearmon, Trainer and Certified Cicerone at Flying Saucer
Dogfish Head Punkin Ale (Pumpkin Ale, 7.0%)
Emily says: "Pumpkin Ales have a long-standing history dating back to the Colonial days. Since malt was NOT an easy thing to come by in Colonial times, the meat of pumpkins took the place of malt in the brewing process. One of my favorites, and a must in my fridge for the season, is Dogfish Head Punkin Ale. This delicious brew was the first beer this notorious brewery ever produced. The 7% ABV ale has pumpkin meat added during the mash, organic brown sugar during the boil, and crushed cinnamon and allspice at the end of the boil. This process creates a wonderful balance between the pumpkin and the spices with definite allspice, cinnamon, alcohol-infused pumpkin, and nutmeg shining through. This beer makes me think of my mama's kitchen on Thanksgiving day."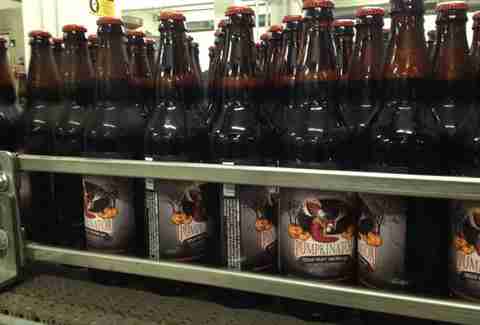 Saint Arnold's Pumpkinator (American Double/Imperial Stout, 10.0%)
Emily says: "Another beer I seek out for the Fall season is St. Arnold's Pumpkinator. Pumpkinator is an imperial pumpkin stout coming in at 10% ABV. The amount of pumpkins they put into their brew could create over 400 pumpkin pies. They use a stout base and add pumpkin to it, and then they use dry spice added after fermentation to create this Fall treat. The finish is a beer with nutmeg, clove, ginger, allspice, roasted brown sugar, and dark chocolate, all tied together with warming alcohol. This is an excellent seasonal beer out of a great Texas brewery."
Avery Kaiser (Märzen/Oktoberfest, 10.20%)
Emily says: "Another style that most people think of for Fall are the Oktoberfest beers. The season is in full swing during September and October, and many draught houses will carry as many as they can fit on their wall. Started in 1810 in Munich, Germany, these typically seasonally produced lagers are brewed in March for consumption in the Fall. Avery produces one that stands out to me and packs an unusual kick for the style. Avery Kaiser is an Imperial Oktoberfest coming in at around 9-10% every year. This big Oktoberfest has toasted sweet dark bread notes, an earthy backbone from the hops, and a sweet, toffee alcohol tone to it."
Jack MacDonald, Owner of Jack Mac's Swill & Grill
Revolver Bock (Bock, 6.5%)
Jack says: "The caramel and toffee notes make it feel like Fall. Yeah, there are other bocks out there, but Grant [Wood] knows his way around beer and he nailed this one, and at 6.5% it keeps you warm."
Community Brewing Company Inspiration Ale (Belgian Strong Dark Ale, 9.6%)
Jack says: "A Belgium-style dark strong ale that takes you across the pond. At 9.6%, it's a big beer that you never see coming."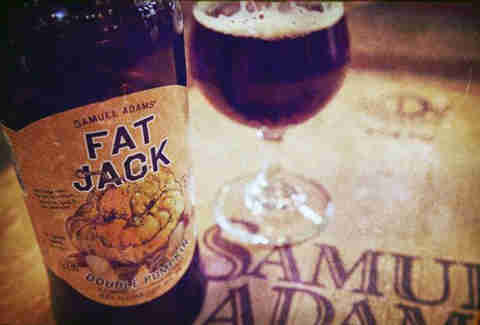 Bryan Kaeser, Owner of Dallas Beer Kitchen
Sam Adams Fat Jack Double Pumpkin (Pumpkin Ale, 8.5%)
Bryan says: "The ultimate pumpkin ale, standing tall at an 8.5% and a 93 on RateBeer! It's rich and full of flavor with 28lbs of pumpkin per barrel and cinnamon, nutmeg, and allspice added liberally, but in a balanced way."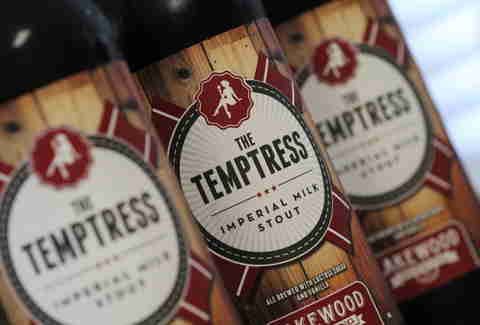 Lakewood Temptress Nitro (Milk Stout, 9.1%)
Bryan says: "This sweet stout is popular all year, but really fits in well with cooler temperatures that are upon us. At 9.1%, watch out, because this lady goes down like silky, smooth chocolate."