The people of Dallas are cross-town travelers: living in one area, working in another, and enjoying ourselves in as many locales as we can get to in under 20 minutes. The entire city routinely shuttling about in this manner often results in massive gridlock on our streets, highways, and thoroughfares. Luckily, there are a ton of happy hours across this great metropolis where we can meet a few friends, grab a drink or two, and wait out traffic for a bit (before you grab a Lyft home, that is). Thus, we've compiled some of our favorites to help fellow Dallas denizens in our collective and ongoing search for a perfect late afternoon oasis.
ARTS DISTRICT
Savor
When: Monday-Friday from 3-6 pm
The deal: Once you're a couple drinks in, popping shrimp and comfortably situated in the glass-walled sensory slackening chamber that is Savor, the $3 beer and $6 wine and cocktails that were once a happy hour incentive become a happy afterthought.
 
Tortaco Meson Mezcal
When: Monday-Friday from 3-6 pm
The deal: We could pretend we're over tacos and tequila, but certain things in life are perpetually amazing regardless of how many dumb T-shirt designs they inspire. Also amazing: $3 domestics, $3 house wine, $4 house wells, and $4 margaritas.
DEEP ELLUM
Hide
When: Sunday-Friday from 4-6 pm
The deal: The molecular mixology magicians at this craft cocktail lounge perform their beverage-based sorcery for a pittance. Experience the utter enchantment of $6-7 cocktails that don't make all your expendable income disappear, while you chow down on pseudo-chic, super-cheap eats ranging from $2-$6.
 
Harlowe MXM
When: Tuesday-Friday from 11 am - 7 pm
The deal: You might not get a discounted price on this super-swanky joint's oysters Rockefeller or lobster rolls, but you can offset the cost considerably with $5 house wines, frozen drinks, draughts and cocktails, and a roof deck view that's both fantastic and free of charge.
DESIGN DISTRICT
Meddlesome Moth
When: Monday-Friday from 4-7 pm
The deal: The Moth has been providing a unique backdrop for memorable evenings with friends and loved ones for nearly 10 years, cramming weapons-grade flavor into shared plates and generally doing things differently the entire time. In fact, this is the lone establishment on our happy hour guide that does not technically have a happy hour. Instead, they prefer to refer to their timed selection of $3 cans and $4 drafts, as well as their featured $6 wines and $8 craft cocktails, as their "social hour" offerings. We're not going to argue with that. We're just going to enjoy it.
Bowlounge
When: Monday-Friday from 4-7 pm
The deal: Even glamorous, top-tier regional entertainment reviewers like us (and glamorous individuals such as yourself) enjoy a laid back, budget conscious happy hour menu that pairs dollar-discounted wells and $2 tallboys with half-price wings. Use the money you save on wings and drinks to offset the price of remarkably retro bowling, scored by ceiling-mounted monitors cranking out classic music video hits from MTV's late-20th century heyday.
DOWNTOWN
Happiest Hour
When: Sunday - Friday, from 4-6pm
The deal: Finally, an after-work destination that answers the question: "What would happen if a hip urban patio bar and a well-appointed city park had a baby?" Happiest Hour boasts the city's largest patio bar and lounge, delivering on both scale and service with a sleek rooftop deck and four bars positioned across 12,000 square feet of adult amusement park awesomeness. The Happiest Hour's… er, happy hour, offers $3.50 domestic pints and $5 house wines, wells, and frozen drinks. Better yet, bring your best office buddies and pool your paychecks for some gang-sized "Team Happytizers:" shareable burgers, wings, nachos, and ice cream sundae plates designed for mass consumption.
   
Bourbon & Banter
When: Weekdays from 4-6 pm
The deal: Since there are five concepts housed at The Statler, four of which host comparable happy hours, it was tough to settle on a single place to huddle up. We ultimately settled on B&B because their summer social happy hour deal of half-off all food and drink is applied to delicious bourbon, brownest of the brown liquors. Yes, it's a hotel bar, but it's an upscale, underground hotel bar. 
 
The Woolworth
When: Tuesday-Friday from 11am - 7pm, Monday from 11am - 2pm
The deal: $5 glasses of wine and dollar-discounted beers may not be the best happy hour draw, but you don't go to The Woolworth's happy hour for vino and suds. You go to The Woolworth's happy hour for $8 craft cocktails that include The Euro, Mule Kick, That's What She Said, and The Disgruntled Yeti -- yes, we made up that last one, but it sounds believable!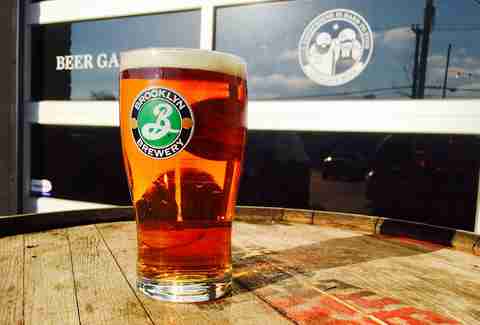 EAST DALLAS
Goodfriend Beer Garden & Burger House
When: Monday-Friday from 4-6 pm, Weekends from 11 am – 6 pm
The deal: It may be a result of subliminal suggestion, but we only hit up the happy hour at Goodfriends with our most trusted confidants. The food is awesome, the staff is great and the patio is cozy without feeling cramped. It's the perfect spot to reminisce and share stories with your closest compatriots while sipping $4 select drafts, well drinks and select wines by the glass. And, really, this is how it should be. Life's too short to have after-work drinks with your fifth grade math teacher at Mortal Enemies Bar & Grill.
The Grape
When: Tuesday-Friday from 4-7 pm
The deal: Long before wine bars were de rigueur, The Grape was channeling the vibe of craggy French bistros and serving delectable dishes to heighten many a date night and anniversary dinner. Leave your office mates at the sports bar and bring a special someone to share some small plates and enjoy $2 select domestics, $3 premium well drinks, and half off wines by the glass.
OAK CLIFF
Small Brewpub
When: Every day from 3-6 pm
The deal: Brewing beer from an inauspicious storefront on historic W. Jefferson Blvd, Small Brewpub serves rustic American fare and offers $3 beers and $5 drinks, wines, and snacks on the daily. Pair their Black Pepper Pils with One Giant Smoked Wing, while you giggle like a grade school kid at the name of the latter.
Ten Bells Tavern
When: Monday-Friday from 3-7 pm
The deal: One of the best bar kitchens in town, Ten Bells offers consistently amazing dishes (short rib frites, duck confit hash, ginger beef spring rolls, etc.) that threaten to undermine its cozy, casual atmosphere. Equally casual is the seemingly spontaneous selection of drink and appetizer happy hour specials, ostensibly spun up on the fly with little regard for local writers attempting to compile details about said happy hour (ahem). $10 on a Tuesday night will get you a pint and small plate special, but beyond that it's best to just swing into Ten Bells for an immensely rewarding game of chance. With no weak spots on the menu and a seasonal cocktail program yielding fantastic concoctions on the regular, the odds are in your favor.
 
Barbara's Pavillion
When: Wednesday - Friday, from 4-8 pm
The deal: Part jukebox joint, part tiki bar, and all divine dive, Barbara's is known for its convivial vibe, renowned karaoke nights, and backyard hot box. You'll come for the $3 domestic longnecks and well drinks (and, if it's Monday night, the martini specials). You'll stay because they're throwing a party for a dear friend and have offered you a slice of sheet cake.
OAK LAWN
The Grapevine
When: Saturday from 3pm-2am
The deal: This funky, fun and casual neighborhood joint redefines the modern dive. Enjoy $3 domestics, wells, house wines and frozen drinks under the festive glow of year-round Christmas lights or house a few $3.50 premium cocktails and imports before challenging a fellow patron to a friendly game of one-on-one on the bar's backyard basketball half-court.
Al Biernat's
When: Monday-Friday from 3-7 pm 
The deal: A staple of the dining scene since 1998, Al Biernat's happy hour lets you experience a more refined life without having to marry into it. Take 50% off amazing upscale bar fare that includes Texas Wagyu-Angus sliders, mango ceviche, mini Beef Wellingtons, and crab-stuffed jalapeños. Knock a dollar off one of their imported, domestic, and regional beers, and $2 off select signature cocktails such as the Watermelon Basil Martini, a bourbon and bitters concoction called Angels & Demons, and the titular Mr. Biernat's Blue Chip Martini.
 
The Library
When: Sunday - Thursday from 4-7 pm
The deal: Behold, a piano bar that doesn't make you want to murder your own ears. Nestled within the Warwick Melrose Hotel, The Library reclaims the piano bar vibe from the terrifying suburban bachelorette parties that appropriated it, and restores it to its original glory. Enjoy legit jazz of the pre-smooth era while you enjoy half-off signature cocktails and wines by the glass.
UPTOWN
The Standard Pour
When: Monday - Friday, from 4-7 pm
The deal: Slinging some of the best bourbon in town and securing one of our all-time favorite street-side patios, The Standard Pour achieves true triple threat status once you factor in their $5 happy hour food and drink specials.
Parliament
When: Monday - Saturday, from 5-8 pm (and whenever it rains)
The deal: The $4-7 cocktails are actually our second favorite aspect of the happy hour at this straight-up deluxe cocktail bar; the first favorite is that these deals on amazing drinks crafted by expert mixologists go into effect every time it rains. The next time the sky starts to look ominous, grab your umbrella, head down to Parliament, put a Lyft on standby, and mail your house keys to a friend.
Sign up here for our daily Dallas email and be the first to get all the food/drink/fun DFW has to offer.