If you're seeing leprechauns on the streets of Dallas, you can chalk it up to being March—or having one too many Guinness Extra Stouts. In either case, Irish pubs always (always) promise a good time filled with raucous laughter, cold beer, stiff drinks, and fantastic food. So whether you're looking to celebrate St. Patrick's Day with everyone else or simply want to keep this as a go-to list next time you're craving a shepherd's pie or an Irish Coffee, we've rounded up a lucky 13 of the city's best Irish pubs in 11 different neighborhoods across Dallas-Fort Worth. So you'll never be far from soccer on TV and a festive jig or two on the jukebox.
Sláinte!
Lower Greenville
It's wild to think that Dallas' oldest Irish pub didn't get its start until 1994. In any case, Dubliner has stood the test of time with its 20-ounce Guinness, Harp, and Smithwick's beers, Black and Tans, and artisan cheeseboards. Stop in for weekday happy hours (or all-day Mondays) and save $1 off draught beers and other cheap-drink specials.
How to book: Stop by for first come, first serve seating.
Lake Highlands
Dubliner's sister pub a few miles away takes all the beloved aspects of the O.G. and ramps things up with a robust food menu with options ranging from wings and mussels to fish & chips and shepherd's pie (including a vegan version). Weekend brunch includes Frozen Irish Coffees and Stout Brined Corned Beef Hash and Eggs.
How to book: Call 469-677-0174 to make reservations for groups of eight or more.
Downtown Dallas
For a charming escape from the hustle and bustle of downtown, this casual hangout in the historic Mercantile Building has a neighborhood vibe thanks to downtown residents who've become regulars, but also a nice place for visitors looking for zero pretense. Galway Bay Mussels, a traditional Irish breakfast, O'Reilly's Reuben Fries, and Bangers and Mash lead the charge on the food menu while the row of taps features several Irish brews (including one made specifically for The Crafty Irishman).
How to book: Stop by for first come, first serve seating.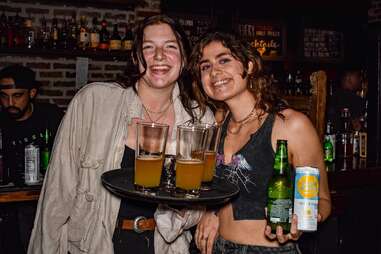 Henderson Avenue
A well-curated list of Irish whiskies draw people in for an afternoon or evening of good times. Great food awaits to soak up all the whiskey and Irish beer, but you'll find very Texas items on the list, including Steak Nachos and Fried Chicken Tacos. Traditionalists can sup on Fish & Chips, however. And Jameson Chocolate Brownies for dessert.
How to book: Stop by for first come, first serve seating.
Dallas Arts District
Whether you're in the area to visit one of Dallas' top museums or catch a show at a performance venue, this Dallas Arts District restaurant makes it easy to get in and out quickly if you're rushing to beat the rising curtain. Sip on an Irish Mule or an Oscar Wilde pint-and-shot combo while perusing the food menu loaded with faves such as Corned Beef and Cabbage Rolls, Irish Nachos with a Guinness cheese sauce on housemade kettle potato chips, or one of five different Irish tacos (try the Dublin, TX with corned beef and Jameson BBQ sauce).
How to book: Stop by for first come, first serve seating.
Oak Cliff
As the first neighborhood Irish pub in Oak Cliff, Cannon's Corner offers both traditional and Irish fusion eats, from an Irish Breakfast Sandwich layered with black pudding and bangers to Gaelic Mac & Cheese (with three Irish cheeses) with Corned Beef & Cabbage Egg Rolls proving to be a real winner in the latter category.
How to book: Stop by for first come, first serve seating.
Fort Worth
Pop into this laidback neighborhood joint for one of four different Guinness concoctions (including the Poag's Car Bomb with Guinness, Bailey's Irish Cream, and Jameson Whiskey) or any of the seemingly endless options for cheap (strong) shots. If you're lucky enough to catch a live music act, you may never want to leave.
How to book: Stop by for first come, first serve seating.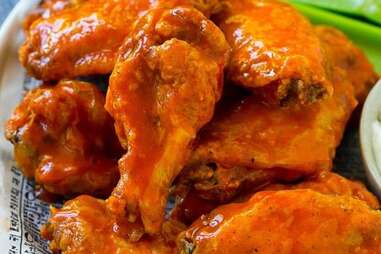 Far North Dallas
There's nothing Irish about Mini Mac & Cheese Bacon Donuts, but they're a nice addition to the Pot O' Gold, an Irish chips-and-queso of sorts with potato chips for dipping into Guinness beer cheese and corned beef if you want to make it extra hearty. Dublin Tacos are also a hit thanks to flour tortillas filled with mashed potatoes (yay, carb-on-carb action!), chopped corned beef, and sautéed onions. As for drinks, all the usual suspects are here and easily portable to take to the pool tables or for a little foosball—especially during all-day Monday happy hour.
How to book: Stop by for first come, first serve seating.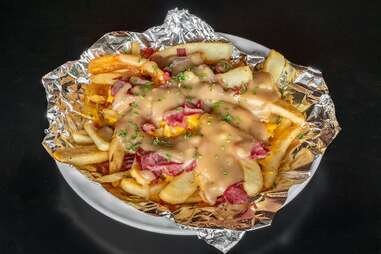 Lakewood; Uptown
At either location of this popular Irish pub, you can toast to life with a Priest's Collar (Magners Irish Cider and a Guinness floater) or one of two dozen draught beers. Snack on Corned Beef Poutine (the perfect Ireland-meets-Canada combo) then dive deep into a platter of killer Fish & Chips, Atlantic cod battered with Smithwick's and served with housemade tartar sauce.
How to book: Stop by for first come, first serve seating.
Henderson Avenue
Sixteen Irish whiskies top the spirits list at this happening corner spot in the heart of the Henderson Avenue neighborhood (try the Whiskey Sampler for a trio of greats). Opt for the Irish Old Fashioned with Jameson Black Barrel and sip while you search through the extensive food menu. Guinness Beef Stew hits the spot even on warmer days, and Smithwick's battered Fish & Chips has been praised for years. And because an Irish pub is a state of mind as much as what's authentically Irish on the menu, feel free to order the equally fab Mini Chicken Avocado Sandwiches.
How to book: Stop by for first come, first serve seating.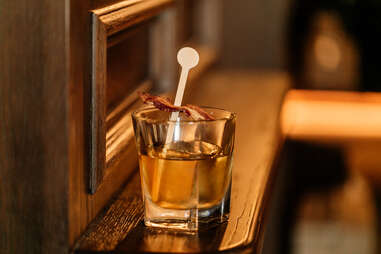 Harwood District
You'll find nearly every type of craveable cuisine in the Harwood District, but when it comes to drinking this classic British Isles-inspired bar specializes in all things UK, from a robust collection of Irish whiskies and Irish cocktails (including the Black Velvet made with champagne and Guinness). On the food front, graze on Scotch Eggs, Warm Pretzels with Stout Mustard, and Reuben Fries or stop by on Sundays for a plentiful Sunday Roast platter with all the fixings. Whiskey Toffee Cake shouldn't be overlooked, either.
How to book: Stop by for first come, first serve seating.
Henderson Avenue
From Dublin native Feargal McKinney comes another Irish pub (he's also behind The Skellig and The Old Monk), so you know you're in for a rousing time. We may have one or two more nights when a Hot Toddy with Tullamore Dew Irish Whiskey would hit the spot, but otherwise, we'd recommend sticking with something a whole lot colder. Like a Lost Irish Gold cocktail. The menu skews more Mexican than Irish and we're not hating on that because a grilled chicken quesadilla and a tall Guinness may actually be a perfect pairing.
How to book: Stop by for first come, first serve seating.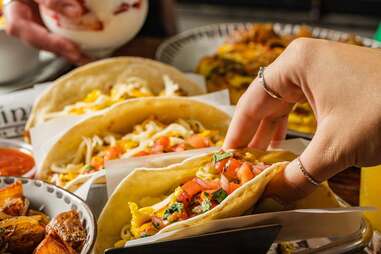 Fort Worth
In the heart of Fort Worth, the Trinity College Irish Pub offers a welcome respite from the wild west goings on in the Historic Stockyards (not that there's anything wrong with that). Nine different pints of blended beers (Guinness + whatever) may be one of the most extensive in the DFW metroplex. Or if you're in the splurging mood, opt for a $110 shot of Midleton Rare Irish Whiskey. For food, standouts include the Dingle Drunken Mussels and Loaded Tater Kegs with Guinness cheese sauce for starters and the Pub Curry or O'Sheas Pork Chop if you're a little more famished.
How to book: Stop by for first come, first serve seating.
Sign up here for our daily Dallas email and be the first to get all the food/drink/fun DFW has to offer.
Amanda Cobra has seen Leprechaun 5: In the Hood, starring Ice-T, enough times to be considered highly qualified to compile this list. Send her your favorite quotes from that movie on Twitter: @amandacobra.