12 Great Places Around DFW to Watch the Super Bowl
With all the wings, beers, and massive TVs required for a successful game day.
It's getting more difficult to hold onto those '90s-era Super Bowl wins, but it seems that is Dallas's lot in life—at least for now. Even though the Cowboys flamed out of the playoffs, the Super Bowl is still happening, and you're going to need someplace to watch it. And by some place, we mean sports bars and other venues serving cold beers, hot wings, and boasting TVs the size of train cars. No matter who you're cheering for in the big game, these are 12 of the best places to watch the Super Bowl in Dallas-Fort Worth.
This lively block party-style complex houses multiple options for your sports-watching needs. Bring a blanket or chairs, and park yourself outside in front of the 104-foot media wall (you can't miss it) to view the bigger-than-life-size action. Surrounding bars are also joining the fun, with drink specials at Hard Shake and Double Tap, and an indoor/outdoor party at Jaxon with food and drink specials and music by DJ Mike B.
This fun-loving McKinney Avenue staple is offering table packages for four, six, or 15 people that include beer buckets and wings. But package or not, you can still partake in beer and wing specials, plus $6 team-inspired shots. So, you're bound to have a good time no matter who wins. Reserve a table via EventBrite.
3 Nations Brewing

| 3 Nations Brewing
This hometown brewery is showing the game alongside $5.50 pours of taproom beers. Anyone's welcome, but you can also drop $75 to reserve a table for six people that includes six pints of beer, six koozies, and a sampler platter of game-day snacks. Reserve a table via PreKindle.
The doors open at 2 pm with a DJ and drinks, and adventurous types who're feeling spicy can enter the hot wings eating contest at 3:30 pm. Provided you make it out alive, the game will be shown across the many TVs, and the bar will be serving a variety of drink specials, including $30 canned cocktail buckets, $20 domestic buckets, $15 domestic pitchers, $6 house wines, and $6 wells.
Punch Bowl Social is loaded with games (bowling, foosball, ping-pong), has three bars, and a full kitchen, so there's a lot to do on site. During the Super Bowl, you can play some games of your own while watching the big one on the many TVs and sharing an eight-person punch bowl. Then stick around afterward, as the party continues with a DJ. General admission is free and VIP tickets, which include a spot by the large projection screen, a buffet, and two drinks, are available via EventBrite.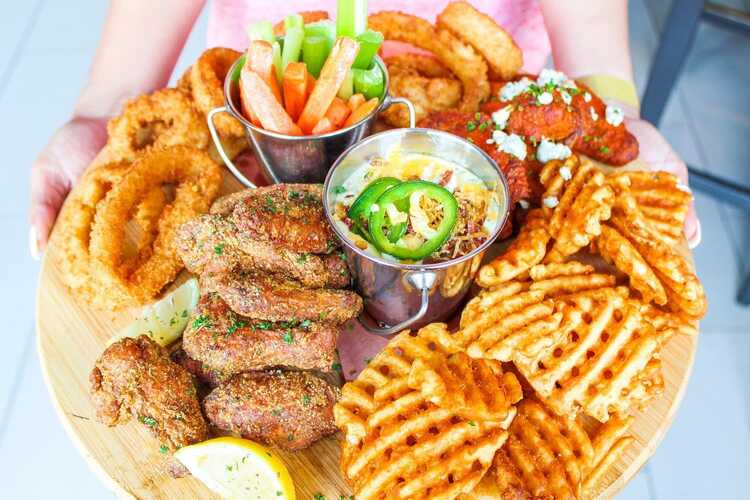 The Owners Box

| The Owners Box
The Owners Box inside the Omni hotel has all the cold beer, TVs, and pool tables you expect in a sports bar, plus a 16-foot projection screen, which is prime real estate during games. But its real claim to fame is a selection of private tables with piped-in isolated sound, so you can hear the commentary and every whistle, even when things get rowdy. Throw in a BBQ Bacon Burger and a cold beer, and you may never leave.
Happiest Hour spans 12,000-square-feet of indoor-outdoor space littered with more than 30 TVs. It'll have DJs throughout the bar and a surprise halftime performance, but if you really want to go big this year, join the 100-person rooftop viewing party, with theater-style seats, a massive video wall, and access to a premium open bar. Otherwise, just do what you'd normally do. Share the Nacho Tower or five-pound Big Happy Burger, request a 23-ounce beer, and laugh at chips commercials.
This laid-back Greenville Avenue hangout is one of the best and oldest sports bars in town, and it's long been a go-to during football season for good reason. That's not changing on Super Bowl Sunday, when you can tune into 30-plus TVs and partake in a $10 burger-and-fries special, $3.75 domestic pints, and $4 Fireball shots. There are also two patios, a pool table, shuffleboard, and darts—the perfect distractions for those who couldn't care less about what's happening on the field.
With TVs above the bar, lining the walls, and tucked into every corner, you won't miss a single minute of the Super Bowl action at Christie's. Well, maybe you will if you're face down in a charcuterie board or if your view is obstructed by a flatbread or burger. But such things cannot be avoided and should, in fact, be celebrated with another pitcher of beer.
Just down the street from the Cowboys' home turf, football fans can watch the game on a screen almost as big as the one at Jerry World. The 100-foot monster at Texas Live! is flanked by tiered seating and other still-pretty-big TVs, so you'll always have a great view. Partake in drink specials throughout the day, and when you need to stretch your legs or burn off some energy, the adjacent Sports & Social entertainment venue has bowling, ping pong, golf simulators, and more.
With 20 food stalls on site serving everything from lobster rolls to fried chicken, you won't go hungry at Legacy Hall. But that's especially true on Super Bowl Sunday, as many of the vendors are participating in Nacho Extravaganza and serving loaded nachos and nacho-adjacent dishes. There's also a bar pouring craft beers and cocktails, and the few dozen TVs scattered throughout the hall are anchored by a 24-foot LED screen with the sound on to hold your attention. General admission is free and table packages are available via EventBrite.
Head north to Frisco to find multiple 110-inch video walls set in the shadow of the Cowboys' practice facility. CityWorks also has a 90-strong beer list, which is helpful when ordering dishes like the Nashville Hot Chicken Nachos and the spicy Scorpion Burger—and for pouring one out to grieve the Cowboys' playoff loss. Head west to the Fort Worth location for much of the same, just with different coordinates.
Kevin Gray is a freelance writer and editor covering all things food, drinks, and travel. He's written for
The Dallas Morning News, Forbes, Liquor.com, Men's Health,
and
Wine Enthusiast
, and his extensive home bar is turning into a real
Hoarders
situation
.