Summer in Texas means the kind of excessive heat you can't even describe because you're too busy fainting. How will you respond? Sure, you COULD stay married to the A/C all Summer, but you're better than that, because you're going to attack the heat on two fronts with this guide to getting into Dallas's best bar-backed pools.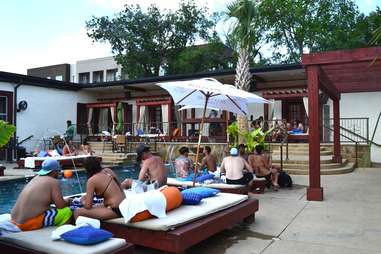 SALT (address and info)
Downtown
SALT is a newly opened upscale pool lounge with an adjoining private restaurant/bar called The Bungalow. The best part of SALT is the saltwater pool (ahhh, we get it), and the views don't hurt either. And by views, we mean the bikini-clad patrons, though the vantage point relative to Downtown isn't half bad either. The site may read "members-only", but word is non-members aren't having too much trouble getting in on the weekends.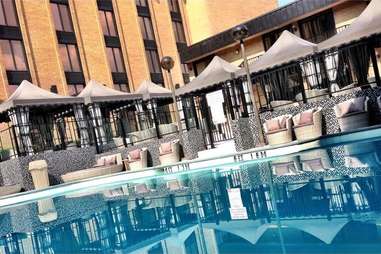 DIP Club 8 Day Club (address and info)
Central Dallas
Forget for a moment that this day club/hotel is located right off of a major freeway. As a matter of fact, forget for a moment that you're in Dallas because this enormous 7,000sqft pool area with 10 exclusive VIP cabanas, daybeds, and VIP suites feels more like Las Vegas, except that your DJ-backed bottle service mercifully can't transition into blackjack-backed financial ruin. At least not as easily.
Hotel ZaZa (address and info)
Uptown
The pool is not quite open to the public but, much like our tax code, there are loopholes (amirite?!). Book yourself a massage poolside (or maybe a pedicure, your feet are looking suspect) and voila, you're in. But be sure to save some money for the Veuve Clicquot. Should you stick around for the evening, prepare to see some of the most beautiful people in Dallas drinking cocktails at Dragonfly, the hotel's restaurant/bar. You're welcome.
Sisu (address and info)
Uptown
Let's just keep this simple. Beautiful half-naked people flock here on weekends in droves to party. So, if you're looking for a relaxing afternoon by the pool then don't come. Entrance is open to the public, though employees wield discretion over who gets in, so suck in that gut and maybe leave the ironic floaties at home.
FOE (Fraternal Order of Eagles) (address and info)
East Dallas
For those looking for something a little more even-keeled, this open-to-the-public gem rocks an Olympic-sized pool, kiddie pool, two volleyball courts, playground, sandbox (for the kids!), and two outdoor bars (for the adults!). Also for the adults: $1 Jell-O shots.
W WET Deck (address and info)
Downtown
A 16th floor pool in a glass enclosure that allows you to view the Dallas skyline? Check. Open to the public? Kind of check. The WET Deck is only open to the public on Wednesdays for "Wine Down" from 6pm to 10pm. Wine is half off and there's live jazz. WET Deck is also open to the public on Saturdays for a Pilates and yoga class called PIYO. The Wine Down is sounding like the better option. Then again, core fitness IS important.
Hotel Belmont (address and info)
Oak Cliff
This boutique hotel in Oak Cliff has a pool befitting the coolness of the rest of the property. Belmont hosts events throughout the Summer, including pool parties that are open to the public -- so you might get lucky and be able to crash this pool without being a guest. If you're hungry, make sure to try SMOKE, acclaimed BBQ restaurant that's connected to the hotel, and while you're at it order one of the many craft cocktails from Bar Belmont.
NYLO Dallas South Side (address and info)
Downtown
The NYLO pool is not open to the public, which is a problem... well, unless you're a guest of course. But there's a solution -- check out the sleek rooftop SODA Bar that's open to the public. The SODA Bar is located just off of the rooftop infinity pool. Grab a cocktail then slowly mosey your way over to the pool and, what do you know, you were wearing swimming attire under your clothes this whole time?! Problem solved.
This list -- and all the rest -- look even sexier in our iPhone app. Get it now!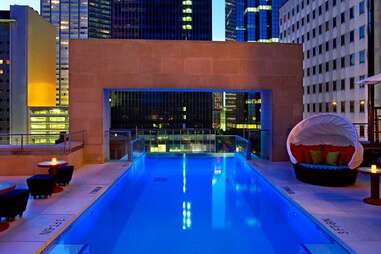 The Joule Hotel (address and info)
Downtown
There are pools and there's the Joule's glass-fronted pool, which dangles off the edge of the building by 8ft. Pretty sweet, right? They used to allow non-guests to buy day passes, but sadly those days have... passed. But hey, it's a good excuse for a staycation, is it not?