The sun: shining. The birds: chirping. The al fresco drinking situation: robust. You don't need a calendar to tell you that summer is nigh—that's evident all around you, as patios and rooftop bars welcome people in with the promise of fresh air, icy cocktails, and scenic views. And after spending most of the past year inside our own homes, nothing feels more liberating than cracking open a cold one while soaking up some killer skyline views.
Here are 12 of the best rooftop bars in Dallas to elevate your summer drinking, from casual hangouts and happy hour powerhouses to poolside party spots. As always, be kind, tip well, and be mindful of COVID-19 safety protocols.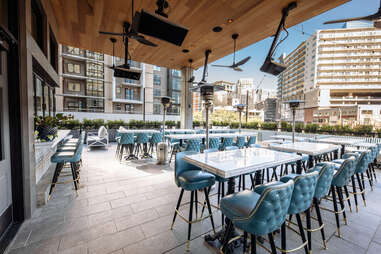 Uptown
This two-level hotspot offers a one-two punch of outdoor options. When the umbrella-dotted ground floor patio just won't cut it, head upstairs to drink from a heightened perch lined with greenery. The rooftop sports an indoor bar in addition to a spacious partially-covered terrace, so you can bask in the sun or retreat to the shade—your call. Wherever you sit, though, you'll need refreshments. A dedicated upstairs menu is loaded with burgers, nachos, short rib potstickers, and cocktails like a strong Old Fashioned, a dressed-up G&T, and the Dallas Tea Service, a sultry combo of green tea vodka, grapefruit, yuzu, mandarin, and club soda.
How to book: Stop by for first come, first served seating or reserve via OpenTable.
Downtown
This sixth floor restaurant serves a reliable Vietnamese fusion menu for lunch, dinner, and happy hour, but the real draw is the roof deck overlooking Main Street. Snack on spring rolls, crispy wings, and pho while floating between the adjacent buildings and admiring the giant eyeball sculpture below. But first, you have to find this place—take the dedicated elevator next to Campisi's on Elm Street.
How to book: Call 469-313-1524 or reserve via OpenTable.
Downtown
Take the Statler's elevator to the 19th floor to find Waterproof, an indoor-outdoor ode to summertime fun. During the day, the pool beckons visitors to take a dip or relax in a nearby cabana, but when the sun goes down, you'll need to retire your swimsuit and flip-flops for evening attire. The lounge serves classic cocktails, bubbly, and beer to patrons who gather for people-watching and skyline views.
How to book: Call 469-776-3702 or reserve via Resy.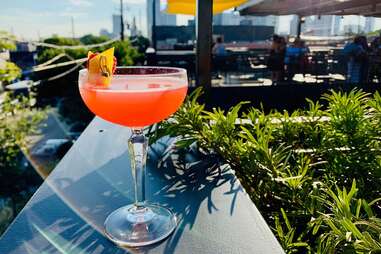 Deep Ellum
Packed within Deep Ellum's high concentration of bars is Harlowe and its three distinct spaces to eat and drink. Take the stairs to the roof overlooking Main Street and watch the scene unfolding below as you sip on classic and seasonal tipples. During summer, the bar mixes up a rotating selection of frozen drinks including Frosé and a frosty Gin & Tonic that's a real life-saver when the mercury rises.
How to book: Stop by for first come, first served seating.
Deep Ellum
Another Deep Ellum favorite, Vidorra is an eye-catching bi-level restaurant complete with a rooftop bar awash in colorful tile, potted plants, and plenty of seating. Grab a couch if you're lounging with friends or request a table along the building's edge for a breezier one-on-one experience. Start with a round of Margaritas and queso before moving on to larger plates like tacos and enchiladas. If you're planning to stick around for a while, opt for a tequila flight or go in on a large-format cocktail like the Guadalajaran, a refreshing concoction brimming with tequila, mezcal, citrus, and Squirt.
How to book: Call 972-215-0640 or reserve via SevenRooms.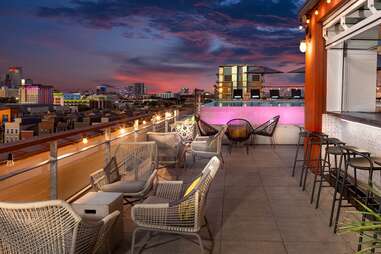 The Cedars
If this place reminds you of the SODA bar on top of the NYLO Hotel, that's because it is—or, at least, it used to be. Fortunately, after the hotel changed hands in 2019, the rooftop bar and its sweeping views stayed put. Head upstairs for a heated infinity pool, private cabanas, fire pits, local artwork, and a bar shaking up all the cocktails you'd want to drink while immersed in such beachy surrounds (think: tequila-spiked Watermelon Coolers, Mango Jalapeño Margaritas, and more).
How to book: Stop by for first come, first served seating or reserve a private cabana online.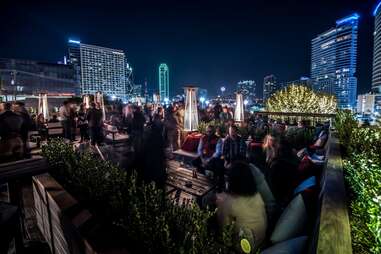 Downtown
With a name like Happiest Hour, you know what you're in for. The well-located spot—it's situated near Uptown, Downtown, Victory Park, and the American Airlines Center—draws patrons for both post-work and pre-game sessions. To keep your festivities outdoors, head upstairs to the roof for prime views and cold beers. Once the happy hour crowd departs, the vibe turns more loungey, complete with DJs and bottle service.
How to book: Stop by for first come, first served seating or reserve bottle service and private events online.
Lower Greenville
When HG Sply Co. opened in 2013, it kickstarted the revitalization of Lower Greenville's once-great rooftop scene and it's still going strong today. You can find a full menu of healthy-leaning "hunted" and "gathered" dishes inside the first-floor restaurant while the rooftop is all about cold drinks and warm scenery. Try the Double Under, spiked with beet-infused tequila, the Frozen Moscow Mule, or any one of the many craft beers on tap. If you're ducking out of work early, the weekday happy hour begins at 3 pm with select wines for $6, cocktails for $5, and beer for $3.
How to book: Stop by for first come, first served rooftop seating or call 469-334-0895 and reserve via Resy for indoor seating.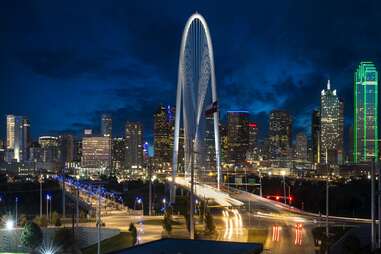 Trinity Groves
There aren't many places in town where you can scarf down a bowl of pasta while gazing out at the Downtown skyline and the Margaret Hunt Hill Bridge. But that's what you get at Saint Rocco's. The fun-loving Italian-American eatery houses a third-floor bar that's open Fridays and Saturdays until 1 am. Linger over a bottle of wine, lounge on the white South Beach-style couches, and then jockey for position along the railing to take that mandatory sunset selfie.
How to book: Stop by for first come, first served seating.
Lower Greenville
You already know that the Granada Theater on Greenville Avenue is one of the best places to catch a show in Dallas, but that's no reason to sleep on Sundown. The attached bar is an ideal spot for grabbing pre-performance drinks high above the busy street or skipping the show entirely in favor of a few hours of vegetarian-friendly bites, local beers, and creative cocktails under the stars. If you prefer getting started early, the rooftop also hosts brunch each Saturday and Sunday with discounted Bloody Marys and Mimosas.
How to book: Call 214-823-8305 or reserve via OpenTable.
Deep Ellum
Festooned with a black-and-white geometric-patterned bar, blue banquettes, and comfy cushions for days, Stirr is quite a looker. And it's subsequently become the go-to party spot in Deep Ellum, where see-and-be-seen groups gather for lengthy dinners that lead to even lengthier late night bashes. The eclectic menu features everything from fish tacos and hot chicken sandwiches to ocean-fresh salmon and a 20-ounce ribeye. Drinks include the usual beer and wine rigamarole plus craft cocktails like the spicy, mezcal-laced Don't Fear the Reaper.
How to book: Call 214-983-1222 or reserve via SevenRooms.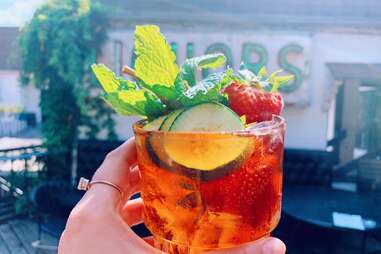 Uptown
This McKinney Avenue staple plies regulars with cold drinks and casual Big Easy-inspired vibes. The ivy-covered bar's quaint rooftop overlooks all the hubbub below while offering enticing drink specials Sunday through Thursday. Signature cocktails like Vieux Carres, Sazeracs, and frozen Hurricanes continue the French Quarter theme while dining program hails from next door's Bread Winners Cafe and spans tacos, burgers, and flatbreads, plus the famous Voodoo Fries, a heap of crispy French fries smothered in bacon, queso, jalapeño gravy, and Sriracha.
How to book: Stop by for first come, first served seating.