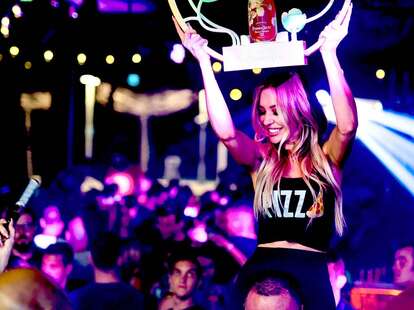 Bottled Blonde

| Bottled Blonde
Bottled Blonde

| Bottled Blonde
Pervasive dating apps have changed the game for the uncoupled, but believe it or not, it's still possible to meet people the old fashioned way—face-to-face in an establishment that serves drinks. And with a young and diverse population, lots of Dallas-area singles are out there if you know where to look. So, whether you're in the market for a significant other or just a good time, here are 10 singles bars where you can actually meet people. Order a drink, strike up a conversation, and see where the night goes.
The sister bar to Paradiso, Bar Eden serves well-made cocktails in a lush space with greenhouse vibes. Position yourself at the bar or on a banquette beneath the overgrown hanging plants, and you'll have atmosphere on your side. Then all you need is the Fountain of Youth, a large format French 75 riff that pairs gin with lemon, brut Champagne, ube, and fino sherry, and conveniently serves two people.
In some respects, finding other singles is a numbers game, and Bottled Blonde does serious numbers. On a typical weekend night, the two-level space is packed with a high-energy crowd, so you're bound to meet other people who aren't in a relationship. Bring a few friends for backup, then make new ones as you bond over your shared love for open-air spaces, stove oven pizzas, and local craft beers.
Electric Shuffle Dallas

| Electric Shuffle Dallas
Bar games plus drinks are the ultimate ice-breaking combination, and Electric Shuffle has 17 shuffleboard tables to go with its two full bars. But these aren't the typical version in your average dive bar. The high-tech tables are meant to accommodate large groups, and the built-in cameras track every puck and automatically keep score, so you're free to focus on more important things—like meeting the group at the next table.
Friendly bartenders, solid food, good drinks, and a prime position on McKinney Avenue make the Standard Pour a favorite stop for the area's young and fun-loving residents. The bar is a reliably good time, and though you'll see some couples cozying up on a couch, lots of friend groups and solo drinkers congregate here for happy hour, brunch, and late-night drinks. So, there's always someone new to meet.
Mutts is an off-leash dog park that doubles as a bar and restaurant, with beer, cocktails, burgers, and communal picnic tables set out in the grass. Oh, hey, your dog just wandered up to another dog who belongs to a good-looking stranger. You might as well strike up a conversation. Worst case, you meet some good dogs. (Or is that the best case?)
Catbird Dallas

| Catbird Dallas
Located on the 10th floor of the Thompson hotel, Catbird charms patrons with its stylish interior and airy terrace that's flush with hanging green plants and prime downtown views. You'll find a mix of hotel guests and locals mingling over cocktails, wine, and oysters, and between the two spaces there's always a cozy nook or scenic lookout where you can start up a conversation.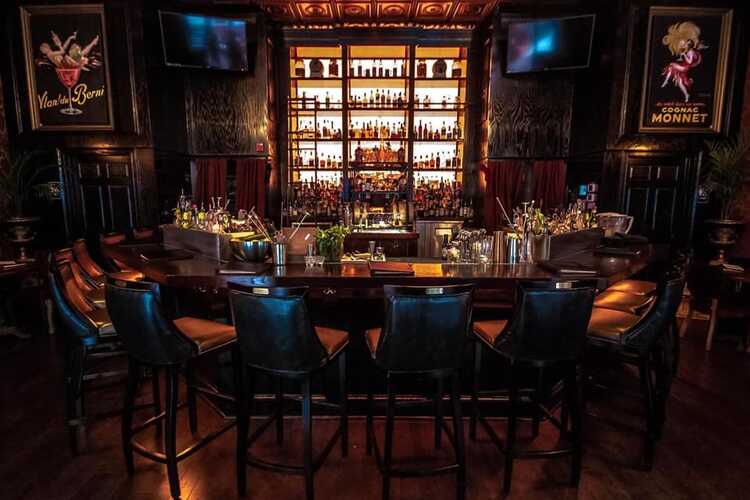 Parliament Dallas

| Parliament Dallas
Small cocktail bars don't always hit the mark for singles, but Parliament fosters a convivial vibe that'll have you making friends with fellow patrons and probably the bartender. Go early to mingle with the after-work crowd, or arrive later when the party's really going. In either case, work your way through the extensive cocktail menu and see who's open to striking up a conversation.
This iconic LGBTQIA+ honky-tonk has multiple bars, a large patio, and a dancefloor where you'll find regulars two-stepping and line dancing like pros. If you need a push, show up on Monday, Tuesday, and Thursday nights for dance lessons, and you'll learn all the moves while meeting new people. No worries if you're flying solo—they'll find you a partner.
Blackfriar Pub Lakewood

| Blackfriar Pub Lakewood
An Irish pub doesn't usually signal a singles bar, but Blackfriar is an exception. The friendly, two-story house has a comfortable interior, patios on both levels, and plenty to drink. It's been around for 20 years and continues to draw crowds of twenty-somethings for college football games, happy hours, and fun nights out. Join the fray, strike up a conversation with someone nearby. Who knows, you might end up with a new best friend or a future date.
This luxe lounge once dominated mid-2000s nightlife in downtown, and last year it was reborn on Henderson with new digs awash in soft fabrics, chandeliers, and artwork saved from the original. It's an unabashed party spot—anticipate bottle service and plenty of sparklers—but enjoying the madness is a good-looking crowd who's out for a fun time. Grab a cocktail and join that crowd.
Kevin Gray is a freelance writer and editor covering all things food, drinks, and travel. He's written for
The Dallas Morning News, Forbes, Liquor.com, Men's Health,
and
Wine Enthusiast
, and his extensive home bar is turning into a real
Hoarders
situation
.