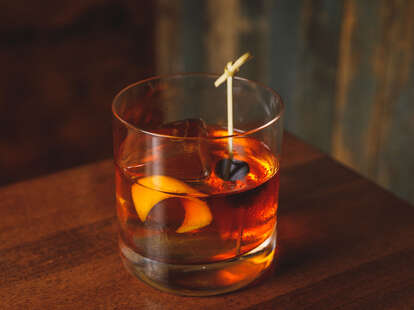 Sip a pitch-perfect whiskey drink at Rye in Lowest Greenville.

| Photo by Samantha Marie, courtesy of Rye
Sip a pitch-perfect whiskey drink at Rye in Lowest Greenville.

| Photo by Samantha Marie, courtesy of Rye
Whiskey is, undoubtedly, back on top as America's beloved spirit, and DFW's whiskey scene is here to prove it. From dives that make you feel at home to joints that skew upscale in vibe, there's a spot for every whiskey enthusiast or curious newcomer. These aren't strictly all whiskey bars in Dallas-Fort Worth by definition—some are big-name restaurants with impressive Captain's Lists, others are spartan pubs slinging great pours. Expect to find eclectic selections, imaginative concoctions, and atmospheres that welcome all. Buckle up and let your senses guide you on a journey through DFW's vibrant and diverse whiskey landscape, because, as Mark Twain said, "Too much of anything is bad, but too much good whiskey is barely enough."
Where to Find Rad Whiskey in Dallas-Fort Worth Right Now
Victory Park
Here, find incredible Texas cuisine and a bar program to match. Billy Can Can's whiskey program focuses on showcasing the versatility of American whiskey. The cocktail menu was designed in a way to pair with chef Matt Ford's exceptional cuisine and accent the casual yet upscale atmosphere. For those just dipping their toes into Texas whiskey, make sure you check out their happy hour from 5 to 7 where all Texas whiskey is half price.
Downtown
Prime rib and whiskey go together like a Nick Badovinus and… a menu with prime rib on it. They're practically inseparable. Dallas is blessed to have our own champion of this majestic dish and at Brass Ram, one of his latest contributions to the city's restaurant roster, you have the opportunity to pair your massive hunk of meat with just about any style of American or Scotch whiskey you wish. Don't miss the Commerce & Jackson Manhattan, because Zach Smigiel's bar program is at the top of his game with whiskey cocktails that are as impressive as the Côte de Beouf.
Knox-Henderson
Every now and then, you'll hear about a hidden gem, and if you're really lucky the rumors turn out to be true. Knox Street Pub has been dishing out Uptown vibes since 2003, but after 2020 has relocated across the highway and changed their name. This neighborhood staple may be better known for their jello shots and wings than their scotch collection, but this might just be the largest collection of allocated whiskey in town. You want Pappy? They have 10 to choose from. And not to give our position away too much, but the prices here are ridiculous. There's more "great value" whiskey here than anywhere else on this list.
Downtown
The Downtown bar that you know is cool but you've forgotten how cool. Whiskey fans, it's time to come back. When it first opened, The Mitchell was known as a gin-forward bartender's bar, but today, they're focused on whiskey and have one of the most unique selections in town. General Manager Taylor Witt has created a very impressive collection of heavy hitters—the largest collection of Balvenie in the South, for example—but also focuses on lesser-known craft whiskey. You won't find Buffalo Trace here, by choice, however we've all moved on from deferring to Blanton's at every opportunity, haven't we?
Fort Worth
Originally from Austin, Nickel City is the ultimate fusion of cool vibes and extraordinary libations. When you walk in, you have a sense that this is the best dive bar you've ever seen. This critical darling has been consistently named in Top 50 and America's Best Bar lists but the laid back atmosphere wouldn't turn anyone away. For the whiskey nerds, Nickel City is renowned for their single-barrel picks, and if you fall in love with one, they can typically be purchased across the street at Tricks of the Trade.
Knox-Henderson
For the past 25 years, the Monk has been there when you needed a scotch and a conversation. This self described "old man bar" has one of the best scotch and irish whiskey lists in town, but it's never just about the whiskey. The ambiance makes you feel like you could be anywhere in the world, but the bar staff makes you feel at home. Dallas doesn't do history very well, but it has managed to keep this divey little slice of old world charm and we're all better for it. The Monk is always there for you and the whiskey is the bonus. A perfect, magical triple distilled bonus.
Fort Worth
With over 150 bourbons to choose from, including some of the most interesting barrel picks in town, Provender Hall has quietly taken over as the "it" spot to try whiskey in Panther City. In addition to the incredible food menu from renowned chef Marcus Paslay, Scratch Hospitality's Director of Operations, Kellen Hamrah, has curated one of the best whiskey list you'll find anywhere. Easily the best whiskey selection in the Stockyards, which means, you can grab yourself a dram and head down Exchange Avenue at your leisure. Walking whiskey is a thing in Cowtown and we're here for it.
Lowest Greenville
Rye is one of the most innovative and thoughtful restaurants to come to Dallas in recent memory. Just as the name would suggest, Rye is a rye whiskey lover's wonderland, with almost 150 different options of the American whiskey. If cocktails are more your game, the bar program is stellar, and you can also go next door to their "speakeasy" Apothecary, which is consistently lauded as one of the sexiest and most innovative cocktail establishments in Texas.
Plano
Nostalgia aside, the 2.0 version of Union Bear is a completely different beast than the original digs in uptown. Sprawling yet cozy and cool, Union Bear's approachable and beer-fueled establishment harbors the best damn whiskey selection north of the Bush. Maybe it's time to admit that some of the coolest concepts in the area are no longer downtown adjacent. For the whiskey lover, Union Bear is suburban sophistication personified. The menu is full of flights and options for one-ounce pours, making it the perfect place to run through those Buffalo Trace Antique Collection selections you haven't tried yet.
Expo Park
You have never been to a whiskey bar like this before. To be frank, whiskey is typically made, marketed to, and primarily consumed by white men. Whiskeys is Black-owned, Black-operated, and built around the idea that whiskey should be for anyone. The ambiance embodies the essence of cool, but most importantly, the whiskey is the star. Whiskey is the only spirit available, but don't worry, you have 600 different options to choose from. Never had Blanton's Gold? Try the Blanton's flight. Want to know the difference between Blood Oath Pact 5, 6, and 7? There's a flight for that, too. Whiskeys is the best whiskey bar in Texas and there's nothing else like it. Full Stop.
Oak Point
While not a traditional whiskey bar, The Whiskey Blendery is definitely something that should be on the DFW whiskey fan's radar. This members-only private whiskey blending experience goes like this: You and a group decide to make a custom blended whiskey. You head to Oak Point and you meet with Tim Huels, who walks you through the barrels he's selected from various distilleries. You decide which ones are to your liking and you start working on your blend. You're greeted by a wall of some of the best whiskey on the planet, but it's not for sale. You can try it, but it's not for sale, as it's a combination of blends created onsite and Tim's personal collection, The Whiskey Blendery is a one-of-a-kind experience and you'll come out of it with a bottle that is completely unique, which is all any good whiskey nerd wants anyway.